Best Healthy Date Recipes, Nutrition Data and Health Benefits
Dates are sweet, condensed food, which packs a lot of calories, but less than you think. A 100 g serving of dates contains 277 calories, about the same amount as dried apricots, but less than for raisins.
They are a condensed dried high energy fruit food, packed with minerals, vitamins and fiber and this offsets the calories to some extent. Dates are a great snack food after a work-out session or exercising or as a simple snack. Dates are not a diet food.
For cooking, dates are stuck in a rut with very limited use. They are added to sweet cakes, scones, slices and to some fruit loaves and breads, but very little else.
This is a shame because they are very versatile and useful in so many ways.
This article compares the nutrients in dates with other similar dried fruit: Raisins, Figs, Prunes and Dried Apricot.
It discusses the health benefits of dates. It also suggests some of the many creative ways to use dates more often in many different ways and provides many great recipes that will inspire your to enjoy eating more dates.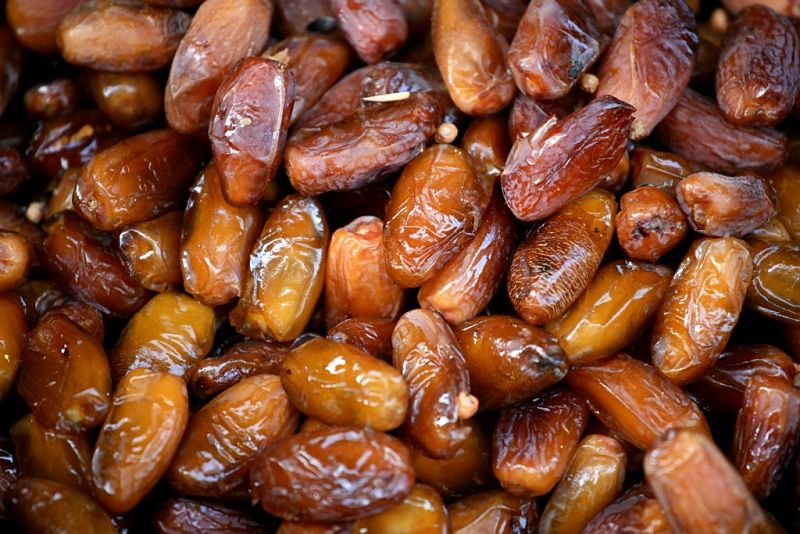 Health Benefits of Dates
Nutrition data for 100 g of dates, compared with other dried fruit (raisins, figs, prunes, dried apricots), is shown below. The key points are:
Dates are rich in dietary fiber, which aids digestion.
Dates are rich in tannins that have anti-inflammatory and anti-infective properties.
They are a good source of vitamin-A (with 149 IU of Vitamin Aper 100 g), more than raisins and prunes, but less than in dried apricots
They are a good source of antioxidants such as the flavonoids: ß-carotene, lutein, and zea-xanthin.
Dates are a wonderful natural source of iron, with almost 1 mg of iron in 100 g of dates. This represents more that 10% of the recommended daily allowance for iron.
Dates are an excellent source of potassium, with 696 mg in a 100 g serving. This is more than 15% of the recommended daily allowance of this electrolyte.
They are also rich in a wide range of other minerals such as calcium, copper, zinc, manganese and magnesium.
Dates are a good source of many of the B-complex group of vitamins, such as niacin, pantothenic acid, pyridoxine (vitamin B-6) and riboflavin. Dates also have relatively high levels of vitamin K.
Serving Tips and Ways to Use Dates
Dates are readily available all year around, but their quality and texture varies. Choose a variety with the texture and 'softness' to suit the way you want to use dates. You can replace the seed with many fillings or buy dates with seeds removed. Some tips for using dates more often are:
Dry and soft dates make and excellent snack food, and addition for packed lunches. Most children love them.
They can be stuffed with many interesting fillings such as almonds, cream cheese, walnuts and many dried fruits.
Add chopped dates to fruit salad, dip recipes and to pizzas as dates pair very well with cheese.
Add dates to smoothies and to muesli and other breakfast dishes
Use chopped dates to partially replace raisins and sultanas in many baked goods. They provide extra taste and texture variations
Best Ever Date Recipes
Try these fabulous recipes to see what flavor and texture dates ad bring to many dishes. Learn how to use more dates
Toasted Rolled Oats Granola Recipe with Dates, Macadamias and Maple Syrup
Ingredients
50 g (1 1/2 oz) unsalted butter
1/2 cup maple syrup
1 teaspoon vanilla extract
1 pinch of salt
125 g (4 oz) macadamia nuts
300 g (10 oz) rolled oats
Zest of 1 orange
200 g ( 7 oz) dates, pitted and chopped
Method
Preheat the oven to 150 degrees C (350 degrees F). Melt the butter in a small saucepan over low heat and then mix in the vanilla extract, maple syrup, and a pinch of salt. Set the mixture aside. Add the oats orange zest and nuts to a large bowl and pour in the liquid ingredients. Mix well to coat the oats with the melted butter mix. Spread the mixture as a thin layer on a large shallow baking tray and bake for 30 minutes, mixing on the tray once or twice. Add the chopped dates and mix with the other ingredients. Bake for an additional 10 minutes and then remove and allow the granola to cool on the try. Store the toasted granola in a sealed container.
Date, Oats, Coconut and Pistachio Bar Recipe
Ingredients
1 tablespoon honey
1 tablespoon water
60 g (2 oz) desiccated coconut
80 g (3 oz) pistachios, shells removed
250 g ( 8 oz) medjool dates, pitted and roughly chopped
25 g (1 oz) plain rolled oats( no the quick cook variety)
Method
Pulse the dates in a food processor or blender until they are rendered to a rough paste. Add the honey, water, shelled pistachios, oats and about half of the desiccated coconut and pulse again to mix thoroughly. Transfer the mixture to your workbench, or chopping board, and roll to a thickness of about 1 inch (2 cm). Cut the slab into 8-10 equal size rectangular bars. Sprinkle the remaining desiccated coconut on top pressing it into the surface. Refrigerate until serving. These bars are great for breakfast.
Date and Almond Smoothie Recipe
Ingredients
1 banana, peeled
1 teaspoon chia seeds
200 ml (3/4 cup) water
2 dates, pitted and chopped
1 tablespoon blanched almonds
1 teaspoon coconut oil (optional)
Method
Pulse the almonds and chia seeds until well blended. Add the dates, and then the banana, pulsing each time. Add the coconut milk, if you like this option and a little water until you get the right consistency. Serve immediately.
Spicy Roasted Carrots Recipe with Dates
This unusual recipe really works and the roasting and sweetness of the dates intensified the flavor of the carrots, especially with the spices used.
Ingredients
6 carrots, peeled and cut diagonally
2–3 tablespoons olive oil
Salt and freshly ground black pepper to taste
1 1/2 teaspoons garam masala
1/3 teaspoons ground cinnamon
1/3 teaspoons chilli powder, or fresh chopped chilli
1 1/2 teaspoons ginger juice
3 - 4 mejdool dates, roughly chopped
Method
Preheat the oven to 210 degrees C (425 degrees F). Place the seasoning, ground spices and ginger juice in a small bowl. Add the carrots and toss to coat all surfaces. Roast the carrots for 20–25 minutes or until just starting to soften. Add the dates, str to combine and bake for 5-10 minutes to combine the flavors. Serve warm.
Date, Walnuts and Banana Cake Recipe
Ingredients
4 free range eggs
1/2 teaspoon salt
4 oz vegetable oil
3 ripe bananas, peeled
1 tablespoons cinnamon
1/2 cup chopped walnuts
250 g (8 oz) caster sugar
250 g ( 8 oz) plain flour
1 teaspoon vanilla extract
1/2 teaspoon bicarbonate of soda
200 g (7 oz) dates, pitted and roughly chopped
Method
Preheat the oven to 180 degrees C (350 degrees F). Add the cinnamon, vanilla, ripe bananas, oil, eggs and caster sugar to the bowl of a blender or food processor and pulse to produce a light batter (add more water or oil if required). Sieve together the flour, salt and bicarbonate of soda and then add to the batter, mixing gently. Mix in the chopped dates and walnuts and combine well. Transfer the cake mix into a lined baking tin and bake for 45-55 minutes. Test by inserting a skewer into the center of the cake. The cake is cooked when the skewer comes comes out clean. Remove the cake from the oven and set aside to cool in the pan. Serve warm or after icing the cake.
Date and Bread Dessert with Rum and Raisins
Ingredients
100 g (3 1/2 oz) raisins
75 ml (2 1/2 fluid oz) dark rum
12 slices of white bread (or brioche)
200 g (7 oz) dates, pitted and chopped
400 ml (1 1/2 cups) vanilla creme anglaise
Method
Place the dates and raisins in a small sauce add the rum and dates. Add sufficient water to just cover the dates. Bring to the boil and simmer over moderate heat until the dates have soften and the water has almost completely evaporated. Transfer the mixture to a blender or food processor and pulse to a smooth puree. Let the mixture cool and then spread thickly over the slices of bread. Line a square loaf tin with clingfilm, leaving extra over the sides. Press the slices of bread over the sides and bottom. Pour over some of the creme anglaise on top of the bread. Continue adding more layers of bread and creme anglaise until the tin is full. Press the top layer down firmly. Refrigerate for 2-3 hours, to allow the bread to soak up all of the creme anglaise. To serve, lift the dessert out of the tin using the clingfilm hanging over the sides. Remove the clingfilm and slice the dessert into thick slices. Pan fry the slices in batches in a little butter until they are golden and crispy on both sides. Serve immediately.
Spicy Lamb Stew Recipe with a Date Liquor
Ingredients
1 cinnamon stick
A pinch of saffron
3 black cardamom pods
2 onions, finely chopped
1 tablespoons lemon juice
1/3 teaspoon cayenne pepper
1 tablespoons ground coriander
100 ml (1/2 cup) sunflower oil
2 garlic cloves of garlic, finely chopped
1 kg ( 2 lb) stewing lamb, without excess fat
Fresh mint leaves or basil for serving, chopped
For the stewing liquor
400 ml (1 2/3 cups) water
200 g (7 oz) dates, pitted
1 teaspoon tamarind concentrate
1 large piece of ginger, peeled and chopped
Blend all the liquor ingredients to form a paste, and set aside. Using a large Dutch oven or heavy casserole, heat the oil using a moderate temperature setting. Fry the garlic, onions, cinnamon and black cardamom, just enough to release the flavor and aroma. Add the ground coriander and stir. Next, add the lamb, and mix to coat it all over. Brown the lamb on all sides, then lower the stove setting to low, cover and cook for 20 minutes. Next, add the saffron and cayenne pepper to 1 tablespoon of hot water in a small bowl and set aside for 5 minutes. Strain the liquid into the stewing pot. Then, spoon in the stewing liquor and mix well. Cover the pot and cook using a low setting for 60 minutes, or until the lamb is tender and just starting to fall apart. Just before serving, add the lemon juice, season with freshly ground black pepper and add a handful of mint or basil leaves. Slice and serve hot.
Comparion of the Nutrients in Dates with Other Dried Fruit
| Nutrients in 100 g serving | Dates | Raisin | Fig | Prune | Dried Apricot |
| --- | --- | --- | --- | --- | --- |
| Energy | 277 Kcal | 299 Kcal | 74 Kcal | 30.92 Kcal | 241 Kcal |
| Carbohydrates | 74.97 g | 79.18 g | 19.18 g | 0.38 g | 62.64 g |
| Protein | 1.81g | 3.07 g | 0.75 g | 240 g | 3.39 g |
| Total Fat | 0.15 g | 0.46 g | 0.30 g | 2.18 g | 0.51 g |
| Dietary Fiber | 6.7 g | 3.7 g | 2.9 g | 63.88 g | 7.3 g |
| Vitamins | | | | | |
| Folates | 15 mcg | 5 mcg | 6 mcg | 0.205 mcg | 10 mcg |
| Niacin | 1.610 mg | 0.766 mg | 0.400 mg | 0.051 mg | 2.589 mg |
| Pantothenic acid | 0.805 mg | 0.095 mg | 0.300 mg | | |
| Pyridoxine | 0.249 mg | 0.0174 mg | 0.113 mg | | |
| Riboflavin | 0.060 mg | 0.125 mg | 0.050 mg | 0.6 mg | 0.074 mg |
| Thiamin | 0.050 mg | 0.106 mg | 0.06 mg | | 0.015 mg |
| Vitamin A | 149 IU | 0 IU | 142 IU | 0 | 3604 IU |
| Vitamin C | 0 mg | 2.3 mg | 2 mg | 0.44 mg | 1 mg |
| Vitamin K | 2.7 mcg | 3.5 mcg | 4.7 mcg | 0 mcg | 3.1 mcg |
| Electrolytes | | | | | |
| Sodium | 1 mg | 11 mg | 1 mg | 732 mg | 10 mg |
| Potassium | 696 mg | 749 mg | 232 mg | 69 mg | 1162 mg |
| Minerals | | | | | |
| Calcium | 64 mg | 50 mg | 35 mg | 38.13 mg | 55 mg |
| Copper | 0.362 mg | 0.318 mg | 0.070 mg | | |
| Iron | 0.90 mg | 1.88 mg | 0.37 mg | 43 mg | 2.66 mg |
| Magnesium | 54 mg | 7 mg | 17 mg | 0.93 mg | 32 mg |
| Manganese | 0.296 mg | 0.299 mg | 0.128 mg | | |
| Phosphorus | 62 mg | 101 mg | | 41 mg | 71 mg |
| Zinc | 0.44 mg | 0.22 mg | 0.15 mg | 2 mg | 0.39 mg |
| Phyto-nutrients | | | | | |
| Carotene-ß | 89 mcg | 0 mcg | 85 mcg | | |
| Crypto-xanthin-ß | 0 mcg | 0 mcg | 9 mcg | | |
| Lutein-zeaxanthin | 23 mcg | 0 mcg | | | |