Avocado Nutrition Facts - Calories, Fat, Protein, Vitamins, Minerals
Avocados are unique because they straddle the boundary between fruits and vegetables. They are very popular in salads, pasta and pizza dishes, and also used for savory snacks on sandwiches crackers and appetizers.
Avocados have subtle rich and buttery taste due to their high fat content. They are a very popular food item, high in calories, but rich in vitamins, fiber and minerals.
The nutrition profile of avocados is very similar to many nuts and seeds rather than traditional fruits.
This article summarises the nutrition and health benefits of avocados and includes a comprehensive nutrient chart. The nutrition of avocados is also compared with a range of fruits and vegetables with similar uses in salads and cooked dishes: banana, asparagus, eggplant, olives and kiwifruit.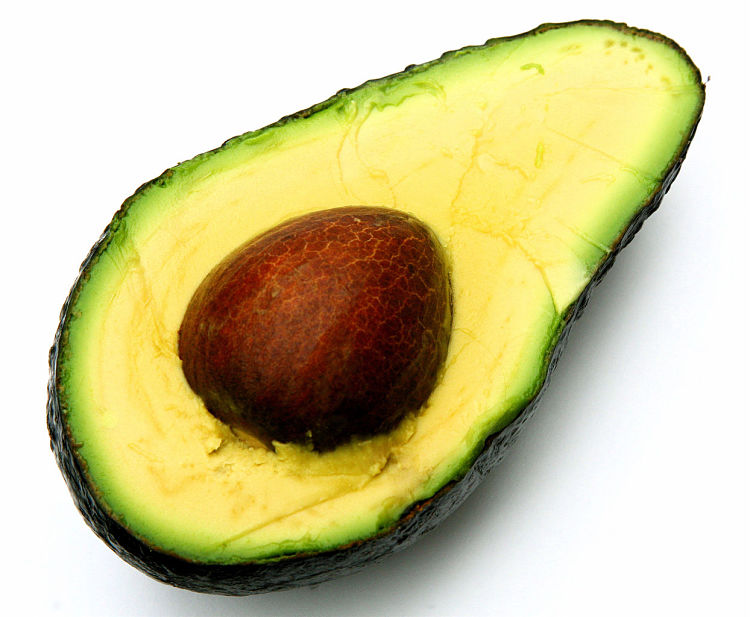 Avocados, similar to bananas, mature on the tree, but are picked when hard and ripen after harvest, partially for protection during transport.
Ripe avocados vary in color depending on the species, but look for signs of softness by gently squeezing them. Don't squeeze too hard or they will bruise.
Avocados are relatively easy to peeland yield a greenish, cream colored flesh that is soft and resembles warm butter. They have a delightful taste and aroma.
Look for fruit that is still a little firm to provide the delightful texture of avocados. Ripe avocados are soft and squishy, and are often bruised. It is hard to peel overripe avocados.
Avocados should be peeled and sliced just before serving as the flesh can go black when exposed to the air. Avocado oil is very popular as a dressing and in cooking.
Health Benefits of Avocado and Nutrition Facts
Avocados, similar to olives and many nuts, are relatively high in fat and calories. Most of fat is mono-unsaturated fat which is less harmful than saturated fats found in many meats and dairy foods. Avocado are very rich in vitamins, dietary fiber and minerals and like nuts should be consumed in moderation to benefit with the nutrient without overloading on calories.
Key Nutrition Facts
A large serving of 100 g of avocado contains:
160 calories
2 g or protein
15 g in total of fat
8 g of carbohydrates
7 g of dietary fiber
0.7 g of sugar
Of the 15 g of fat only 2 g is saturated fat (6%); with 9.8 g of mono-unsaturated fat and 1.8 g of polyunsaturated fat. Avocados are a rich sources of like oleic and palmitoleic fatty acids as well as linoleic acid which is an omega-6 type poly-unsaturated fatty acid. The healthy Mediterranean diet is rich in mono-unsaturated fatty acids and most of the relatively high fat content in the diet, is derived from olive oil and fatty fish species.

Avocados are a good source of dietary fiber with 6.7 g in a 100 g serving, which provides almost 20% of the recommended daily intake for fiber.
Avocados are a rich sources of antioxidants such as beta and alpha carotenes, lutein, cryptoxanthin, zea-xanthin. The total antioxidant power of avocados is 1933 micro moles Trolex equivalents/100 g. These antioxidant compounds help protect the body from reactive oxygen species (ROS) and oxygen-derived free radicals that contribute to the aging process and various diseases.

Avocados are a good sources of vitamins such as Vitamin K, A and E, and B group vitamins. About 100g of avocado provides a substantial proportion of the daily allowances for many vitamins.
Folates 20%
Niacin 11%
Pantothenic acid 28%
Pyridoxine 20%
Riboflavin 10%
Vitamin C 17%
Vitamin E 14%
Vitamin K 18%
Avocados are also excellent sources of minerals like copper, iron, magnesium, manganese and potassium. Magnesium plays a role in bones and copper and manganese are important enzyme co-factors with various roles in metabolism. Iron and copper have major roles in maintaining of red blood cells.

A 100g serving of Avocado provides a substantial proportion of the daily allowances for many minerals and electrolytes:

Copper 21%
Potassium 10%
Iron 7%
Magnesium 7%
Phosphorus 7%
Manganese 6%
Zinc 6%
Comparison of the Nutrients in Avocados with Other Fruits and Vegetables
The table below summarises the key nutrients for a range of fruit and vegetables with similar uses - banana, eggplant, asparagus, tomatoes and kiwifruit. All serving sizes are 100g.

The key points for Avocados are:
High calories - nearly twice that of the other foods with olives the next highest.
High fat with olives having almost as high an amount.
Highest fiber, more than double the other foods, with eggplant and kiwifruit next highest
Carbohydrates are in the mid-range of the other foods, highest is banana
Vitamin C level is higher than most foods except for kiwifruit.
Vitamin levels were highest for all the vitamins except for Vitamin B6 (highest in bananas), Vitamin A & K (highest in asparagus).
Minerals levels were highest for iron, magnesium, phosphorus, potassium, zinc, copper and manganese. Low mineral levels occurred for calcium, sodium and selenium.
Saturated fat levels were higher than in other foods, but only represented about 6% of the total fat.
Preparation and Serving Methods
To cut and avocado, slice it at the center lengthwise all the way around the seed. Gently twist the halves in opposite directions, using your hands, and gently pull apart. Remove the seed using a spoon or use a knife to hit against the seed. The blade becomes locked in the seed, which can be easily removed. Gently peel the skin back with your fingers or scoop out the flesh with a spoon.
Serving Tips for Avocados
Combine mayonnaise with mashed avocado to create a delightful salad dressing.
Add sliced or diced avocado to various homemade pizza recipes. Avocado goes very well with all types of seafood.
Mashed avocado and use it as a spread on crusty French rolls, sprinkled with a little blue cheese or Parmesan.
Make a delicious chunky guacamole.
Add sliced avocado to a variety of sandwiches.
Serve shrimp cocktails in avocado halves.
Combine avocados with endive and hearts of palm for a delightful salad.
Add avocado slices to a classic tomato and mozzarella salad.
Put diced avocado on orange slices, with thinly sliced onions as a side dish.
Eat half an avocado as a snack with some added salt, pepper and a squeeze of lime juice.
Comparison of Avocado Nutrition Data with Related Fruit and Vegetables
| Nutrients in 100g serve | avocado | banana | asparagus | eggplant | olives | kiwifruit, green |
| --- | --- | --- | --- | --- | --- | --- |
| Calories (Cal) | 160 | 89 | 20 | 24 | 114 | 61 |
| Protein (g) | 2 | 1.09 | 2.2 | 1 | 0.85 | 1.14 |
| Total Fat (g) | 14.67 | 0.33 | 0.13 | 0.2 | 10.68 | 0.52 |
| Total Carbohydrates (g) | 8.53 | 22.84 | 3.88 | 5.71 | 6.25 | 14.67 |
| Dietary Fiber (g) | 6.67 | 2.63 | 2.03 | 3.41 | 3.13 | 3.04 |
| Sugar (g) | 0.67 | 12.23 | 1.88 | 2.34 | 0 | 8.99 |
| Vitamins | | | | | | |
| Vitamin C (mg) | 10.13 | 8.73 | 5.63 | 2.2 | 0.85 | 92.75 |
| Thiamin (mg) | 0.08 | 0.03 | 0.14 | 0.05 | 0 | 0.03 |
| Riboflavin (mg) | 0.13 | 0.08 | 0.14 | 0.05 | 0 | 0.03 |
| Niacin (mg) | 1.73 | 0.67 | 0.98 | 0.66 | 0.03 | 0.35 |
| Pantothenic Acid (mg) | 1.39 | 0.33 | 0.28 | 0.29 | 0.03 | 0.19 |
| Vitamin B6 (mg) | 0.27 | 0.36 | 0.09 | 0.07 | 0 | 0.06 |
| Folate (mcg) | 80 | 20.34 | 51.56 | 21.95 | 0 | 24.64 |
| Vitamin B12 (mcg) | 0 | 0 | 0 | 0 | 0 | 0 |
| Vitamin A (IU) | 147 | 64 | 756 | 27 | 403 | 87 |
| Vitamin E (mg) | 2.08 | 0.1 | 1.13 | 0.29 | 1.65 | 1.46 |
| Vitamin K (mcg) | 21.07 | 0.51 | 41.56 | 3.41 | 1.42 | 40.29 |
| Minerals | | | | | | |
| Calcium (mg) | 10.67 | 5.08 | 23.44 | 9.76 | 88.07 | 33.33 |
| Iron (mg) | 0.56 | 0.26 | 2.14 | 0.24 | 3.3 | 0.3 |
| Magnesium (mg) | 29.33 | 27.12 | 14.06 | 14.63 | 2.84 | 17.39 |
| Phosphorus (mg) | 53.33 | 22.03 | 51.56 | 24.39 | 2.84 | 33.33 |
| Potassium (mg) | 485.33 | 357.63 | 201.56 | 229.27 | 8.52 | 311.59 |
| Sodium (mg) | 8 | 0.85 | 1.56 | 2.44 | 735.8 | 2.9 |
| Zinc (mg) | 0.64 | 0.15 | 0.55 | 0.17 | 0.23 | 0.14 |
| Copper (mg) | 0.19 | 0.08 | 0.19 | 0.07 | 0.26 | 0.13 |
| Manganese (mg) | 0.13 | 0.27 | 0.16 | 0.24 | 0.03 | 0.1 |
| Selenium (mcg) | 0.27 | 1.02 | 2.34 | 0.24 | 0.85 | 0.14 |
| Fatty Acids | | | | | | |
| Saturated Fat (g) | 2.13 | 0.11 | 0.05 | 0.02 | 1.42 | 0.03 |
| Monounsaturated Fat (g) | 9.81 | 0.03 | 0 | 0.02 | 7.9 | 0.04 |
| Polyunsaturated Fat (g) | 1.81 | 0.08 | 0.05 | 0.07 | 0.91 | 0.29 |