Calories in Red Wine, Nutrition Facts for Red Wine Varieties and Styles
If you are counting your calories, either for diet, or for general health purposes, and you want to know how many calories are in a glass of wine you will probably be disappointed when you look at the label on the bottle.
Wine producers in many countries are not obliged to list the calories on the label. This is about to change in the US, and perhaps other countries as well, but the listing of nutrient data on the label, including calories, will not be mandatory for wines.
There is a general misconception about calories in wine because many people don't realise that the alcohol in the wine, as well as the carbohydrate and sugar, contribute to the calories.
Yeast added to the grape juice convert most of the sugar into alcohol, but some remnant sugar remains depending of the variety.
The total calories in wine, generally about 96 calories for a 4 fl oz glass (120ml). This is slightly more than the calories in the same volume of grape juice, about 75 calories.
There is considerable variation between the number of calories in different varieties and styles of wine. This is determined by the concentration of alcohol in the wine and the amount of residual sugar and carbohydrate left after fermentation.
Even with the one variety of wine, there can be variations dependent on the wine maker's decision about alcohol content and how sweet the wine should be.
White wine generally has fewer calories than red wine, but the amount varies with the style.
The average calorie content for 4 fl oz of white wine is about 88 calories, compared with 96 calories for red wine.
White wine has about 90% of the calories in red wine. Fortified wines such are ports have the highest calories as they have high alcohol contents and are sweet.
This article provides a summary and chart of the calories in a wide variety of common red wine varieties. A similar article provides a chart for white wine varieties.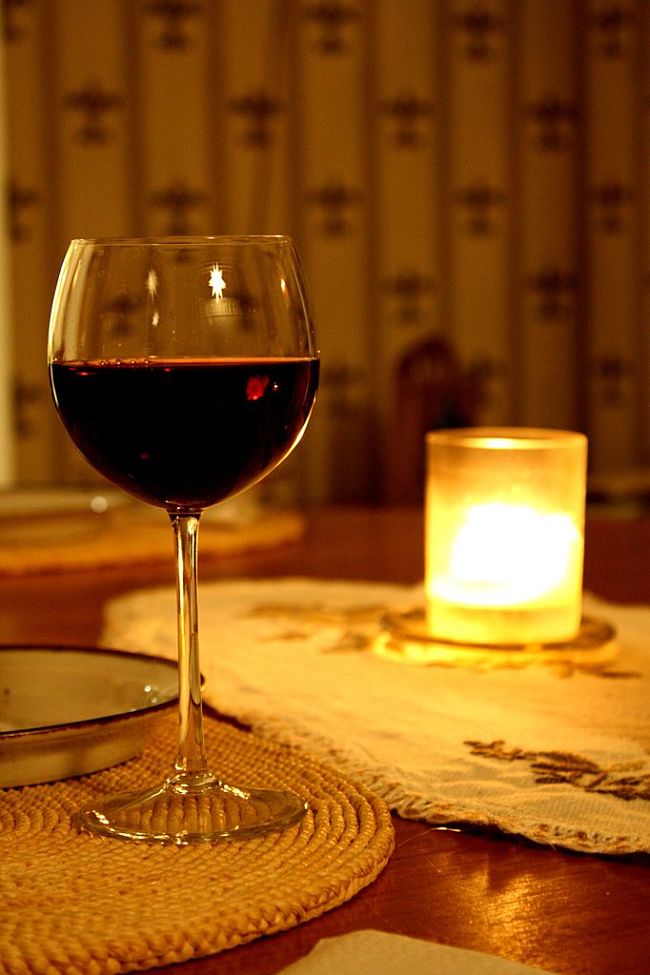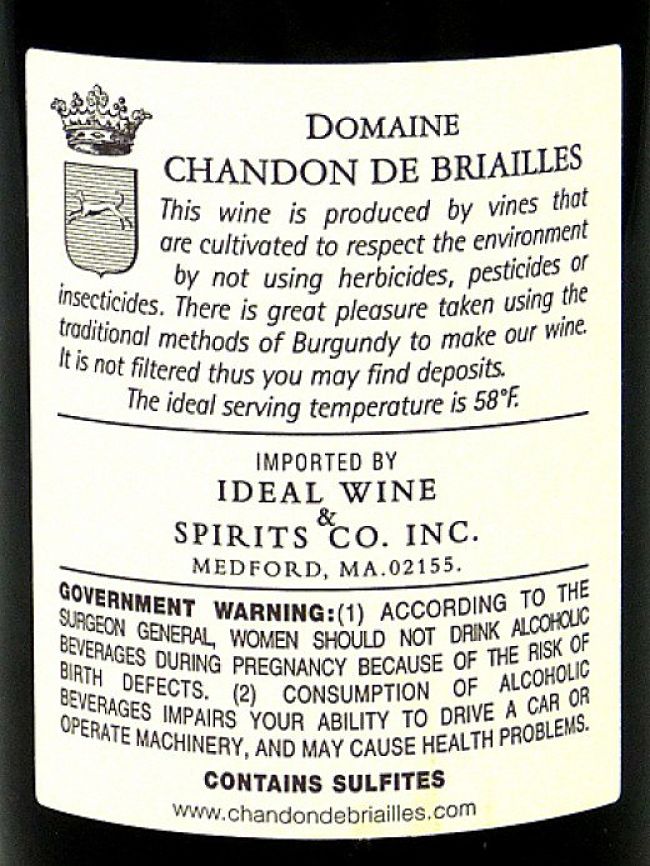 Alcohol Content of Red Wines is Correlated with Calorie Content
Wine varieties or brands with higher alcohol content per volume will generally have more calories, especially the sweeter wines. Most wines have a maximum of about 15% alcohol per volume. Fortified wines have much higher levels of alcohol and calories.
Calories per Glass of Red (4 fl oz; 120ml)
The chart at the end of the article provides a list of calories in a glass (4 fl oz; 120ml) of a wide range of common varieties of wine.
It also includes a range of other beverages and foods. Wine is on the bottom end of the scale for calories compared with beer and spirits for example.

Wine has only about half the calories in a serving of beer (139 Cals), can of Coke (140 Cals) Ice tea, with sugar (192 Cals), yogurt (125 Cals).
A glass of red wine contains less than a quarter the number of calories in a Burger (420 Cals), a serving of fried rice (360 Cals) and a carton of flavored milk (500 Cals).
One 750 ml bottle of red or white wine contains about 550 Calories.

Red wine many known health benefits, when consumed in moderation, and may be a lot healthier than soft drinks and fruit juices. Many of these beverages have very high calorie counts.

The red wines with the lower calories (less than 90 calories per glass) are the dry moderate level alcohol varieties such as Burgundy, Liebfraumilch, Carignane, Cabernet Sauvignon, Zinfandel.

Red wines with moderate calorie levels (92-96 calories per glass) are:
Beaujolais, Merlot, Rose, Syrah (Shiraz), Pinot noir, Claret, Lemberger and Cabernet Franc

Red wines with high calories (100-150 calories per glass) are: Champagne, pink, Chianti, Barbera, Sangria

Wines with very high calorie contents (160-200 calories per glass) are: Sangria (160); Muscatel (160); Tokay (165); Port, white (170); Port, ruby (185).

So, depending on how much many glasses of wine you have with your meal you could be adding 100 calories to a meal for each glass of dry red wine.
For the sweeter varieties the extra calories may be 200 calories per glass.
Also having 3-4 glass of wine may equal the number of calories in half of most meals.
So drinking in moderation is a good rule, nor only for the alcohol, but for the calories.
Proposed Labels for Wine
The image below shows a propose label for wine that is to be introduced in the US. It has taken more than 10 years of pressure from consumer groups to get the labels introduced.
The wine industry has also strongly resisted demands that all additives and non-natural processes used in making the wine be added to the labels as well.
The proposed labels would be used for wine, beer and and other liquor as well, It would show information about carbohydrates, calories, proteins and fats.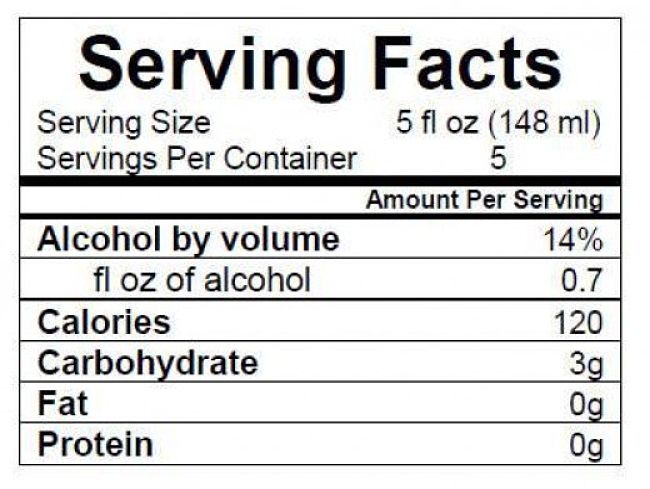 Nutrients in a Glass of Red Wine
The second cart below provides a summary of the nutrients in a glass of red wine compared with white wine and raw grape juice (un-sweetened).

The key points are:
Processing the grape juice into wine effectively loses most of the major nutrients in grape juice. This includes protein, fat, fiber and the carbohydrate levels in wine are only 20% of those in grape fruit juice.
Most of the minerals are retained.
Many of the vitamins contained in grapefruit juice are lost, with the exception of niacin, riboflavin and Vitamin B 6, and folate.
Calories in Red Wine Varieties and Common Meals for Comparison
| Wine (4 fl oz) (120 ml) | Calories |
| --- | --- |
| Marsala | 80 |
| Liebfraumilch | 85 |
| Carignane | 88 |
| White Wine | 88 |
| Burgundy, white | 90 |
| Cabernet Sauvignon | 90 |
| Zinfandel, red | 90 |
| Beaujolais | 95 |
| Bordeaux, red | 95 |
| Burgundy, red | 95 |
| Merlot | 95 |
| Rhone | 95 |
| Rose | 95 |
| Syrah (Shiraz) | 96 |
| Pinot noir | 96 |
| Claret | 96 |
| Lemberger | 96 |
| Cabernet Franc | 96 |
| Champagne, pink | 100 |
| Chianti | 100 |
| Barbera | 100 |
| Sangria | 115 |
| Madeira | 160 |
| Muscatel | 160 |
| Tokay | 165 |
| Port, white | 170 |
| Port, ruby | 185 |
| FOODS for COMPARISON | |
| Mt Franklin water 600ml | 0 |
| Spinach 1 cup | 8 |
| Lindt chocolate1 block | 20 |
| CSR White sugar 1 teaspoon | 20 |
| Cadbury dairy milk chocolate1 block | 22 |
| Broccoli 1 cup | 30 |
| Carrot 1 standard | 30 |
| Apples 1 medium | 40 |
| Daily orange juice 100 ml | 42 |
| Nescafe instant coffee 1 packet | 60 |
| Cheese 1 slice (21gm) | 60 |
| Corn 1 cob | 60 |
| Oranges 1 medium | 65 |
| Kraft Peanut Butter 1 tablespoon | 80 |
| Peas 1 cup | 80 |
| Peters Classic Ice-cream, 1 scoop | 90 |
| GLASS of RED or WHITE WINE | 90-100 |
| Cornflakes 28 grams | 100 |
| Milo 25 grams | 100 |
| Butter, 1 tablespoon | 100 |
| Bananas 1 large | 100 |
| Canola Oil, 1 tablespoon only | 115 |
| Original Pringles, 10 pringles | 120 |
| Yoghurt 1 pot | 125 |
| Chiken drumstick 80 grams | 130 |
| Tuna chunks 1 tin (85 grams) | 130 |
| Dolmio Chunky Sauce 250grams | 135 |
| Smiths Potato chips 27 gram | 136 |
| Carlton Draught beer 375 ml | 139 |
| Coke cola 1 can | 140 |
| Victoria bitter beer 375ml | 147 |
| Milk 1 cup (244gm) | 150 |
| Chiken thigh 80 grams | 170 |
| White bread 2 slices | 180 |
| Potatoes, 1 medium cooked | 180 |
| Birds Eye fish 100 grams | 185 |
| Lipton ice tea 600 ml | 192 |
| Beef stir fry 100 grams | 200 |
| Chicken wing 80 grams | 220 |
| Cook rice 1 cup (186grams) | 250 |
| Nestle Mars Bar 58 gram | 270 |
| Snickers Bar, 1 bar | 275 |
| San remo pasta100 grams | 310 |
| Fried Rice 300grams | 350 |
| Quarter Pounder 1 burger | 420 |
| Maggi noodles 100 grams | 440 |
| Big M 600ml | 502 |
| Bottle of White Wine | 528 |
| Bottle of Red Wine | 576 |
| Thai Pad Thai 300 grams | 580 |
| Lamb roast 350 grams | 600 |
| Steak cooked 300 grams | 600 |
| Fish & chips 300 grams | 800 |
| Dominoes Pizza 3 slices | 800 |
| Arnott's Original Tim Tams 200 gram | 1030 |
| Arnotts Clix Crackers 250 gram | 1300 |
Nutrients in Red and White Wine compared with Grape Juice
| Nutrients in 4 fl oz (120 ml) | Units | Red Wine | White Wine | Grape Juice |
| --- | --- | --- | --- | --- |
| Energy | Cal | 100 | 96 | 76 |
| Protein | g | 0.08 | 0.08 | 0.47 |
| Total lipid (fat) | g | 0 | 0 | 0.16 |
| Carbohydrate | g | 3.07 | 3.06 | 18.67 |
| Fiber, total dietary | g | 0 | 0 | 0.3 |
| Sugars, total | g | 0.73 | 1.13 | 17.95 |
| Minerals | | | | |
| Calcium, Ca | mg | 9 | 11 | 14 |
| Iron, Fe | mg | 0.54 | 0.32 | 0.32 |
| Magnesium, Mg | mg | 14 | 12 | 13 |
| Phosphorus, P | mg | 27 | 21 | 18 |
| Potassium, K | mg | 149 | 83 | 131 |
| Sodium, Na | mg | 5 | 6 | 6 |
| Zinc, Zn | mg | 0.16 | 0.14 | 0.09 |
| Vitamins | | | | |
| Vitamin C | mg | 0 | 0 | 0.1 |
| Thiamin | mg | 0.006 | 0.006 | 0.021 |
| Riboflavin | mg | 0.036 | 0.018 | 0.019 |
| Niacin | mg | 0.263 | 0.127 | 0.168 |
| Vitamin B-6 | mg | 0.067 | 0.059 | 0.04 |
| Folate, DFE | mcg | 1 | 1 | 0 |
| Vitamin A, IU | IU | 2 | 0 | 10 |
| Vitamin K | mcg | 0.5 | 0.5 | 0.5 |
| Lipids | | | | |
| Fatty acids, total saturated | g | 0 | 0 | 0.032 |
| Fatty acids, total monounsaturated | g | 0 | 0 | 0.004 |
| Fatty acids, total polyunsaturated | g | 0 | 0 | 0.028 |
| Cholesterol | mg | 0 | 0 | 0 |