Coconut and Coconut Oil Health Benefits and Nutrition Data
The health benefits of coconut oil and coconut include skin care, hair care, stress relief, weight loss and many dietary benefits associated with the presence of lauric, capric acid and caprylic acids and antioxidants.
Added to this list is a new surprising benefit - fighting tooth delay.
Researchers are excited by new findings about the antibacterial and antifungal properties of coconut oil which add to the known benefits of the humble coconut.
Scientists in Ireland have recently discovered that coconut oil treated with enzymes similar to those in the digestive system, inhibited the growth of Streptococcus bacteria - one of the major causes of tooth decay in children and adults. If confirmed in follow-up studies, coconut oil could be added to dental care products in the near future.
Coconut oil also attacks the yeast which causes thrush and controls other yeasts and fungi.
This article reviews the health benefits of coconut and provides a summary and chart of the benefits of coconut oil in relation to other oils.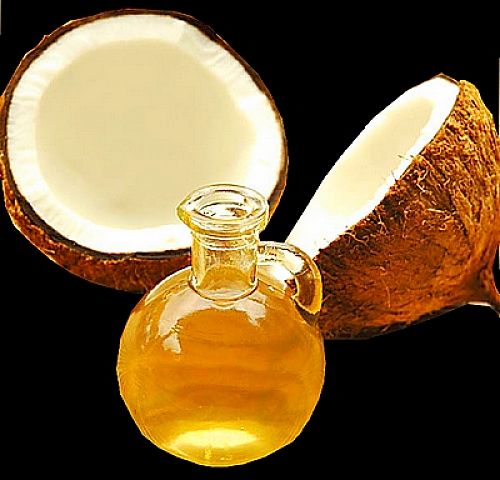 Coconut Oil Benefits for Stopping Tooth Decay
Research conducted in Ireland compared the effectiveness of coconut oil, vegetable oil and olive oil themselves andafter treatment with enzymes related to digestion processes in suppressing Streptococcus bacteria.
The enzyme-modified coconut oil was a very effective inhibitor of this bacteria and a related one Streptococcus mutans, an acid-producing bacterium that causes tooth decay. The pure original untreated coconut oil was not as effective.
The researchers believethat the action of the enzymes breaks down the coconut oil releasing acids which are effective against bacteria.
The researchers found that it works at relatively low concentrations.
Coconut oil has previously been shown to have antimicrobial activity including action against yeasts and fungi.
Coconut Oil Composition and Nutrients
Coconut oil consists of more than 85% of saturated fats, with traces of unsaturated fatty acids, such as polyunsaturated and monounsaturated fatty acids.
The saturated fat levels are much higher in coconut oil than other oils.
The polyunsaturated fatty acids is linoleic acid and the monounsaturated fatty acids is oleic acid.
Vitamin levels are also low in coconut oil. As shown in the table below the smoking point for coconut oil is very low and it is unsuitable for frying. Unlike most other oils, coconut oil has a high melting point - about 25 degrees C or 77 degrees Fahrenheit, and is solid at room temperature.
Before using coconut oil it needs to be melted by keeping the bottle in the sun or immersing in warm water. It will also melt in your hands.
Benefits of Coconut Oil for Skin Care
Coconut oil is an excellent oil for massaging and moisturizing the skin and is included in many commercial and homemade skin care products. Coconut oil has also been used in helping treat various skin-care ailments such as dermatitis, psoriasis, eczema and various skin infections. Coconut oil forms a foundation ingredient for many commercial skin care products such as lotions and soaps. Coconut oil also has antioxidant properties and has been used to help prevent premature aging.
Benefits of Coconut Oil for Hair Care
Coconut oil is renowned as one of the best natural conditioners for all types of hair, providing a healthy shiny complexion. Massaging the scalp with coconut oil is also good for the skin and helps dryness and dandruff.
Benefits of Coconut and Coconut Oil as a Food and Additive
Coconut is a very versatile and widely used fruit of the coconut palm that goes in coastal areas throughout the tropics. In many ways it is a complete food with moderate levels of calories and good levels of minerals and vitamins. See the nutrition summary in the table below.
About 100 g of coconut kernel consists of 354 calories. Most of this energy comes from the fats and protein. Although, coconut flesh is relatively very high in saturated fats compared with other common edible fruits and nuts, it has many active compounds that boast its health benefits. The major saturated fatty acid in coconut is lauric acid which helps to control cholesterol levels in the blood. rise HDL cholesterol levels in the blood.
Coconut is an excellent good source of B-complex vitamins such as folates, niacin, thiamin, riboflavin and pyridoxine.
Coconut contains moderate levels of potassium with 100 g containing 356 mg which is equivalent to about 8% of the recommended daily requirements. It is also a rich source of copper, manganese and iron.
Culinary Uses for Coconut
Chunks or slices of coconut can be eaten as a snack. Small slices of fresh coconut, or grated coconut can be added with honey or sugar and used as a topping for desserts.
Coconut slices and milk have been added routinely as an ingredient for a wide variety of curries. Many fish and seafood curries are cooked in coconut milk.
Dried coconut is used in a wide variety of baked items and desserts - both Asian and traditional Western cakes and slices.
Coconut milk is added as a flavor to a huge variety of food preparations.
Health Benefits of Coconut - Nutrition Chart
| Serving 100 g | Nutrient Value | % recommended daily allowance |
| --- | --- | --- |
| Energy | 354 Cal | 18% |
| Carbohydrates | 15.23 g | 12% |
| Protein | 3.3 g | 6% |
| Total Fat | 33.49 g | 167% |
| Cholesterol | 0 mg | 0% |
| Dietary Fiber | 9 g | 24% |
| Vitamins | | |
| Folates | 26 mcg | 6% |
| Niacin | 0.54 mg | 3% |
| Pantothenic acid | 0.30 mg | 6% |
| Pyridoxine | 0.05 mg | 4% |
| Riboflavin | 0.02 mg | 2% |
| Thiamin | 0.07mg | 6% |
| Vitamin C | 3.3 mg | 6% |
| Vitamin A | 0 IU | 0% |
| Vitamin E | 0.24 mg | 2% |
| Vitamin K | 0.2 mcg | 1% |
| Electrolytes | | |
| Sodium | 20 mg | 1% |
| Potassium | 356 mg | 8% |
| Minerals | | |
| Calcium | 14 mg | 1% |
| Copper | 0.44 mcg | 48% |
| Iron | 2.43 mg | 30% |
| Magnesium | 32 mg | 8% |
| Manganese | 1.50 mg | 65% |
| Phosphorus | 113 mg | 16% |
| Selenium | 10.1 mcg | 18% |
| Zinc | 1.10 mg | 10% |
| Phyto-nutrients | | |
| Carotene, beta | 0 mcg | -- |
| Phytosterols | 47 mg | -- |
Comparison of Nutrients in Coconut Oil with other Common Oils
| Serving 100 g | coconut oil | almond oil | avocado oil | canola oil | grape seed oil | olive oil | peanut oil | rice bran oil |
| --- | --- | --- | --- | --- | --- | --- | --- | --- |
| Calories (kcal) | 860 | 882 | 886 | 886 | 882 | 881 | 881 | 889 |
| Protein (g) | 0 | 0 | 0 | 0 | 0 | 0 | 0 | 0 |
| Total Fat (g) | 100 | 100 | 100 | 100 | 100 | 100 | 100 | 100 |
| Total Carbs (g) | 0 | 0 | 0 | 0 | 0 | 0 | 0 | 0 |
| Dietary Fiber (g) | 0 | 0 | 0 | 0 | 0 | 0 | 0 | 0 |
| Sugar (g) | 0 | 0 | | 0 | 0 | 0 | 0 | 0 |
| Vitamins | 0 | 0 | 0 | 0 | 0 | 0 | 0 | 0 |
| Vitamin C (mg) | 0 | 0 | 0 | 0 | 0 | 0 | 0 | 0 |
| Thiamin (mg) | 0 | 0 | 0 | 0 | 0 | 0 | 0 | 0 |
| Riboflavin (mg) | 0 | 0 | 0 | 0 | 0 | 0 | 0 | 0 |
| Niacin (mg) | 0 | 0 | 0 | 0 | 0 | 0 | 0 | 0 |
| Pantothenic Acid (mg) | 0 | 0 | 0 | 0 | 0 | 0 | 0 | 0 |
| Vitamin B6 (mg) | 0 | 0 | 0 | 0 | 0 | 0 | 0 | 0 |
| Folate (mcg) | 0 | 0 | 0 | 0 | 0 | 0 | 0 | 0 |
| Vitamin B12 (mcg) | 0 | 0 | 0 | 0 | 0 | 0 | 0 | 0 |
| Vitamin A (IU) | 0 | 0 | 0 | 0 | 0 | 0 | 0 | 0 |
| Vitamin E (mg) | 0.1 | 39.2 | | 17.4 | 28.8 | 14.4 | 15.7 | 32.5 |
| Vitamin K (mcg) | 0.7 | 7.3 | | 71.4 | | 60 | 0.7 | 25.2 |
| Minerals | 0 | 0 | 0 | 0 | 0 | 0 | 0 | 0 |
| Calcium (mg) | 0 | 0 | 0 | 0 | 0 | 0 | 0 | 0 |
| Iron (mg) | 0.1 | 0 | 0 | 0 | 0 | 0.6 | 0 | 0.1 |
| Magnesium (mg) | 0 | 0 | 0 | 0 | 0 | 0 | 0 | 0 |
| Phosphorus (mg) | 0 | 0 | 0 | 0 | 0 | 0 | 0 | 0 |
| Potassium (mg) | 0 | 0 | 0 | 0 | 0 | 0 | 0 | 0 |
| Sodium (mg) | 0 | 0 | 0 | 0 | 0 | 0 | 0 | 0 |
| Zinc (mg) | 0 | 0 | 0 | 0 | 0 | 0 | 0 | 0 |
| Copper (mg) | 0 | 0 | 0 | 0 | 0 | 0 | 0 | 0 |
| Manganese (mg) | 0 | | 0 | 0 | | 0 | | |
| Selenium (mcg) | 0 | 0 | 0 | 0 | 0 | 0 | 0 | 0 |
| Fatty Acids | 0 | 0 | 0 | 0 | 0 | 0 | 0 | 0 |
| Saturated Fat (g) | 86.5 | 8.2 | 11.56 | 7.36 | 9.6 | 13.8 | 16.9 | 19.8 |
| Monounsaturated Fat (g) | 5.8 | 69.9 | 70.56 | 63.28 | 16.1 | 72.9 | 46.2 | 39.6 |
| Polyunsaturated Fat (g) | 1.8 | 17.4 | 13.49 | 28.14 | 69.9 | 10.5 | 32 | 35.3 |
| Smoking Point Temp (degrees F) | 350 | 420 | 520 | 400 | 392 | 320- 468 | 450 | 490 |
| Smoking Point Temp (degrees C) | 177 | 216 | 217 | 204 | 200 | 160 - 242 | 232 | 254 |
Related Articles
=> Health Benefits of Virgin Coconut Oil - Nutrition Facts, Charts, Uses and Remedies
=> Homemade Starbucks Iced Chai Tea Latte Recipe with Coconut
=> Crispy Coconut Shrimp Batter Recipe, with Yogurt, Mango, Chive Dip
=> Best Light Coconut Fish Stew and Curry Recipes - Thai and Indian Themes