Cranberries Health Benefits and Nutrition Facts for Fresh Cranberry
Recent research has highlighted the health benefits of fresh cranberries, mostly due to the biologically active components of the fruit such as the phytochemicals that act as precursors for vitamins and have antioxidant properties. Various studies on human health have shown key benefits in:
► decreasing the recurrence of urinary tract infections
► providing benefits for the heart and circulation via antioxidant properties
► providing a rich source of phenolic active compounds that improve human health and support the immune system.
► providing benefits for oral health, by helping to control bacteria in the mouth.
► improving digestion and supporting gut health.
Native Americans used cranberries to reduce fevers, as a poultice for wounds, to relieve stomach problems and as a diuretic.
This article reviews the health benefits of fresh cranberries and compares nutrition data for cranberries with other similar berries: blackberries, blueberries, cherries, mulberries (see table below).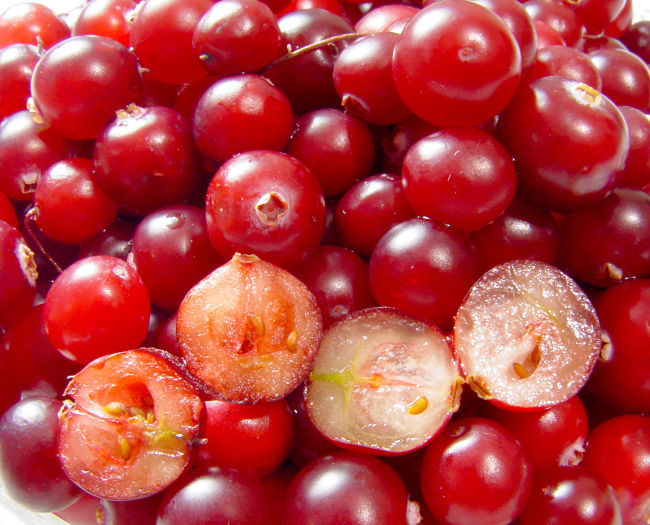 Health Benefits of Cranberries
The cranberry (Vaccinium macrocarpon) is a dwarf, evergreen, creeping shrub (trailing vine) that belongs to the family Ericaceae, genus Vaccinium. The cranberry is native to peat wetlands and acidic bogs in southern Canada and northeastern US. Cranberries were cherished by native Americans, and fruit were collected by the English settlers in the 1600′s. Cranberries are related to blueberries, but they have their own genus.
► Cranberries, like other similar berries have relatively low calories with only 45 Calories in 100g of fresh fruit (see table below). This less than the calories in 100g of apple (52), pear (57), plums (46), mango (60), cherries (50), grapes (67).
► Cranberries are richer in Pantothenic Acid, Vitamin E, Dietary Fiber, Vitamin B6, and Manganese than the other berries shown.
► Cranberries are relatively poor in Protein, Calcium, Iron, Niacin and Folate
► Cranberries have lower levels of fat than other berries
► Cranberries are a good source of Vitamin C and most other vitamins and have a wide range of minerals.
► Cranberries are a rich source of pro-anthocyanidins (PAC's), which belong to the active phenolic flavonoid phytochemicals. These substances have properties for fighting infections, inflammation and cancer, and they have anti-bacterial properties.
► Cranberries are a rich source of many antioxidants that help reduce the damaging effects of free-radicals on the body. Cranberries have one of the highest values for overall Oxygen Radical Absorbance Capacity for any berry.
Serving Tips for Fresh Cranberries
Fresh, or dried cranberries can be eaten as snacks, or mixed with nuts or other fruits.
Add fresh cranberries to green salads and fruit salads.
Use in preparing sorbets, smoothies and fruit cocktails.
Use fresh and dried cranberries in a wide range of baked goods and deserts.
Cranberries can be used to make a wide variety of jams, sauces, and jellies.
Cranberry sauce is popular with turkey and other poultry dishes.
Related Articles About Berries - Health Benefits and Nutrtion Facts
=> Health Benefits of Blueberries and Blueberry Nutrition Facts Chart
=> Lingonberries Health Benefits -Lingonberry Nutrition Facts, Uses and Serving Tips
=> Mulberry Health Benefits for Fruit and Leaves - Nutrition, Cultivation
=> Best Ever Galette Recipes - Apple, Blueberry, Potato, Fruit, Savory
=> Mexican Bunuelos Recipes with Fresh Berry Sauce and Fruit
Nutrients in 100g of fresh Cranberries compared with similar fruits
| Nutrients in 100g fresh fruit | cranberries | blackberries | blueberries | cherries | mulberries |
| --- | --- | --- | --- | --- | --- |
| Calories (kcal) | 46 | 43 | 57 | 63 | 43 |
| Protein (g) | 0.4 | 1.39 | 0.74 | 1.06 | 1.43 |
| Total Fat (g) | 0.14 | 0.49 | 0.32 | 0.2 | 0.4 |
| Total Carbs (g) | 12.2 | 9.61 | 14.49 | 16.01 | 9.8 |
| Dietary Fiber (g) | 4.6 | 5.28 | 2.43 | 2.09 | 1.67 |
| Sugar (g) | 4.04 | 4.88 | 9.96 | 12.82 | 8.1 |
| Vitamins | | | | | |
| Vitamin C (mg) | 13.4 | 20.97 | 9.73 | 6.97 | 36.33 |
| Thiamin (mg) | 0.02 | 0.01 | 0.04 | 0.03 | 0.03 |
| Riboflavin (mg) | 0.02 | 0.03 | 0.04 | 0.03 | 0.1 |
| Niacin (mg) | 0.1 | 0.65 | 0.42 | 0.16 | 0.63 |
| Pantot. Acid (mg) | 0.3 | 0.28 | 0.12 | 0.2 | |
| Vitamin B6 (mg) | 0.06 | 0.03 | 0.05 | 0.05 | 0.07 |
| Folate (mcg) | 0 | 25 | 5.41 | 4.36 | 6.67 |
| Vitamin A (IU) | 60 | 214 | 54 | 64 | 27 |
| Vitamin E (mg) | 1.2 | 1.17 | 0.57 | 0.07 | 0.87 |
| Vitamin K (mcg) | 5 | 19.86 | 19.32 | 2.09 | 7.67 |
| Minerals | | | | | |
| Calcium (mg) | 8 | 29.17 | 5.41 | 13.07 | 40 |
| Iron (mg) | 0.24 | 0.63 | 0.28 | 0.36 | 1.87 |
| Magnesium (mg) | 6 | 19.44 | 5.41 | 11.32 | 16.67 |
| Phosphorus (mg) | 12 | 22.22 | 12.16 | 20.91 | 36.67 |
| Potassium (mg) | 84 | 162.5 | 77.03 | 222.13 | 193.33 |
| Sodium (mg) | 2 | 1.39 | 1.35 | 0 | 10 |
| Zinc (mg) | 0.1 | 0.53 | 0.16 | 0.07 | 0.13 |
| Copper (mg) | 0.06 | 0.17 | 0.05 | 0.06 | 0.07 |
| Manganese (mg) | 0.36 | 0.65 | 0.34 | 0.07 | |
| Selenium (mcg) | 0.2 | 0.42 | 0.14 | 0 | 0.67 |
| Fatty Acids | | | | | |
| Saturated Fat (g) | 0.02 | 0.01 | 0.03 | 0.03 | 0.03 |
| Mono-unsat. Fat (g) | 0.02 | 0.04 | 0.05 | 0.04 | 0.03 |
| Polyunsat. Fat (g) | 0.06 | 0.28 | 0.15 | 0.05 | 0.2 |