Cream Cheese Nutrition Facts and Best Ever Cream Cheese Recipes
Cream cheese, like most cheeses has a high calorie and high fat content. Cream cheese is richer in fat than many other cheeses (see the table below which compares the nutrients for various types of cheese). The fat content of cream cheese is similar to cheddar cheese. The calorie content of cream cheese is in the mid-range similar to Camembert and Brie, but much less than for Blue cheese, Swiss and Cheddar. As shown in the table below, whipped, light and other reduced fat varieties of cream cheese have one third to one half less fat and calories than regular cream cheese.
Beyond the traditional cheese cakes and dips there are many fabulous ways to use cream cheese in savoury and sweet dishes. It is also useful as a thickener for sauces, cake frostings, addition to mashed potatoes, pizzas, vegetable dishes and pies. The conclusion from this is to use cream cheese sparingly and to choose whipped or light cream cheese varieties whenever possible. Beware that some light fat varieties have poor taste and may contain chemicals and other additives to maintain the texture of the cheese without fat.
This article contains the best ever recipes for cream cheese. Some of the uses will astound you. Let your taste buds decide whether the usual uses shown are worthwhile. Enjoy!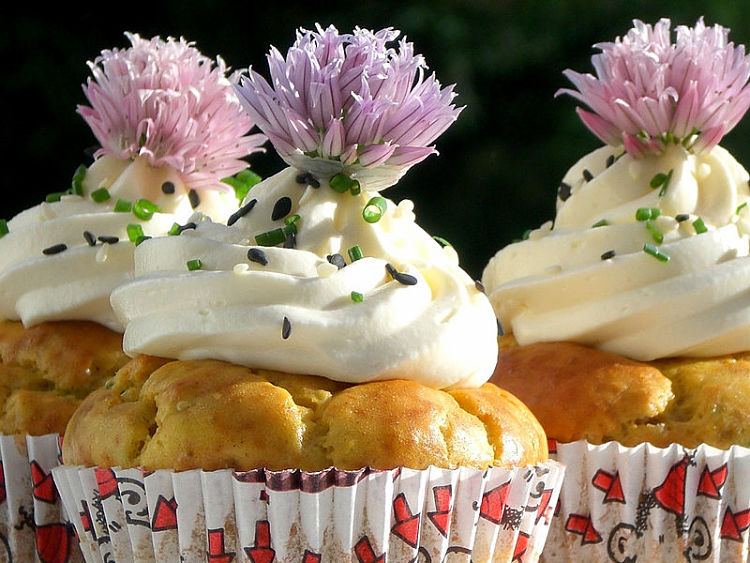 Baked Cream Cheese Custard Crumble Recipe with Rhubarb and Coconut
Ingredients
150 g (5 oz) caster sugar
4 yolks of free range eggs
1 teaspoon vanilla extract
Juice and zest of 1 orange
500 g (1 lb) cream cheese (light varieties are suitable)
Pistachios, shelled and chopped for serving as a sprinkling
4 rhubarb stems, sliced diagonally into 1 inch long (2 cm) pieces
For the crumble
40 g (2 oz) rolled oats
50 g (2 oz) caster sugar
50 g (2 oz) demerara sugar
130 g (4.5 oz) plain flour
100 g (3.5 oz) demerara sugar
25 g (1 oz) desiccated coconut
100 g (3.5 oz) cold butter, cubed
Method
Preheat your oven to 150 degrees C (300 degrees F). Whisk the sugar and egg together until smooth light and a pale color. Add the zest, orange juice, cream cheese and vanilla extract and beat thoroughly. Place four ramekins into a deep baking tray. Spoon a quarter of the cream cheese custard between each ramekin. Add enough water to the baking tray so that the level is just below the top of the ramekin. Carefully put the tray into the preheated the oven and bake for 15-17 minutes, or until the custard has just started to set. You want the final outcome to be a custard with a thin jelly-like consistency. Once cooked, cool to room temperature, and then chill in the refrigerator.
Next place the chopped rhubarb into a heavy pan or Dutch oven with the sugar and some water. Cook slowly using a low heat setting until the rhubarb just starts to soften, but is not mushy (about 10-15 minutes). Make the crumble by adding all the ingredients to a small bowl and mixing well with your hands or a wooden spoon. Put the mixture onto a shallow baking tray and bake for about 20 minutes, until the crumble is golden brown. Set aside to cool.
Assemble the desserts by spooning a little rhubarb onto the top of each baked cream cheese in the dishes and topping with crumble and some chopped pistachios. Serve with the rhubarb slightly warm.
Onions Stuffed with Mushrooms, Cream Cheese and Bacon Recipe
Ingredients
Salt to taste
8 medium onions
1 knob of butter
2 teaspoons olive oil
1/2 teaspoon of nutmeg
50 g (2 oz) breadcrumbs
600 ml (2.5 cups) single cream
3 garlic cloves, finely chopped
125 g (4 oz)cream cheese, beaten
1 teaspoon thyme, finely chopped
1 teaspoon dried or fresh oregano
Freshly ground black pepper to taste
250 g (8 oz) mushrooms, finely sliced
60 g (2 oz) Parmesan Cheese finely grated
75 g (2.5 oz) bacon or pancetta, chopped
Method
Preheat the oven to 200 degrees C (400 degrees F). Peel the onions, keeping the root or base intact to hold them together. Boil the onions in salted water for about 20 minutes, or until tender. Drain well in a colander and set aside to cool. When cool, cut the top 1 inch (2 cm) off the top of the onions. Using a spoon, carefully scoop out the central part of the onions, leaving the outside intact. Chop the portion of the onions removed during this process and set aside. Heat the knob of butter and 1 tablespoon of olive oil in a heavy frying pan. Fry the chopped bacon, mushrooms, chopped onion, thyme and oregano until the bacon is cooked. Add the garlic and dry until fragrant and transparent. Transfer this mixture to a small bowl and set aside to cool. Then add the Parmesan cheese, cream cheese and breadcrumbs to the mixture and season to taste. Carefully spoon the mixture into the hollowed-out onions. Transfer the stuffed onions to a greased baking dish. Pour the cream over the mushrooms, sprinkle on more Parmesan cheese and scatter with thyme and grated nutmeg. Bake for about 25-35 minutes, or until the filling is golden brown and bubbling.
Barley Risotto Recipe with Spinach, Lemon and Cream Cheese
Ingredients
Salt
250 g (9 oz) barley
1/2 cup white wine
A small knob of butter
2 cups of fresh spinach
50 g (1.5 oz) blue cheese
2 tablespoons cream cheese
Freshly ground black pepper
1 1/4 cups of vegetable stock
Juice and zest of one small lemon
1 spring onion, sliced very finely
1 small red onion, peeled and finely sliced
Method
Fry the onions in melted butter until soft and golden. Add the barley and mix to coat all the grains. Pour in the white wine and half the stock gradually while stirring. With the lid removed, increase the heat to high. Bring the mixture to the boil, and then reduce to a slow simmer. Stir occasionally and gradually add the rest of the stock, until it is all absorbed. Cook for 30-40 minutes, until the barley is just cooked and most of the liquid has been reduced. Add the spinach to the pan and mix through. Then add the two cheese and stir while the cheese melts. Serve immediately with a sprinkling of lemon zest and juice and chopped spring onion.
Cream Cheese Pastry with Raspberry Filling
Ingredients
1 egg yolk
3 tablespoon caster sugar
75 g (2.5 oz)cold butter, diced
75 g 2.5 oz) full-fat cream cheese
200 g (8 oz) plain flour, plus extra for dusting
For the filling
1 tablespoon plain flour
Zest of one small orange
50 g (1.7 oz) caster sugar
100 g (3.5 oz) raspberries
100 g (3.5 oz) cream cheese
Method
Preheat the oven to 200 degrees C (400 degrees F). Add the flour, butter and sugar in the bowl of a food processor or blender and pulse until the mixture has the texture fine breadcrumbs. Add the egg yolk and the cream cheese. Pulse until the pastry forms a ball. You can also mix the pastry by hand. Shape the ball into a flattened disk, wrap in plastic film and chill for 30 minutes. Make the filling by beating the sugar, flour, cream cheese and orange zest until smooth. Add half the raspberries and mix briefly to break raspberries apart, but leave them in large pieces. Set aside. Grease and line 2-3 baking trays with baking paper. Roll the pastry out to a thin rectangle 40 x 20 cm (18 x 9 inches) in size. Slice the rectangle in half, and then cut each piece into half again to form 4 equal size squares (10 cm ; 4.5 inches). Put a spoon full of the cream cheese mixture into the middle of each square. Raise the corners to form a cup. Put a raspberry on top of each cream-cheese filling. Then, fold each corner of the pastry into the centre, pinching the corners together to secure. Transfer the pastries to the baking trays and chill for 15-20 minutes in the refrigerator. Bake in the preheated oven for about 20 minutes, or until the pastry is golden and crispy. Cool on the tray for about 10 minutes and then transfer to a wire rack to finish cooling.
Crab and Cream Cheese Dip Recipe
Ingredients
1/2 lemon, juiced
1/4 teaspoon salt
2 teaspoons dry sherry
2 tablespoons mayonnaise
1 (6-ounce; 170 g) can crab meat
1 tablespoon Worcestershire sauce
Freshly ground black pepper to taste
2 tablespoons fresh chives, finely chopped
1 (12-ounce; 350 g) container whipped cream cheese, at room temperature
Method
Using a medium size bowl, combine together the pepper, salt, sherry, lemon juice, Worcestershire sauce, mayonnaise and cream cheese. Fold in the crab meat and chives. Top with additional chopped chives.
Comparison of Nutrients in 100 g of Common Cheeses, listed from low to high fat contents
| Cheese (100 g serving) | Calories (kcal) | Total Fat (g) | Calcium (mg) | Sodium (mg) |
| --- | --- | --- | --- | --- |
| Cottage | 93 | 2 | 70 | 411 |
| Ricotta, part skim milk | 139 | 8 | 275 | 125 |
| Mozzarella, part skim milk | 257 | 16 | 793 | 625 |
| Feta | 268 | 21 | 500 | 1128 |
| Mozzarella, whole milk | 303 | 22 | 511 | 635 |
| Camembert | 303 | 25 | 393 | 853 |
| Parmesan | 396 | 26 | 1200 | 1621 |
| Provolone | 357 | 27 | 764 | 885 |
| Romano | 393 | 27 | 1078 | 1214 |
| Gouda | 361 | 28 | 707 | 828 |
| Brie | 339 | 28 | 186 | 635 |
| Edam | 361 | 28 | 739 | 978 |
| Swiss | 386 | 28 | 800 | 193 |
| Blue | 357 | 29 | 536 | 1410 |
| Brick | 375 | 30 | 682 | 568 |
| Goat | 368 | 30 | 300 | 521 |
| Muenster | 371 | 30 | 725 | 635 |
| Monterey | 378 | 31 | 753 | 543 |
| Colby | 400 | 32 | 693 | 610 |
| Gruyere | 418 | 33 | 1025 | 339 |
| Cheddar | 407 | 34 | 728 | 628 |
| Cream | 346 | 35 | 100 | 325 |
| Havarti | 393 | 36 | 21 | 643 |
| Mascarpone | 446 | 46 | 107 | 57 |