Dark Chocolate is a Healthy Choice with Many Proven Health Benefits
Chocolate lovers have been given a boost by recent research that confirmed that eating chocolate, especially dark chocolate, provides many health benefits. A major review of research studies, that included several large review studies which involved more than 100,000 subjects, confirmed the health benefit claims.
I love chocolate and I have spent many years researching its benefits and health hazards.
This review study has confirmed my research that moderate dark chocolate consumption was linked with a significant fall in the risk of various cardiovascular disorders, including lower rates of stroke, coronary heart disease, blood pressure.
However the study found no significant benefits in reducing on the risk for heart failure or diabetes.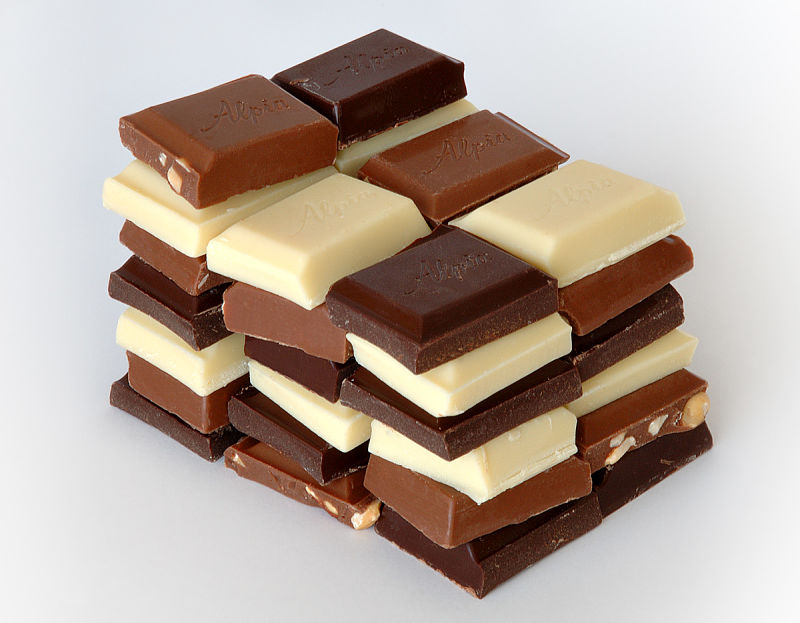 Is Dark Chocolate Healthy
It is hard to separate chocolate consumption from eating excess sugar and consumers and lovers of chocolate should always look for dark chocolate that contains less milk products (fat) and are low in sugar. I have found that there are many healthy chocolate choices available if you take time to look for them. Eating chocolate with a raw apple is a good idea as apples have many health benefits.

The scientific report was published in the renowned British Medical Journal. It found that the group of people that ate moderate amounts of chocolate showed:
37 % reduction in cardiovascular disease risks
29 % reduction in stroke risks.
However, the researchers were quick to caution that their study was not a license for gross over-consumption of chocolate. Chocolate has health benefits if eaten in moderation but these benefits are quickly eroded if you eat too much because of the high fat, sugar, high calories and high calorific density of chocolate products.
Pros for Dark Chocolate
Antioxidant properties - Chocolate contains relatively large amounts of beneficial antioxidants - that can help to neutralise the effect of the harmful chemical reactions and pollutants.
Eating Chocolate makes you Feel Good - Chocolate contains small quantities of several stimulant chemicals, including caffeine. Chocolate also melts in the mouth at body temperature and this creates a luscious, pleasant and silky sensation that adds to the pleasant experience of eating chocolate. If you feel good you will generally be healthier. The amount of caffeine in chocolate is only about 10% of that in an average serving of cola drinks, tea of coffee. Various studies have shown that low to moderate consumption of caffeine can boost your health improving endurance during exercise, fat metabolism, increasing general attention spans and alertness and decreasing the onset of tiredness and fatigue.
Cons for Dark Chocolate
High Calories - Chocolate products often contain fat and sugar that increases their calorie contents. So it pays to check the ingredients list and to shop around to find the low calorie varieties. A single serving of 100g of chocolate contains: 510 kcals for dark chocolate ; 520 kcals for milk chocolate; 529 kcals for white chocolate.
Mood swings cause by glucose peaks - Eating hits of sugar can induce mood swings tempting you to eat excess quantities and to eat chocolate as a comfort food, simply to make you feel better. You need to control this and avoid over-consumption.
The 'Chocolate causes Acne Myth' -The claim that chocolate can cause acne is not supported by research. The real cause is hormonal fluctuations rather than diet.
Tooth decay - Once again its is the sugar in chocolate rather than the chocolate itself which is the problem.
Guide for Healthy Chocolate Consumption:
You can enjoy chocolate in a balanced diet by adopting a few simple rules:
Consume your chocolate snacks after a serving of food when you are feeling full and so will be less likely to consume too much. You will also benefit from cleaning your teeth after a meal.
Avoid eating chocolate to give you a lift when you are feeling down - try some exercise first and eat your chocolate when you return.
Purchase smaller bars or dark chocolate that are mow in fat and sugar. Avoid the family-sized slabs of milk chocolate.
Eat your chocolate with other foods such as fresh fruit, which increases the overall benefit.
Eat the chocolate slowly - let it dissolve in your mouth. This will tend to reduce your tendency to eat too much.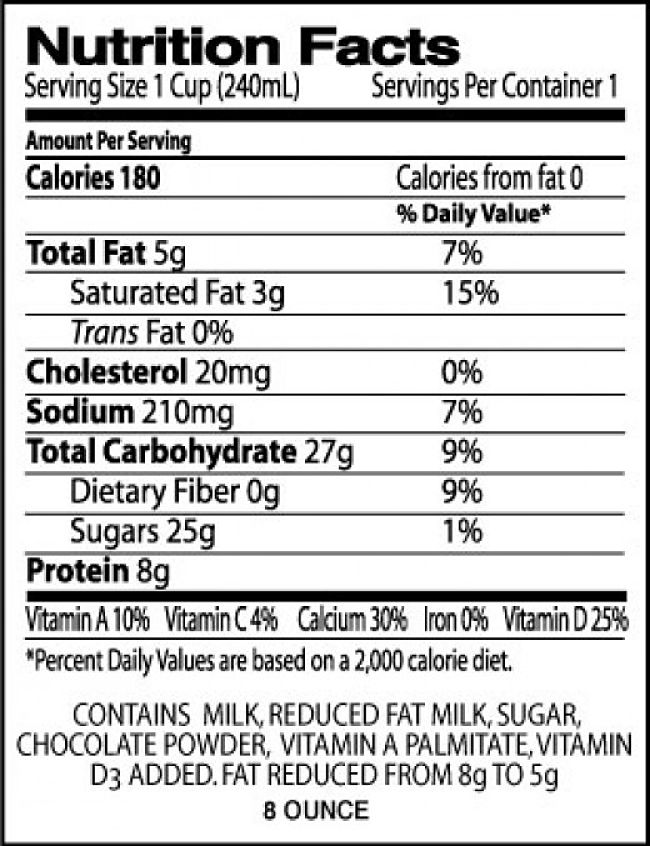 Fat and Calories in Various Types of Chocolate with Serving Sizes
| Type | Amount | Calories | Fat |
| --- | --- | --- | --- |
| Milk Chocolate | 1 square 5g | 27 | 1.5 |
| Milk Chocolate | 1 row 25g | 132 | 7.5 |
| Milk Chocolate | 2 rows 50g | 265 | 15 |
| Milk Chocolate | 250g block | 1320 | 75 |
| Dark Chocolate | 1 square 5g | 105 | 1.5 |
| Dark Chocolate | 1 row 25g | 533 | 7.5 |
| Dark Chocolate | 2 rows 50g | 1071 | 15 |
| Dark Chocolate | 250g block | 5355 | 75 |
| White Chocolate | 50g Bar | 280 | 17 |
| White Chocolate | 200g block | 1120 | 68 |
| Filled Boxes Average | 1 piece | 55 | 3 |
| Filled Boxes Average | 250g block | 1200 | 58 |
| After Dinner Mints | 1 mint | 35 | 1 |
| Choc Coated Raisins | 30g block | 120 | 4.5 |
| Peanuts - Almonds | 30g | 160 | 12 |
| Peanuts - Almonds | 100g block | 530 | 40 |
| Liqueur Fill (cherries) | 1 Piece | 50 | 2 |
| Cooking Chocolate | 100g block | 500 | 30 |
| Carob | 30g | 155 | 9 |
| Carob | 100g block | 520 | 30 |
| Choc Easter Eggs | 30g | 160 | 9 |
| Choc Easter Eggs | 100g block | 550 | 30 |
| Choc Easter Eggs | 200g block | 1060 | 60 |
| Choc Rabbit | 108g block | 425 | 54 |
| Hard candy eggs | 100g block | 370 | 0 |
| Choc Bars (average) | 50g block | 270 | 17 |