Fava Beans Health Benefits, Nutrition and Culinary Uses for Broad Beans
Broad beans, or Fava beans as they are also known, are unique vegetables. These beans are easy to grow in the home garden and easy to pick and prepare for cooking. A variety of dishes can be made from fresh beans extracted from the pods, or using dried fava beans.
Broad beans are an excellent source of dietary fiber and protein. Broad beans are also rich in both folate and B group vitamins.
Fava beans are one of the oldest cultivated crops and probably originated in Mediterranean region or Asia Minor. The plant is a small annual herb with erect stems and pink-white flowers that grow to a height of up to 6 feet.
The vegetation makes excellent green mulch. The large light green, fruit pods contain 6-10 flat, broad, thick irregularly oval-shaped beans. The thick indigestible cover on the beans is easy to extract and the shelled beans have a wide variety of uses.
This article summarizes the healthy benefits and nutrition facts for Fava bean in comparison with Lima Beans, Green Beans, Green Peas, and Yard Long beans.
It summarizes the culinary uses of fava beans and provides three recipes to highlight how they can be used and enjoyed.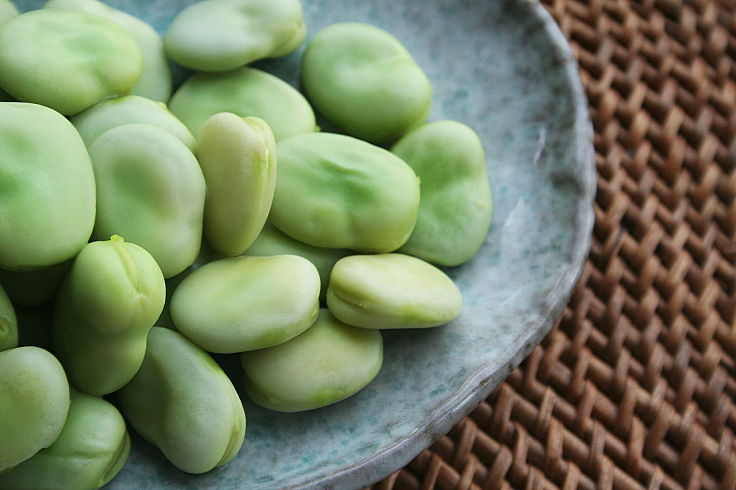 Health Benefits and Nutrition Data for Broad (Fava) Beans
Fava beans have high levels of protein and fiber, and are packed with healthy nutrients, but their energy and fat content are high, as occurs in most other beans and lentils.
100 g of fava beans contains about 341 calories per 100 g, much more than the other foods listed in the table below. Lima beans have 338 calories per 100g, Green Beans 31calories, green peas 81 calories and yard long beans 47 calories.
Fava beans have low levels of fat, with 1.53 g per 100g serving. But this level is twice of three times higher than in the other beans listed,
Broad beans are very rich source of dietary fiber (100 g contains 25g which is 66% of the recommended daily allowance). Dietary fiber has a wide range of benefits for the digestive system and aids in adding bulk to food eaten and so helps to control hunger. Dietary fiber has also been shown to play a role in reducing blood cholesterol levels. It appears to lower the absorption of cholesterol from food passing through the colon.
Broad beans are relatively rich in phyto-nutrients such as plant-sterols and isoflavone, which have antioxidant properties.
Fresh fava beans are an excellent source of folates and the B-group vitamins. A serving of 100 g of broad beans provide 423 mcg of folates, which is the full daily allowance.
Broad beans are also an excellent source of vitamin-B6 (pyridoxine), riboflavin, thiamine (vitamin B-1) and niacin. These vitamins function have a variety of essential roles in the body. The B-group vitamin levels are higher than the alternative neand shown in the table below.
Vitamin C, A and K are lower in Fava beans than in the other beans listed in the table below.
Broad beans are an excellent source of a wide range of minerals including iron, manganese, calcium, copper, zinc and magnesium. The mineral contents in broad beans are generally much higher than in the other beans.
Preparation and Use of Broad bean (Fava Beans)
As a home grown vegetable, broad beans, like green peas, are a winter crop. Small immature and tender, green pods can be eaten whole, including the skin capsule and can be substituted for green-beans. Using juvenile pods in this way is good way to start using your crop of broad beans in the garden. Broad beans are prolific producers and the harvest can occur at the same time unless you stagger the plantings. Usually, however, the mature beans are removed from the pods and the skins removed before cooking.
While buying fava beans, choose fresh, evenly shaped and sized beans, that are just mature and not hard and dry. Choose green color beans, not the yellow ones, as the latter can be over mature, dry, and have a bitter taste. Store the beans with the shells on as they keep better that way. Remove the capsules just before use
Fresh broad beans are easy to cook, versatile and delicious.
Dried beans can be re-hydrated by soaking in warm water and cooking similar to other dried beans. The fresh beans are preferred.
Serving Tips for Broad Beans
Add to risotto and other rice dishes
Add to stews, soups, and stir-fries.
Serve broad beans with boiled couscous (semolina) as a side dish with grilled and roast meat
Chop the cooked beans finely, and add to breads, baked goods, pasta sauce, pesto and other dishes
Broad Beans with Barley and Feta
100g (4 oz) feta, crumbled
1/2 cup fresh parsley, chopped
3 sprigs of mint, chopped
1 litre (2 pints) vegetable stock
200ml (1 cup) white wine
800g (1.8 lb) broad beans, removed from the pods and, if large, blanched and popped out of their skins
400g (14 oz) pearl barley, washed thoroughly and left to soak for 20 minutes
2 garlic cloves, peeled and crushed
1 bunch spring onions, trimmed and sliced into 1cm pieces
30g (1oz) butter
1 tablespoon olive oil
Heat half the butter and the oil in a large, heavy frying pan and cook the garlic and spring onions and garlic for about 5 minutes until soft. Add the pearl barley and cook for about 60 seconds and then add the white wine. Let the wine infuse into the barley for a minute or so, and then add the stock. Simmer, stirring frequently, until the barley is tender (about 30 minutes, but sample to check). Add a little hot water to top-up the stock if all the liquid is absorbed before the barley is soft. Remove the pan from the heat, and stir in one tablespoon of butter and add the crumbled feta and herbs. Season to taste, with salt and pepper.
Broad Bean Risotto with Mint
3kg (6.5lb) fresh broad beans or 400g (14oz) podded or frozen beans
75g (3oz) Parmesan cheese, freshly grated
1 bunch of mint, chopped
1 glass of white wine
300g (11oz) arborio rice or similar
2 garlic cloves, finely chopped
2 onions, finely chopped
150g (5oz) unsalted butter
2 litres (3.5 pints) chicken or vegetable stock
2 tablespoons extra virgin olive oil
Freshly ground black pepper and salt to taste
One option is to blend about half of the beans into a rough, creamy paste. This adds color and infused the bean taste through the risotto.
To prepare the risotto, add the stock to a large saucepan, bring to the boil, lower the heat to a simmer. Add the broad beans and cook for 2-3 minutes, then remove and set aside. Keep the stock simmering to add to the rice later.
Add about half of the butter and a pinch of salt to a small frying pan and sautee the onions and garlic until tender (but do not brown them). Increase the heat to high and add the rice. Mix the rice with a wooden spoon for about 30 seconds to coat all the grains with oil. Add the wine and boil the mixture fiercely for about 60 seconds, stirring constantly. Quickly add the broad bean paste (if using this option). Reduce the heat and start adding small batches of hot simmering stock in stages, waiting till the liquid is absorbed before adding the next one.
When the rice is just cooked, remove the pan from the heat, add the rest of the butter and set the pan aside until it has melted. Mix in the mint and broad beans, then add the Parmesan, season with salt and pepper and serve immediately.
Best Ever Beef and Broad Bean Stew
2 tablespoons wholegrain mustard
100g (3.5oz) broad beans, cooked for 2-3 minutes in simmering water
55g (2oz) sweet potato roughly diced and boiled until tender, drained
100ml (3.5 fl oz) chicken stock or vegetable stock
1 tomato, diced
1 tablespoon Worcestershire sauce
1 garlic clove, peeled and finely chopped
1 small onion, peeled and finely chopped
100g (3.5 oz) fillet steak, diced
50g (2oz) unsalted butter
Preheat the oven 200 degrees C ( 400 degrees F). Heat the butter in a small frying pan until and fry the steak to brown the outside for 2-3 minutes. Remove the steak and set aside. Add the garlic and onions and to the pan and fry for about 2-4 minutes, until the onion is translucent and softened. Add the tomato and Worcestershire sauce to the pan and fry for another 1-2 minutes. Add the chicken stock and bring to the boil. Mix in the broad beans and sweet potato and stir in the mustard.
Note: This minimal cooking time only works with fillet steak which is tender enough to be used straight away. Other cuts of meat will require longer cooking times in the stock mixture to become tender.
Nutrients in Fava Beans (Broad Beans) compared with Other Beans and Peas
Nutrients in Serving of 100g

Fava Beans

Lima Beans

Green Beans

Green Peas

Yard Long beans

Energy

341 Cal

338 Cal

31 Cal

81 Cal

47 Cal

Carbohydrates

58.59 g

63.38 g

7.13 g

14.45 g

8.35 g

Protein

26.12 g

21.46 g

1.82 g

5.42 g

2.8 g

Total Fat

1.53 g

0.69 g

0.34 g

0.40 g

0.40 g

Cholesterol

0 mg

0 mg

0 mg

0 mg

0 mg

Dietary Fiber

25 g

19 g

3.4 g

5.1 g

Vitamins

Folates

423 mcg

395 mcg

37 mcg

65 mcg

62 mcg

Niacin

2.832 mg

1.537 mg

0.752 mg

2.090 mg

0.410 mg

Pantothenic acid

0.976 mg

1.355 mg

0.094 mg

0.104 mg

0.055 mg

Pyridoxine

0.366 mg

0.512 mg

0.074 mg

0.169 mg

0.024 mg

Riboflavin

0.333 mg

0.202 mg

0.105 mg

0.132 mg

0.110 mg

Thiamin

0.555 mg

0.507 mg

0.084 mg

0.266 mg

0.107 mg

Vitamin A

53 IU

0 IU

690 IU

765 IU

865 IU

Vitamin C

1.4 mg

0 mg

16.3 mg

40 mg

18.8 mg

Vitamin E

0.72 mg

0.13 mg

Vitamin K

9 mcg

6 mcg

14.4 mcg

24.8 mcg

Electrolytes

Sodium

13 mg

18 mg

6 mg

5 mg

4 mg

Potassium

1062 mg

1724 mg

209 mg

244 mg

240 mg

Minerals

Calcium

103 mg

81 mg

37 mg

25 mg

50 mg

Copper

0.824 mcg

0.740 mcg

0.176 mg

0.048 mcg

Iron

6.70 mg

7.51 mg

1.04 mg

1.47 mg

0.47 mg

Magnesium

192 mg

224 mg

25 mg

33 mg

44 mg

Manganese

1.626 mg

1.672 mg

0.214 mg

0.410 mg

0.205 mg

Phosphorus

421 mg

385 mg

38 mg

59 mg

Selenium

8.2 mcg

7.2 mcg

1.8 mcg

1.5 mcg

Zinc

3.14 mg

2.83 mg

0.24 mg

1.24 mg

0.37 mg

Phyto-nutrients

Carotene-beta

32 mcg

0 mcg

379 mcg

449 mcg

Carotene-alpha

00 mcg

0 mcg

69 mcg

0 mcg

Lutein-zeaxanthin

00 mcg

0 mcg

640 mcg

2477 mcg