Flaxseed Nutrition Facts, Health Benefits and Culinary Uses of Seed and Oil
Flaxseed, which is also known by the older name of linseed, is an ancient crop, widely grown for its rich oil and fiber.
The shiny and somewhat chewy seeds, are very versatile in their uses and boast a treasure trove of vitamins, antioxidants, omega-3 fatty acids, essential minerals and other nutrients.
Flaxseed should be more widely used as replacements for many of the common seeds in baked goods, smoothies, muesli and breakfast cereals, breads and added to coatings for grilled fish and chicken dishes.
This article provides nutrient data and health benefit information for flaxseed.
Detailed comparisons are provide for other common seeds that have similar uses: Lotus seeds, Pine nuts, Pumpkin seeds, Sesame seeds and Sunflower seeds.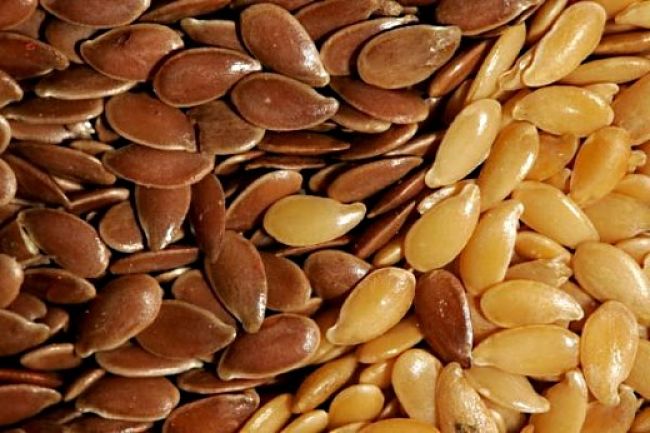 What are Flaxseeds and What are They Used For?
Flaxseeds occur in a fruit pod that has an elongated round shape. The fruit capsules are dried before harvesting and are about 6–9 mm in diameter. Each pod contains a handful of golden-yellow or brown shiny seeds (depending on the particular cultivar type). The seeds have a smooth glossy appearance somewhat resembling miniature pumpkin seeds, or enlarged and flattened sesame seeds, The flaxseeds are generally about 5–7 mm long. various cultivars are grown primarily for their oil and fiber.
Nutrient Data for Flaxseed
Ground flaxseed is preferred rather than whole seeds, because the ground meal is easier to digest. Whole flaxseed may pass right through your intestine without being digested and without releasing the benefits.
You can generally buy ground flaxseed in bulk at health food stores. Whole seeds can be ground in a food processor or even a coffee grinder and then stored in airtight containers. Keep the whole seeds in your refrigerator to maintain their freshness.

► The major health benefits from flaxseeds are:
high fiber content,
a unique vegetable source of omega-3 fatty acids
rich source of a range of phytochemicals with antioxidant properties, especially lignans.
► One tablespoon of ground flaxseed contains 2 grams of dietary fiber, 2 grams of polyunsaturated fatty acids (includes the omega-3 fatty acids) and 37 calories.
► The addition of 1-3 tablespoons of flaxseeds to baked goods, granola, smoothies and to curries and stews provides a great boost to the nutrients in these dishes.
► Flaxseed, being rich in oil, has relatively high calories similar to many nuts and seeds. However the amount eaten is relatively small.
► A large serving of about 100 g of seeds contain 534 calories. The calorie content is lower than all the other seeds except for lotus seeds, but they are all high in calories (see the table below).

► Flaxseed is rich in a range of monounsaturated fatty acids, including oleic acid. These fatty acids are much healthier for you than the saturated fatty acids.

► Flaxseed is one of the best sources of all vegetables for omega-3 essential fatty acids such as , linoleic acid, alpha-linolenic acid (ALA) and arachidonic acids. These essential fatty acids and also found in fish and seafood.
► The healthy Mediterranean diet has many of the properties of flaxseed such as high fiber, omega-3 fatty acids and monounsaturated fatty acids. These fatty acids help prevent disease and stroke.
Vitamins and Minerals in Flaxseeds
Flaxseeds are an excellent source of vitamin E containing about 20 mg per 100 g serving, which is 130% of the daily allowance for this vitamin.
Flaxseeds are also a rich source of B-complex vitamins including as riboflavin, thiamin, pantothenic acid, niacin, vitamin B-6, and folates. These vitamins are important for healthy skin and many of the body's metabolic processes. Flaxseeds have higher vitamin levels than most of the seeds in the table below, with the exception of sunflower seeds.

Flaxseed are a very rich source of many essential minerals like manganese, iron, magnesium, potassium, calcium, zinc and selenium.
The mineral levels are higher than most of the other seeds, with the exception of pine nuts and sunflower seeds.

Total fat levels are much lower in flaxseeds than the other seeds in the table. Flaxseeds are an excellent source of two essential fatty acids that are low in most other vegetables sources: alpha-linolenic acid and linoleic acid.
Culinary Uses of Flaxseeds
The seeds can be enjoyed simply as snacks added to nut and dried fruit. Flaxseed can be eaten raw, roasted, salted, or sweetened. Crushing the seeds releases the nutrients.

Ground or toasted seeds make great toppings for yogurt and other desserts, shakes, baked goods and smoothies

Flaxseed is widely used in confectionery and baked goods such as homemade biscuits, cookie, slices, sweets, pancakes, breads, muffins and cakes.
Nutrition Facts for Flaxseed
| Nutrients in 100g Serve | Nutrient Value |
| --- | --- |
| Energy | 534 Cal |
| Carbohydrates | 28.8 g |
| Protein | 18.3 g |
| Total Fat | 42.16 g |
| Cholesterol | 0 mg |
| Dietary Fiber | 27.3 g |
| Vitamins | |
| Folates | 87 µg |
| Niacin | 3.08 mg |
| Pantothenic acid | 0.985 mg |
| Pyridoxine | 0.473 mg |
| Riboflavin | 0.161 mg |
| Thiamin | 1.64 mg |
| Vitamin A | 0 IU |
| Vitamin C | 0.6 mg |
| Vitamin E | 19.95 mg |
| Vitamin K | 4.3 µg |
| Electrolytes | |
| Sodium | 30 mg |
| Potassium | 813 mg |
| Minerals | |
| Calcium | 255 mg |
| Copper | 1.12 mg |
| Iron | 5.73 mg |
| Magnesium | 392 mg |
| Manganese | 2.48 mg |
| Zinc | 4.34 mg |
| Phyto-nutrients | |
| Carotene-beta | 0 µg |
| Lutein-zeaxanthin | 651 µg |
Comparison of the Nutrients in Flaxseed with Other Common Seeds
| Nutrients for 100g serving | flaxseed | lotus seeds | pine nuts | pumpkin seeds | sesame seeds | sunflower seeds |
| --- | --- | --- | --- | --- | --- | --- |
| Calories (Cal) | 534 | 332 | 674 | 557 | 572 | 586 |
| Protein (g) | 18.25 | 15.38 | 13.69 | 30.23 | 17.72 | 20.78 |
| Total Fat (g) | 42.14 | 1.98 | 68.36 | 49.07 | 49.67 | 51.46 |
| Total Carbs (g) | 28.83 | 64.48 | 13.09 | 10.72 | 23.44 | 20 |
| Dietary Fiber (g) | 27.18 | | 3.53 | 6 | 11.67 | 8.47 |
| Sugar (g) | 1.55 | | 3.6 | 1.41 | 0.28 | 2.61 |
| Vitamins | | | | | | |
| Vitamin C (mg) | 0.97 | 0 | 0.71 | 1.76 | 0 | 1.41 |
| Thiamin (mg) | 1.64 | 0.64 | 0.36 | 0.27 | 0.79 | 1.48 |
| Riboflavin (mg) | 0.17 | 0.15 | 0.23 | 0.15 | 0.24 | 0.36 |
| Niacin (mg) | 3.08 | 1.6 | 4.39 | 4.99 | 4.52 | 8.34 |
| Pantothenic Acid (mg) | 0.98 | 0.85 | 0.31 | 0.75 | 0.05 | 1.13 |
| Vitamin B6 (mg) | 0.48 | 0.63 | 0.1 | 0.14 | 0.79 | 1.34 |
| Folate (mcg) | 87.38 | 105.82 | 35.27 | 56.44 | 94.44 | 225.75 |
| Vitamin B12 (mcg) | 0 | 0 | 0 | 0 | 0 | 0 |
| Vitamin A (IU) | 0 | 49.38 | 28.22 | 17.64 | 11.11 | 49.38 |
| Vitamin E (mg) | 0.29 | | 9.35 | 2.19 | 0.22 | 35.17 |
| Vitamin K (mcg) | 3.88 | | 53.97 | 7.41 | 0 | 0 |
| Minerals | | | | | | |
| Calcium (mg) | 252.43 | 162.26 | 17.64 | 45.86 | 977.78 | 77.6 |
| Iron (mg) | 5.73 | 3.53 | 5.54 | 8.82 | 14.56 | 5.26 |
| Magnesium (mg) | 388.35 | 211.64 | 250.44 | 592.59 | 350 | 324.51 |
| Phosphorus (mg) | 640.78 | 627.87 | 574.96 | 1234.57 | 627.78 | 659.61 |
| Potassium (mg) | 815.53 | 1368.61 | 596.12 | 807.76 | 466.67 | 645.5 |
| Sodium (mg) | 29.13 | 7.05 | 3.53 | 7.05 | 11.11 | 10.58 |
| Zinc (mg) | 4.37 | 1.06 | 6.46 | 7.8 | 7.78 | 5.01 |
| Copper (mg) | 1.22 | 0.35 | 1.32 | 1.34 | 4.08 | 1.8 |
| Manganese (mg) | 2.49 | 2.32 | 8.8 | 4.51 | 2.46 | 1.95 |
| Selenium (mcg) | 25.24 | | 0.71 | 9.52 | 34.44 | 52.91 |
| Fatty Acids | | | | | | |
| Saturated Fat (g) | 3.66 | 0.33 | 4.9 | 8.66 | 6.96 | 4.46 |
| Monounsat. Fat (g) | 7.52 | 0.39 | 18.77 | 16.24 | 18.76 | 18.53 |
| Polyunsat. Fat (g) | 28.73 | 1.16 | 34.07 | 20.98 | 21.77 | 23.14 |