Greek Yogurt - Health Benefits and Nutrition Facts
What Is Greek Yogurt?
Greek yogurt is a thick, high-protein yogurt, created by straining out the lactoserum, which is the whey that remains after bacterial fermentation of the lactose present in milk. This whey is retained in regular yogurt, which is thinner and has lower protein levels or concentration. Greek yogurt has a velvety texture and thick consistency.
The health benefits of Greek yogurt include lower blood sugar levels, better mood, boosts to immunity, healthy muscles, improved bone strength, healthier blood and weight control. Greek yogurt contains twice the amount of protein compared with regular yogurt and has less remnant lactose. This makes it a high protein, low calorie and low fat substitute for sour cream, mayonnaise and cheese, and in various recipes.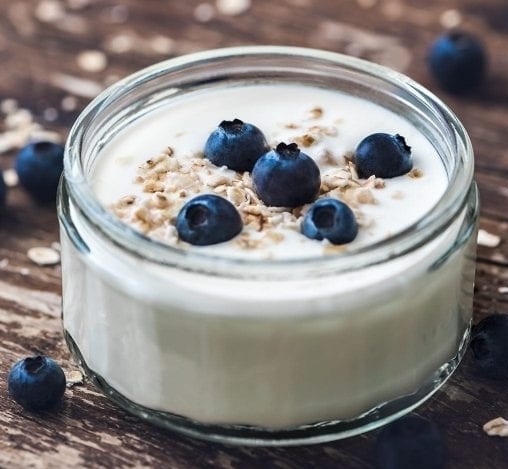 How is Greek Yogurt Made?
Regular Yogurt is made by heating milk, adding a bacterial culture, and leaving it to ferment until it becomes acidic with a pH of about 4.5. It is not filtered. It is stirred and cooled, and other ingredients like sugar and fruit may be added. The final product has a smooth and thin consistency and may be drinkable or can be eaten with a spoon. Regular yogurt is generally sweeter than Greek yogurt.
Greek yogurt is essentially a concentrated or strained type of yogurt. It is made by removing the liquid from the solids in fermented regular yogurt. This concentrated the milk solids and protein. This concentration can be done in three ways:
Centrifugal Separation - The liquid are removed from the yogurt in large centrifuges which forces the liquid out through filters on the out-side of the chamber.
Mechanical Filtration - In this process, the whey liquids are separated from the yogurt using specially designed filters. The yogurt is forced through filters to remove the liquid. You can do this at home using cloth bags as filters.
Pre-concentration - Milk proteins are solids are added to the milk from the beginning, mimicking the traditional concentration process and providing a thick rich yogurt.
Nutrition Facts for Greek Yogurt
The table below compares the nutrition of a range of regular and Greek yogurts. This clearly shows the higher protein concentration and lower carbohydrates in Greek Yogurt. Most Greek yogurt has lower fat and is less sweet, creamier and thicker than conventional regular yogurt. It is a also a great source of various essential nutrients especially calcium, potassium, vitamin B12, vitamin B2 and phosphorous. It has two to four times the the protein content of regular yogurt and this promotes fullness and helps to suppress hunger for longer. Also it contains less carbohydrate and sugar, and is often considered a smart choice for weight control and dieting.
Table 1. Comparison of the Nutrition of a Range of Greek and Regular Yogurts
| | | | | |
| --- | --- | --- | --- | --- |
| Nutrition for 250 g serve | Calories | Carbohydrate (g) | Sugar (g) | Protein (g) |
| Siggis's Skyr | 167 | 18 | 15 | 23 |
| Vokes {Greek Yogurt) | 200 | 28 | 22 | 23 |
| Fage {Greek Yogurt) | 208 | 32 | 25 | 22 |
| Stonyfield Greek | 217 | 32 | 32 | 22 |
| Chobani {Greek Yogurt) | 206 | 29 | 28 | 21 |
| Trader Joe's Greek Yogurt | 176 | 21 | 15 | 18 |
| Yoplait Greek | 221 | 37 | 28 | 18 |
| Yoplait {whips) | 310 | 55 | 46 | 11 |
| Go Gurt | 273 | 51 | 39 | 8 |
| Dannon light & Fit | 118 | 22 | 16 | 7 |
| Yoplait light | 169 | 28 | 21 | 7 |
| Yoplait Regular | 250 | 49 | 40 | 7 |
| Brown Cow | 191 | 37 | 34 | 7 |
| Dannon Fruit on Bottom | 221 | 41 | 37 | 7 |
Health Benefits of Greek Yogurt
Greek yogurt is healthy choice for including dairy products in your diet. It provides:
aids digestion
a protein source
essential nutrients
boosts female health
maintains gut healthy
increases bone density
support for weight loss
helps manage depression
supports thyroid function
supports the immune system
helps controls blood sugar level because it is a rich source of Potassium
reduces the risk of osteoporosis because of the calcium and vitamin D in the Greek yogurt
sustains healthy muscles due to the slow-digesting proteins and amino acids need to build muscles