Health Benefits Bell Peppers and Nutrition Facts
The popular bell pepper (Capsicum annum) or sweet pepper belongs in the Solanaceae family, genus, Capsicum. These sweet peppers or chillies have a unique bell shape with fleshy and crunchy, texture and the outer part is thick.
These peppers are not hot and spicy like other members of the family.
Peppers are native to Mexico and the Central American region. They were spread to the rest of the world by Portuguese and Spanish explorers and settlers.
Bell peppers are now grown in many parts of the world and are a popular home garden plant.
This article summarizes the health benefits of bell pepper and includes a chart of nutrition facts for raw bell peppers for a serving of 100 g.
Health Benefits of Bell Pepper (green, red, yellow and orange)
► Bell peppers have no fat and very low calories with just 31 calories in 100 g. is very low in calories and fats. 100 g provide just 31 calories. By comparisons potatoes have 77 calories, onions 40, tomato 18, pumpkin 26 calories
► Bell peppers have small amounts of health promoting an alkaloid compound called capsaicin, that has anti-bacterial, anti-carcinogenic and anti-diabetic properties.
► Bell peppers are a rich source of vitamin C, with 100 g red pepper containing 127.7 micro g, which is more than 200% of the daily requirement. Bell peppers also contains good levels of vitamin A and other vitamins (see the table below). Bell peppers are rich in B group vitamins such as pyridoxine (vitamin B-6), niacin, riboflavin, and thiamine.
► These peppers also contain a rich array of antioxidants such as carotenes, zea-xanthin, lutein and cryptoxanthin. These substances boost the immune system and help protect the body from harmful free radicals the build up in the body in times of stress and during bouts of illness.
► Bell peppers are a good source of essential minerals such as are iron, zinc, potassium, copper, manganese, magnesium, and selenium.
Culinary Uses for Bell Peppers
People are using bell peppers much more widely now. In the past they had a reputation for being poisonous and were mostly grown in home gardens as ornamentals. Now they are widely uses in salads, pasta sauces, pizzas and in stews, stir-fries and curries.

Their delicate sweet flavor and crunchy texture makes them a universal favorite. Stuffed half bell peppers is a wonderful dish.

When buying bell peppers make sure that they are not limp, withered or have wrinkly skin. Also avoid fruit with dark spots, marks or bruising.

Bell peppers can be kept for about four days in the refrigerator in plastic bags. the seeds are very easy to remove.

Some ways to use bell peppers are:

► cooked in stir-fries

► use in pasta sauce

► added to homemade pizzas

► stuffed with rice, meat, cheese, dried fruits, nuts and then baked

► grilled or roasted to enhance their flavors and then peeled and sliced.


Nutrient Facts for Bell Peppers (100g Serve)
| Nutrients in 100g serving | Nutrient Value |
| --- | --- |
| Energy | 31 |
| Carbohydrates | 6.03 g |
| Protein | 0.99 g |
| Total Fat | 0.30 g |
| Cholesterol | 0 mg |
| Dietary Fiber | 2.1 g |
| Vitamins | **** |
| Folates | 46 mcg |
| Niacin | 0.98 mg |
| Pyridoxine | 0.29 mg |
| Riboflavin | 0.09 mg |
| Thiamin | 0.05 mg |
| Vitamin A | 3131 IU |
| Vitamin C | 127.7 mg |
| Vitamin E | 1.58 mg |
| Vitamin K | 4.9 mcg |
| Electrolytes | **** |
| Sodium | 4 mg |
| Potassium | 211 mg |
| Minerals | **** |
| Calcium | 7 mg |
| Copper | 0.02 mg |
| Iron | 0.43 mg |
| Magnesium | 12 mg |
| Manganese | 0.11 mg |
| Phosphorus | 26 mg |
| Selenium | 0.1 mcg |
| Zinc | 0.25 mg |
| Phyto-nutrients | **** |
| Carotene-beta | 1624 mcg |
| Carotene-alpha | 20 mcg |
| Cryptoxanthin-β | 490 mcg |
| Lutein-zeaxanthin | 51 mcg |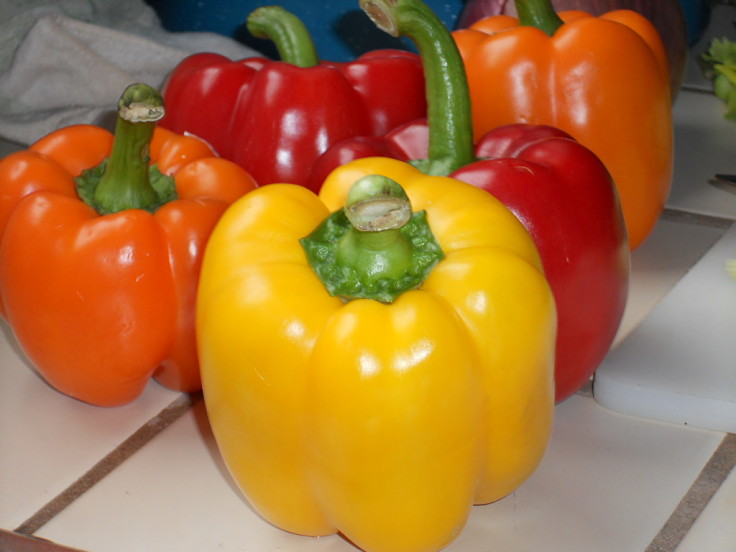 Source:
Symphony999 (Own work) [CC-BY-SA-3.0], via Wikimedia Commons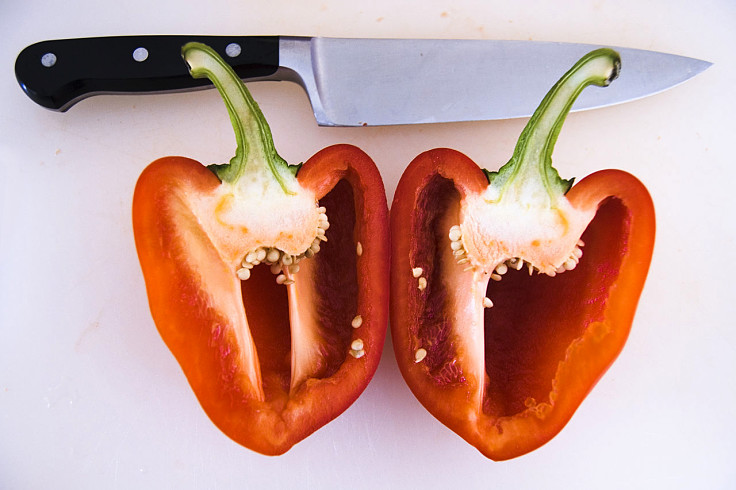 Source:
Paul Goyette [CC-BY-SA-2.0 ], via Wikimedia Commons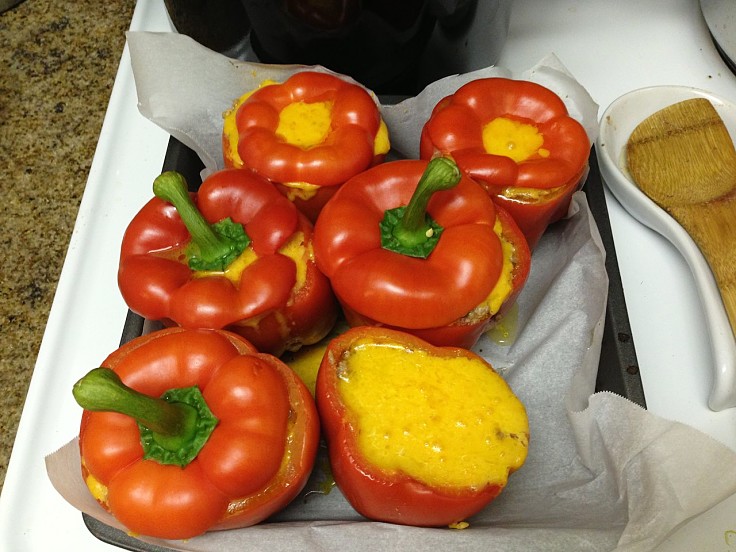 Source:
FASTILY (Own work) [CC-BY-SA-3.0-2.5-2.0-1.0], via Wikimedia Commons