Health Benefits Cherries, Nutrition Facts, Cherry Uses and Recipes
Fresh cherries are often hard to find and they have a very limited season but they are worthwhile not only for their unique taste but for their nutrients providing many health benefits.
Cherries originated in the Asia Minor and Eastern Europe but are now cultivated throughout the world. Cherries belong to the Rosaceae family, genus, Prunus, which includes many common fruit varieties such as nectarines, peaches, plums and apricots.
While most cherries are enjoyed as fresh fruit there are a huge variety of ways to use them in various dishes, not just in pies and other baked goods, but in savory dishes as well.
They complement chicken and pork and make a great surprise items for salads, pasta dishes and even homemade pizzas.
This article reviews the nutrition facts and health benefits of fresh cherries.
It also explores the many ways to use cherries and includes several great recipes to try.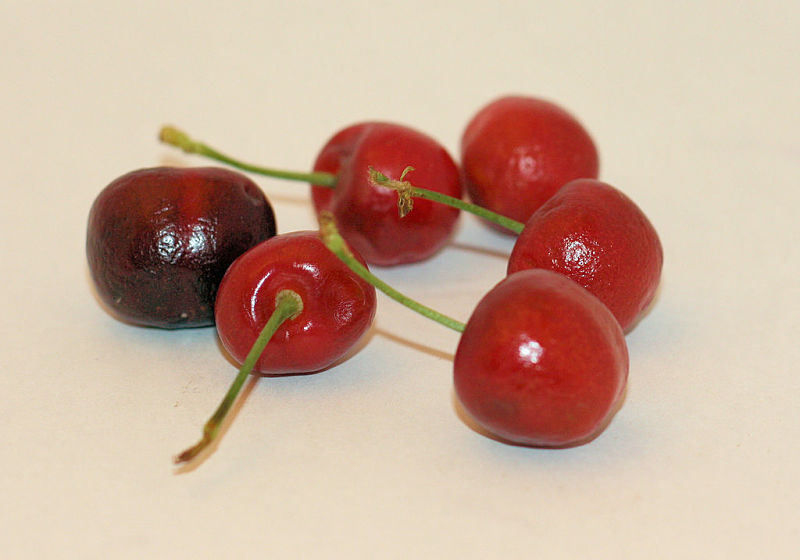 Nutrition Facts and Health Benefits of Fresh Cherry Fruit
The table at the end of the article, summaries the nutrient data for 100g of fresh cherries. It includes summaries for both sweet and tart cherry varieties, and for similar fruits for comparative purposes: Plums, Blueberries, Mulberries
Cherries have more calories than the other fruits listed, but the level is still very low and is comparable with apples. Cherries have more protein and fiber than the other fruits.
The colors in cherries are derived from pigment that have antioxidant properties. Most are anthocyanin glycosides that are antioxidant polyphenolic flavonoid compounds. Most of these compounds occur in or close to the skin of cherries. Anthocyanins are the blue, red and purple colors found in many vegetables and fruits. They act like natural anti-inflammatory agents.
Cherries are relatively rich in many other antioxidants, including Melatonin, that help support the immune system in fighting against oxygen free radicals that are associated with the aging process and many diseases. Tart cherries are exceptionally rich in natural anti-oxidants such as zea-xanthin, lutein and beta carotene.
The vitamins in cherries are generally less than in the other fruits in terms of concentration, but B-group vitamins are relatively high. Tart Cherries are particularly rich in Vitamin A and C.
Cherries are a rich source of phosphorus but the other mineral levels are lower than in the other fruits.
Preparation of Fresh Cherries and Serving Options
Cherries have a relatively short season and in the US fresh cherries are only available from end of May until August. In Australia the season lasts from November until January. Fresh ripe cherries have a very short shelf life and even in the store it pays be very careful what you choose to buy. Select cherries that have shiny, bright skins, feel firm, and have a nice aroma and the fruit have green stalks firmly attached at the top. You can keep fresh cherries in the refrigerator for a short period of time. It is easy to stew cherries and this will allow them to last much longer. Stewed cherries are a wonderful delight with ice cream. Before eating fresh cherries or using them in cooking, always wash the cherries well in warm water to remove dust and insecticide residues and to bring them to room temperature. Try to retain the skins and many of the nutrients are associated with the skin and the outer layers of the cherry fruit.
Culinary Uses of Fresh Cherries
Sweet cherries are a delight as fresh fruit and are wonderful stewed.
Pitted cherries can be added to fruit salads and to green salads as well.
Cherries can be use to make wonderful desserts such as pies, tarts, flans and can be added to many baked items such as cakes, biscuits and slices.
Cherries can used in a wide variety of homemade sweets and candies
Tart cherries delightful for making sauces, conserves, jams, pie fillings, muffins and cheese cakes.
Tart cherry fruit juice is a favorite for homemade drinks.
Cherries can be served with breakfast cereals – either fresh of stewed
However, don't forget the savory uses for cherries in many meat dishes and additions to flatbread fillings and even pizzas.
Cherry Recipes to Try
Below are several easy recipes to try that use fresh cherries.
Spicy Chicken with Cherries
2 teaspoons cornstarch
1/2 cup water
1 1/2 cup fresh cherries, pitted and halved
1/4 teaspoon ground all spice
1/2 teaspoon crushed red pepper flakes
1/2 teaspoon ground cinnamon
1 teaspoon salt
1/4 cup honey
3/4 cup frozen apple cherry juice concentrate
6 skinless chicken thighs or breasts
1 tablespoon vegetable or olive oil
Grease or spray 13 inch x 9 inch (30cm x 20 cm) baking pan. Spread the chicken pieces over the pan and set aside. In small saucepan, combine the honey, apple cherry juice concentrate, cinnamon, red pepper, salt and all spice and combine well. Bring the contents to the boil over medium-high heat. Set aside 1/2 cup of sauce from the pan and pour the remainder evenly over the chicken pieces in the baking pan. Bake at 350 degrees F (175 degrees C) for 40 - 50 minutes, turning once. Extend the cooking to ensure the chicken is completely cooked. Remove from the oven and transfer the chicken and sauce to a serving dish. Place some of the pan drippings, the sauce that was reserved and the cherries in to a small saucepan with the water. Bring to the boil over medium heat and cook for 2-3 minutes. Dissolve the cornstarch in a little water and add to the saucepan. Cook for a couple of minutes until the sauce thickens while stirring constantly. Pour the sauce evenly over chicken and serve.
Classic Chocolate Cherry Cake
1 cup chopped nuts
6 ounces semisweet chocolate chips
2 cups of stewed fresh cherries (stones removed) or 12 oz (600 g) can cherry pie filling
1 teaspoon ground cinnamon
1 teaspoon baking soda
2 teaspoons vanilla extract
2 eggs
3/4 cup vegetable oil
3/4 cup sugar
2 cups all-purpose flour
Icing sugar
Pinch of salt
Preheat the oven to 350 degrees F (175 degrees C). Butter and flour a cake tin. Add the flour, vanilla, eggs, baking soda, sugar, oil, cinnamon and salt, and well. Stir in the chocolate chips, cherries with their liquid and nuts. Transfer the batter to the prepared baking tin and bake for about 60 minutes hour. Test for doneness with a metal skewer or cake tester. Cool in the pan on a metal rack until warm and then remove from the pan to cool completely. Sprinkle with icing sugar.
Cherry and Maple Sauce
1/4 cup cherry juice or juice blend
2 cups pitted and halved fresh, or frozen sweet cherries thawed
2 tablespoons real maple syrup
1-1/2 teaspoons arrowroot flour (or cornstarch)
Whisk together the flour and juice in a cup. Using a large skillet, pour in the maple syrup and juice mixture. Stir and mix over medium heat until the sauce begins to thicken. Lower the heat, add the cherries and simmer until they are soft, but don't over-cook. Add more arrowroot dissolved on a little water if the sauce is not thick enough. Cool or serve hot. You can add grated orange rind or a tablespoon of brandy to change the flavour.
Dark Chocolate-Dipped Fresh Cherries Dipped in Dark Chocolate with Pistachio Centers
3 dozen sweet fresh cherries
3 dozen shelled pistachios
8 ounces ( 250g) good-quality rich, dark chocolate
Pit the cherries from the bottom leaving the stems attached. Very fiddly but worth it for a special treat. Replace the pits with a shelled pistachio. Melt the chocolate in a microwave or in as bowl over steaming water. Dip each cherry into the chocolate and place each one on waxed paper to cool. The excess chocolate will run down to form a base. Delicious!
Turkey Roll with Cherry Filling
1 teaspoon fresh rosemary, finely chopped
2 teaspoons fresh sage, finely chopped
1 cup bread crumbs (coarse)
1 cup coarsely chopped fresh sweet cherries (pitted)
2 tablespoons finely chopped onion
1/4 cup sliced water chestnuts
1/4 cup chopped celery
3 teaspoons vegetable oil
1 skinless and boneless turkey breast half
1/4 teaspoon ground pepper
1/2 teaspoon salt
Paprika as a dressing
Cut turkey breast horizontally to form a roughly rectangular shape. Spread the turkey out onto on sheet of plastic wrap and place a second piece on top. Using a mallet, pound the meat to form a piece about 1/2 inch (1 cm) thick. Heat 2 teaspoons oil in a frying pan and lightly fry the water chestnuts, celery and onion until the onion well cooked and has browned a little. Add cherries, sage, rosemary, bread crumbs, salt and pepper. Mix well. Remove the plastic wrap from the top of the flatted turkey piece. Spread the cherry mixture evenly over the turkey, leaving a border without any filling (about 1/2 inch; 1 cm). Roll up the turkey piece tightly and secure with wooden tooth picks or skewers. Brush with oil and sprinkle paprika on top. Remove the bottom layer of plastic wrap. Bake on a greased or sprayed baking pan at 325 degrees F (170 degrees C) for 45 - 60 minutes. Remove from the oven when cooked and let stand 10 minutes before slicing.
Nutrition Facts for Cherries compared with Similar Fruit
| Nutrient Value per 100 g | Sweet Cherries | Tart Cherries | Plums | Blue - berries | Mulberries |
| --- | --- | --- | --- | --- | --- |
| Energy | 63 Cal | 50 Cal | 46 Cal | 57 Cal | 43 Cal |
| Carbs | 16.1 g | 12.18 g | 11.42 g | 14.49 g | 9.80 g |
| Protein | 1.06 g | 1.00 g | 0.70 g | 0.74 g | 1.44 g |
| Total Fat | 0.2 g | 0.3 g | 0.28 g | 0.33 g | 0.39 g |
| Cholesterol | 0 | 0 | 0 | 0 | 0 mg |
| Dietary Fiber | 2.1 g | 1.6 g | 1.40 g | 2.4 g | 1.7 g |
| Vitamins | | | | | |
| Folates | 4 mcg | 8 mcg | 5 mcg | 6 mcg | 6 mcg |
| Niacin | 0.15 mg | 0.4 mg | 0.42 mg | 0.42 mg | 0.62 mg |
| Pantothenic acid | 0.2 mg | 0.14 mg | 0.13 mg | 0.12 mg | |
| Pyridoxine | 0.05 mg | 0.04 mg | 0.03 mg | 0.05 mg | 0.05 mg |
| Riboflavin | 0.03 mg | 0.04 mg | 0.03 mg | 0.04 mg | 0.10 mg |
| Thiamin | 0.03 mg | 0.03 mg | 0.03 mg | | |
| Vitamin C | 7 mg | 10 mg | 9.5 mg | 9.7 mg | 36.4 mg |
| Vitamin A | 640 IU | 1283 IU | 345 IU | 54 IU | 25 IU |
| Vitamin E | 0.07 mg | 0.07 mg | 0.26 mg | 0.57 mg | 0.87 mg |
| Vitamin K | 2.1 mcg | 2.1 mcg | 6.4 mcg | 19.3 mcg | 7.8 mcg |
| Electrolytes | | | | | |
| Sodium | 0 mg | 3 mg | 1 mg | 1 mg | 10 mg |
| Potassium | 222 mg | 179 mg | 157 mg | 77 mg | 194 mg |
| Minerals | | | | | |
| Calcium | 13 mg | 16 mg | 6 mg | 6 mg | 39 mg |
| Copper | 0.06 mg | 0.10 mg | 0.06 mg | | 60 mcg |
| Iron | 0.36 mg | 0.32 mg | 0.17 mg | 0.28 mg | 1.85 mg |
| Magnesium | 11 mg | 9 mg | 7 mg | 6 mg | 18 mg |
| Manganese | 0.07 mg | 0.11 mg | 0.05 mg | 0.34 mg | |
| Phosphorus | 21 mg | 15 mg | 16 mg | | |
| Zinc | 0.07 mg | 0.10 mg | 0.10 mg | 0.16 mg | 0.12 mg |
| Phyto-nutrients | | | | | |
| Carotene, alpha | 0 mcg | 0 mcg | 190 mcg | | 12 mcg |
| Carotene, beta | 38 mcg | 770 mcg | 35 mcg | 32 mcg | 9 mcg |
| Crypto-xanthin, beta | 0 mcg | 0 mcg | | | |
| Lutein-zeaxanthin | 85 mcg | 85 mcg | 73 mcg | 80 mcg | 136 mcg |