Health Benefits of Kiwi Fruit, Nutrition Facts and Kiwifruit Culinary Uses
The kiwifruit, or kiwi fruit is regarded as a super fruit because of its outstanding nutrition showcasing the health benefits of kiwi fruit compared traditional fruits such as apples, apricots and peaches.
Originally known as the Chinese gooseberry (Actinidia deliciosa), the berry of a wood vine was renamed for export marketing purpose by New Zealand growers.
It is now grown in many countries throughout the world including Chile, Greece, France, China, Italy and of course New Zealand.
Kiwifruit is a very rich source of vitamin C, with more than 10 times the amount in equivalent weights of common fruits such as Apple, Apricot, Banana, Blueberries and Peaches.
It has almost as much potassium by weight as that of a banana. It also a good source of vitamins E, A, K and folate.
Kiwi fruits are richer in fiber than most other fruits and have very low fats and moderate calories, with low GI due to the high fiber.
Raw kiwifruit can be used as a meat tenderizer as it contains the enzyme actinidin that is found in papain (Paw Paw).
Kiwi fruit can be peeled and eaten whole as a fruit, used in appetizers, in salads, in fish chicken, beef and pork dishes, in sweet pies, puddings, and as a topping cakes, ice cream and many desserts, and for beverages.
This article reviews the health benefits of kiwifruit and provides a nutrition chart comparing nutrients in kiwi fruit with Apples, Passion Fruits, Apricots, Peaches Bananas and Blueberries.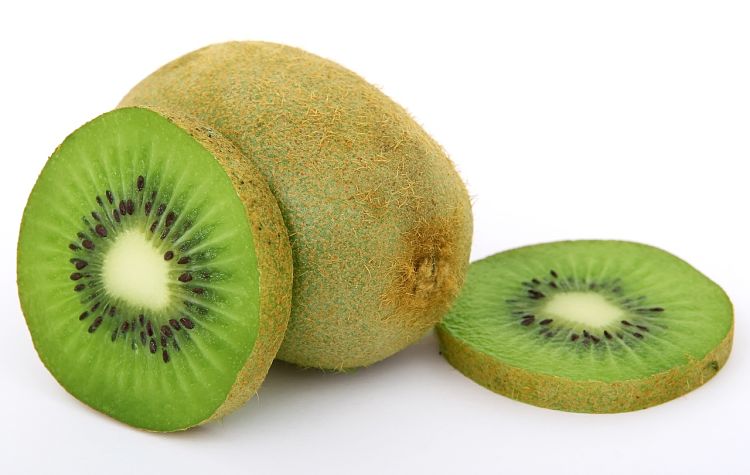 Health Benefits of Kiwi Fruit Compared with Other Fruits (see Table)
Kiwifruit is a rich source of dietary fiber, with about 4 g of fiber per 100 g which represents about 10% of the recommended daily allowance. The fiber content is much higher than all the fruits in the table except for passion fruit. The fiber content contributes to the high GI for kiwifruit which adds to its benefits as a weight-loss food.

Kiwifruit is a very rich source of vitamin-C with 100 g of kiwifruit providing the entire recommended daily allowance.

Kiwifruit has excellent levels of vitamin E, vitamin A, vitamin K (35% of daily allowance) and the flavonoid anti-oxidants such as lutein, beta-carotene and xanthin.

The seeds of Kiwifruit (that most people eat with the fruit) are an excellent source of omega-3 fatty acids, but have low fat content.

Kiwifruit has moderate levels of protein with higher levels than Apple, Apricot, Banana, Blueberries and Peach

Fresh kiwi fruit is a very rich source of Potassium, with similar levels to bananas which are often heralded and 'potassium bags'. Potassium important component of cells that helps maintain blood pressure and heart rate and by countering the effects of sodium. It is the potassium to sodium ratio of food that is important rather than the level of sodium itself

Kiwifruit contains excellent amounts of manganese, calcium, iron and magnesium. Compared with other fruits the richest levels are for calcium, iron, zinc, copper and manganese.
Preparation and Serving Methods
Fresh kiwifruit are available from mid-winter to spring and they are available most of the year from cold storage. The best fruits are harvested from the vine when ripe and the unripe fruit can be hard, starchy and lacking of flavor. To ripen kiwifruits place them in a paper bag with a banana, apple or pear.

When choosing kiwifruit to buy select fruit with firm intact skin, without any nuts or blemishes. Ripe kiwifruit will yield slightly when pressed with a thumb, but are not soft or squishy. Once the kiwifruit are ripe they only last a few days at room temperature. They last longer in the refrigerator, but warm them before use to ensure you get the fill flavor. Some people eat them whole, but most peel the skin before slicing for use. Wash the kiwifruit under cold running water to get rid of dirt and chemical residues. Cut kiwifruit slices rapidly deteriorate if left open in the air. Cut the slices just before use.
Culinary Uses of Kiwi Fruit
Kiwifruit can be eaten whole as a fruit, either peeled or unpeeled.
Kiwifruit slices make wonderful toppings for all sorts of desserts and cakes. Beware that kiwifruit reacts with yogurt, except when added at the last minute. An egg-slicer can be used to create uniform slices for recipes or for colorful garnishes.
Kiwifruit mixed with pineapple can be used as a marinate to tenderize meat and also as a sauce for cooked meat dishes and barbecue products.
Kiwifruit is also used as a topping for cakes, slices, pavlova, muffins, cheesecake, pies.
Kiwifruit are widely used in juices, smoothies and jellies. They can also be used to make wine.
Kiwi fruit in salads or sauces make an excellent side-dishes for fish or lamb.
Diced or sliced kiwifruit can be combined with a combination of fresh mango, lime juice, olive oil, diced cucumber, and a little chilli as a salsa for barbecued fish or chicken.
You can make a delightful kiwifruit daiquiri by blending 2 peeled, diced kiwifruit, 2 tablespoons lime juice, 1 tablespoon caster sugar, 2 shots white rum, 8 ice cubes in a blender until well combined. Pour into cocktail glass and serve.
Nutrition Data for Kiwi Fruit Compared with other Fruits
| Serving 100 g (raw) | Kiwifruit | Apple | Apricot | Banana | Blueberries | Passion fruit | Peach |
| --- | --- | --- | --- | --- | --- | --- | --- |
| Macronutrients | | | | | | | |
| Calories (Cal) | 61 | 52 | 49 | 89 | 57 | 96 | 39 |
| Protein (g) | 1.14 | 0.26 | 1.4 | 1.09 | 0.74 | 2.2 | 0.91 |
| Total Fat (g) | 0.52 | 0.17 | 0.39 | 0.33 | 0.32 | 0.7 | 0.25 |
| Total Carbohydrates (g) | 14.67 | 13.81 | 11.11 | 22.84 | 14.49 | 23.39 | 9.54 |
| Dietary Fiber (g) | 3.04 | 2.42 | 2 | 2.63 | 2.43 | 10.37 | 1.47 |
| Sugar (g) | 8.99 | 10.39 | 9.24 | 12.23 | 9.96 | 11.2 | 8.39 |
| Vitamins | | | | | | | |
| Vitamin C (mg) | 92.75 | 4.62 | 10 | 8.73 | 9.73 | 30 | 6.6 |
| Thiamin (mg) | 0.03 | 0.02 | 0.03 | 0.03 | 0.04 | 0 | 0.02 |
| Riboflavin (mg) | 0.02 | 0.03 | 0.04 | 0.07 | 0.04 | 0.13 | 0.03 |
| Niacin (mg) | 0.34 | 0.09 | 0.6 | 0.67 | 0.42 | 1.5 | 0.81 |
| Pantothenic Acid (mg) | 0.18 | 0.06 | 0.24 | 0.33 | 0.12 | | 0.15 |
| Vitamin B6 (mg) | 0.06 | 0.04 | 0.05 | 0.37 | 0.05 | 0.1 | 0.02 |
| Folate (mcg) | 24.64 | 2.75 | 8.57 | 20.34 | 5.41 | 14.81 | 4 |
| Vitamin A (IU) | 87 | 54 | 1926 | 64 | 54 | 1272 | 326 |
| Vitamin E (mg) | 1.46 | 0.18 | 0.89 | 0.1 | 0.57 | 0.02 | 0.73 |
| Vitamin K (mcg) | 40.29 | 2.2 | 3.29 | 0.51 | 19.32 | 0.74 | 2.6 |
| Minerals | | | | | | | |
| Calcium (mg) | 33.33 | 6.04 | 12.86 | 5.08 | 5.41 | 11.11 | 6 |
| Iron (mg) | 0.3 | 0.12 | 0.39 | 0.26 | 0.28 | 1.59 | 0.25 |
| Magnesium (mg) | 17.39 | 4.95 | 10 | 27.12 | 5.41 | 29.63 | 9.33 |
| Phosphorus (mg) | 33.33 | 10.99 | 22.86 | 22.03 | 12.16 | 68.52 | 20 |
| Potassium (mg) | 311.59 | 107.14 | 258.57 | 357.63 | 77.03 | 348.15 | 190 |
| Sodium (mg) | 2.9 | 1.1 | 1.43 | 0.85 | 1.35 | 27.78 | 0 |
| Zinc (mg) | 0.14 | 0.04 | 0.2 | 0.15 | 0.16 | 0.09 | 0.17 |
| Copper (mg) | 0.13 | 0.03 | 0.08 | 0.08 | 0.06 | 0.09 | 0.07 |
| Manganese (mg) | 0.1 | 0.04 | 0.08 | 0.27 | 0.34 | | 0.06 |
| Selenium (mcg) | 0.14 | 0 | 0.14 | 1.02 | 0.14 | 0.56 | 0.07 |
| Fatty Acids | | | | | | | |
| Saturated Fat (g) | 0.03 | 0.03 | 0.03 | 0.11 | 0.03 | 0.06 | 0.02 |
| Monounsaturated Fat (g) | 0.05 | 0.01 | 0.17 | 0.03 | 0.05 | 0.09 | 0.07 |
| Polyunsaturated Fat (g) | 0.29 | 0.05 | 0.08 | 0.07 | 0.15 | 0.41 | 0.09 |