Nutrition Facts for Mushrooms, Health Benefits, Best Mushroom Recipes
Mushrooms are easily overlooked when trying to find healthy ingredients for various dish that are low in fat and calories, high in protein and that are rich in various with nutrients.
However, mushrooms are clearly a superfood with a plethora of health benefits and values for weight loss and wellness. Various medical reports have provided evidence that mushrooms may help reduce the risk of cancer, heart disease and can assist in weight control programs.
Mushrooms contain no fat, low cholesterol, low calories and are a good source of protein and dietary fibre. Mushrooms are also excellent sources of vitamins, particularly the B-group vitamins and many minerals.
The bulkiness of mushrooms, their high water content and extremely low calorie density and low Glycemic Index means that eating mushrooms helps keep you full and satisfied for longer after eating mushrooms, than after eating foods high in carbohydrate.
This article summarises the nutrition facts and health benefits for five common types of raw mushrooms: White, Oyster, Portabella, Miatake, Enoki and Shiitate.
It also lists the variety of uses for mushrooms in cooking and some of the best ever mushroom recipes.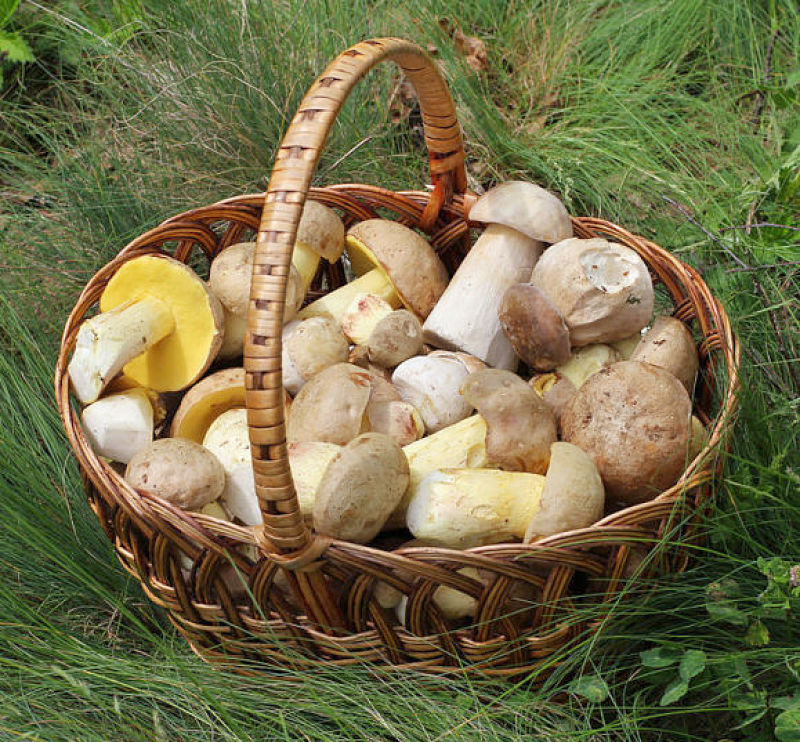 Nutrients in Common Varieties of Mushrooms
The tables below summarize the nutrients in mushrooms compared with other vegetables.

The common‭ ‬white button mushroom has very low calories (only 22 calories per 100g serving) and is a‭ ‬valuable source of fibre and many beneficial nutrients.‭ ‬Mushrooms are‭ ‬good source of protein providing‭ ‬2-3g of protein per‭ ‬100g raw weight,‭ ‬higher than the other vegetables shown in the tables.

Mushrooms are also a good source of vitamins and minerals with the levels of riboflavin,‭ ‬niacin,‭ ‬Vitamin D,‭ ‬phosphorus and selenium in‭ ‬100g providing more than‭ ‬10%‭ ‬the recommended daily intake for these nutrients.‭ ‬Mushrooms provide‭ ‬about‭ ‬30%‭ ‬of the‭ ‬recommended daily intake for Vitamin B2‭ (‬riboflavin‭) ‬and niacin.‭

Mushrooms remain one of the very few foods that provide a natural source of vitamin D.
It has been estimated that‭ ‬100g of mushrooms‭ ‬exposed to UV light can provide up to‭ ‬11.2‭ ‬mcg‭ ‬of Vitamin D.

Mushrooms provide‭ ‬about‭ ‬25%‭ ‬of the RDI for selenium and for copper.

Compared with vegetables,‭ ‬mushrooms‭ ‬are a good source of many minerals such as Potassium.‭ ‬Phosphorus,‭ ‬Zinc,‭ ‬Cadmium and Copper.‭
Known Health Benefits of Common Mushrooms
More than‭ ‬2,500‭ ‬different varieties of mushrooms it is inevitable that the nutrients and health benefits of the various varieties will differ.‭

Common White Mushrooms - The humble white button mushroom has significant health benefits.‭ ‬Researchers have found that a small handful of mushrooms has about‭ ‬12‭ ‬times higher levels pf the powerful antioxidant,‭ ‬L-Ergothioneine than wheatgerm and‭ ‬4‭ ‬times as much as that in chicken liver,‭ ‬which are regarded as good sources for this compound.‭ ‬Researchers in South Korea found that mushrooms may lower the risk of breast cancer.‭ ‬White mushrooms have a special carbohydrate‭ ‬that stimulates the metabolism helps maintains blood sugar levels.‭ ‬White mushrooms are unique in having high levels of selenium which is absent from most vegetables.

Maitake‭ ‬mushrooms are claimed to be beneficial for Breast Cancer.‭ ‬These mushrooms also have‭ ‬ anticancer,‭ ‬antiviral,‭ ‬and help support the immune system and play a role in controlling high blood pressure and blood sugar levels.

Portabella mushrooms are an excellent source of selenium,‭ ‬riboflavin,‭ ‬thiamine,‭ ‬copper,‭ ‬and niacin,‭ ‬and a very good source of‭ ‬potassium,‭ ‬panothenic acid‭ ‬and phosphorus.‭

Shiitake mushrooms are colorful and flavor intenseand contain ‭ ‬eritadenine, a substance‭ ‬which helps control the absoption of cholesterol and lower the levels in the blood.‭ ‬Shiitakes also have antiviral and anticancer properties, and contain‭ ‬lentinan which is a natural anti-tumor compound.‭

Enoki‭ ‬mushrooms have significant anticancer and immune-enhancing effects.


Comparison of the Major Nutrients in Mushrooms with Other Vegetables
The table below compares the nutrients in mushrooms with those of other common vegetables) all for 100g serving). The major points are:
Mushrooms have less than half the calories of other vegetables
Protein levels are higher in mushrooms than all the vegetables except for raw sweet corn
Fat levels are lower than most vegetables
Mushrooms have less fiber than the other vegetables except for raw pumpkin
Comparison of Major Nutrients in Mushrooms with Other Vegetables (100g)
| Vegetable (100g) | Protein (g) | Carbohydrate (g) | Fat (g) | Fibre (g) | Energy Calories | Energy Kilojoules |
| --- | --- | --- | --- | --- | --- | --- |
| Common Mushroom | 3.3 | 0.3 | 0.3 | 1.5 | 25 | 103 |
| Corn, sweet, yellow, raw | 3.3 | 18.7 | 1.35 | 2 | 86 | 360 |
| Sweet Potato Raw | 1.57 | 20.12 | 0.05 | 3 | 86 | 359 |
| Pumpkin, raw | 1.0 | 6.5 | 0.1 | 0.5 | 26 | 109 |
| Carrots, raw | 0.93 | 9.58 | 0.24 | 2.8 | 41 | 173 |
| Broccoli, raw | 2.82 | 6.64 | 0.37 | 2.6 | 34 | 141 |
| Beans, snap, green, raw | 1.83 | 6.97 | 0.22 | 2.7 | 31 | 131 |
| Potatoes, white, flesh and skin, | 1.68 | 15.71 | 0.1 | 2.4 | 69 | 288 |
Comparison of Vitamins and Minerals in Mushrooms with Common Vegetables (100 g serving)
As shown in the table below common white mushrooms have nutrient levels for Vitamins and minerals which are comparable with the other vegetables, while offering much fewer calories and more protein. The other types of mushrooms have relatively higher levels of nutrients than white mushrooms and it pays to be selective about the varieties you choose to buy and use.
Comparison of Vitamins and Minerals in Mushrooms with Other Common Vegetables
| 100g Serve | Thiamin ( mg ) | Folate (mcg) | Vit. B6 (mg) | Vit. C (mg) | Phos (mg | Mg (mg) | Iron (mg) |
| --- | --- | --- | --- | --- | --- | --- | --- |
| Common Mushroom | 0.025 | 18 | 0.02 | 1 | 110 | 10 | 0.27 |
| Corn, sweet, yellow, raw | 0.155 | 42 | 0.093 | 6.8 | 89 | 37 | 0.52 |
| Sweet potato, raw, | 0.078 | 11 | 0.209 | 2.4 | 47 | 25 | 0.61 |
| Pumpkin, raw | 0.05 | 16 | 0.061 | 9 | 44 | 12 | 0.8 |
| Carrots, raw | 0.066 | 19 | 0.138 | 5.9 | 35 | 12 | 0.3 |
| Broccoli, raw | 0.071 | 63 | 0.175 | 89.2 | 66 | 21 | 0.073 |
| Beans, snap, green, raw | 0.082 | 33 | 0.141 | 12.2 | 38 | 35 | 1.03 |
| Potatoes,skin and flesh | 0.071 | 18 | 0.203 | 19.7 | 62 | 21 | 0.052 |
Preparation or Mushrooms
Washing Mushrooms - All mushrooms should be thoroughly washed to remove any traces of the growing media or remnant contamination.
Using Butter - Cooking mushrooms is butter seems to enhance the flavor of most mushrooms, except for some of the Asian varieties. Lemon juice maintains the color of mushrooms when cooked, and adds an extra zest to their flavor.
Steaming Mushrooms -The simplest and best way of cooking mushrooms is to gently steam them. This allows the true taste of the mushroom to dominate rather than the seasoning or oils.
Salt - Most mushrooms taste best with salt added, but only tiny amounts are required and only add the salt right at the end of the cooking period.
Slicing Mushrooms - Slicing mushrooms allows mushrooms to be cooked quicker and more evenly. Always cut them into similar size pieces so they will all cook at the same time. They are easier to cut if the slice the mushrooms in half so that the cut surface lies flat on the cutting board
Using Dried Mushrooms - Rinse the dried mushrooms well and then place them in a bowl of warm water (just cover them). Let them soak for the recommended period of time. The length of time will vary but generally takes about 15-20 minutes for most types. When rehydrated, rinse, remove, drain, squeeze and pat dry.
The Culinary Uses of Mushrooms
Sauted - Add to burgers, chicken, steak, fish served with onions and with herbs
Stir- Fries - Try shitake and enoki in stir-fry's and omelettes
Baked - with roasts, on pasta, mixed with rice, risotto, as a burger patty (portobello)
Salads - Add to salads and as side serves
Steamed - Add to meat dishes as a vegetable
Pizzas and Flatbread Fillings - Add raw or fried mushrooms to a range of pizzas and flat bread fillings
Types of Mushrooms and Their Uses
White Button Mushrooms - Their mild flavor make them great for sauteing, and use in pastas and pizza.
Cremini - Are also known as Baby Bella mushrooms. They have mild earthy flavor and are very versatile for use in most dishes to stands to enhances meat and vegetable dishes.
Chanterelle - They have and apricot-like taste tending to be fruity and earthy. They are great simply fried with olive oil or a neutral tasting oil such as grape seed oil or rice bran oil.
Enoki - Have celicate, mild and sweet tastes that is enhanced by their,crunchy texture. They are suitable to be used raw in salads, plunged into soups or tossing into a variety of stir-fris, curries and stews a short time before serving.
Maitake - These mushrooms have a springy texture and bold flavors, and they are suitable for stir-fries and soups.
Morel - Their intense and earthy flavors complements meats very well and they are delightful simply sauteed in butter.
Oyster Mushrooms - Their delicate flavor and soft texture can be ruined by overcooked and so cook only briefly. They are excellent steamed. Their subtle tastes make them suitable for seafood, chicken and vegetables dishes, combined with herbs.
Porcini - Have a smooth, moist and firm texture. Their sturdy texture and robust, meaty flavors mean that they are suitable in dishes with long cooking times such as curries, stews and pizzas.
Portobello - Have a complex flavor and a deep, meaty texture. The large size makes then suitable for stuffing, grilling, serving as vegetables with meat dishes and for adding to sandwiches and appetizers.
Shiitake - Have a strong flavor making them a good all-purpose and very versatile mushroom. They have a firm texture that withstands cooking.
Wood Ear Mushrooms - Have a mild flavor, firm and chewy texture and a unique curly shape. They need very little cooking times and so it is best to add them in the final minutes of cooking time.
Mushroom Recipe Ideas
Below are a collection of simple recipes that showcase the taste and texture of mushrooms.
Fabulous Mushroom Risotto Recipe
1/3 cup freshly grated Parmesan cheese
4 tablespoons butter
3 tablespoons finely chopped chives
1/2 cup dry white wine
1 1/2 cups Arborio rice
2 shallots, diced
1 pound white mushrooms, thinly sliced
1 pound portobello mushrooms, thinly sliced
3 tablespoons olive oil, divided
6 cups chicken broth, divided
Salt and Pepper to taste
Warm the broth over low heat in a medium-size saucepan. Using a large saucepan heat 2 tablespoons olive oil using medium-high heat. Add the mushrooms, and fry until soft (generally about 3 minutes). Remove and set aside the cooked mushrooms and the liquid. Add an extra tablespoon of olive oil to the pan, stir in the shallots and cook for 60 seconds. Add the rice and stir while cooking to coat with oil, for about 2 minutes. Keep cooking until the rice has become pale or a light golden color. Add the wine, and stir continuously until all the wine is fully absorbed into the rice. Add 1/2 cup broth to the rice in the pan, and stir until all the broth is absorbed as well. Keep adding more broth (1/2 cup at a time), stirring continuously. It will generally take 15-20 minutes for the rice to be cooked al dente and virtually all the liquid is absorbed. Remove from heat, add the mushrooms, the liquid trained when cooking the mushrooms, the chives, butter and parmesan. Season with pepper and salt to taste.
Simple, Delicious Stuffed Mushrooms
Parmesan cheese
dash ground cayenne pepper
dash black pepper
1/2 teaspoon salt
1 1/2 cup fresh bread crumbs
3 tablespoons onion, finely chopped
2 tablespoons green bell pepper, finely chopped
1/2 cup melted butter
1 dozen fresh large mushrooms (whatever variety is available)
Clean and wash the mushrooms. Take out the stems and leaving the large caps whole. Slice the stems thinly and fry in 3 tablespoons of butter. Add the onions and green pepper and cook until the onion is tender. Lower the heat, add the pepper, salt, bread crumbs and cayenne pepper and combine well. Stuff each of the mushroom caps with the mixture and add little Parmesan cheese to the top. Put the stuffed mushrooms onto a greased or sprayed baking dish and bake at 325 degrees F (170 degrees C) for about 15 minutes.
Mixed Mushroom Crostini Served on Sourdough Bread
80-100g (4oz) goats curd (or similar soft cheese)
2 tablespoons chopped flat-leaf parsley
2 cloves garlic, finely chopped
2 tablespoons light tasting oil (rice bran oil, grape seed oil)
250-300g (8 oz) mixed mushrooms, halved if large (choose a wide range of types and textures)
4 slices sourdough bread, cut in half (homemade is best!)
Preheat the oven to 180 degrees C ( 360 degrees F). Place the sourdough bread pieces onto a sprayed baking tray. Drizzle with oil and season with salt and freshly ground pepper. Bake for about 7 minutes until the bread is crisp. Heat the oil in a frying pan using high heat, then add the mushrooms and fry for about 3-5 minutes. Season with salt and pepper, add the garlic, and fry for an additional 1-2 minutes. Spoon the fried mushrooms onto the bread slices and top with parsley and goats' curd or cheese. The variety of tastes and texture of this dish adds to its simple pleasure.
Spicy, Sweet Asian Style Mixed Mushroom Stir Fry
For the Stir Fry:
3 tablespoons rice bran oil, grape seed oil, or other high smoke-point oil
1 tablespoon grated ginger
4 garlic cloves, sliced thinly
8 green onions, chopped
3-5 dried red chilies, finely chopped (or 1/2 teaspoon dried chili flakes)
2 lb (1 kg) of mixed mushrooms (oyster, shiitake, enoki, crimini, button, or other varieties), roughly quartered or chopped
1 1/2 cups of snow peas, with strings removed
Toasted sesame seeds
For the Sauce:
1 tablespoon corn starch
1 tablespoon shaoxing cooking wine (or cooking sherry)
1 tablespoon rice vinegar
1/4 cup good quality honey
3 tablespoons light soy sauce
1/2 cup chicken or vegetable stock
For the Glaze:
1 tablespoon honey
1/4 cup chicken or vegetable stock
1 teaspoon soy sauce
Make the glaze by whisking the stock,soy and honey together in a bowl and set aside. Make the sauce by whisking together all the ingredients for the stock and set aside as well. Place 1 tablespoon of oil in a wok or large frying pan over high heat. When the oil is hot, glistening and add the mushrooms, stir-fry, toss and cook for several minutes until they start to shrink. Add the glaze and let it boil-off, stirring the mixture occasionally (generally about 4-6 minutes). Remove the mushrooms and set aside in a serving bowl. Reduce the heat under the pan or wok to medium and add the remaining 2 tablespoons of oil. Stir-fry the ginger, garlic and chilies until fragrant ( about 20-30 seconds). Add the green onions, snow peas and stir-fry for about 20-30 seconds only. Raise the temperature to high, add the sauce and let the mixture to come to a boil. This will thicken the sauce. Add the mushrooms and heat through for about 20 seconds while stirring. Remove from the heat and serve over rice. Garnish with toasted sesame seeds if desired.
Nutrient Facts for Five Types of Mushroom (raw 100g)
| Nutrients per 100 g (raw) | Units | White | Oyster | Porta-bella | Miatake | Enoki | Shiitate |
| --- | --- | --- | --- | --- | --- | --- | --- |
| Energy | Cal | 22 | 33 | 22 | 31 | 37 | 34 |
| Protein | g | 3.09 | 3.31 | 2.11 | 1.94 | 2.66 | 2.24 |
| Total lipid (fat) | g | 0.34 | 0.41 | 0.35 | 0.19 | 0.29 | 0.49 |
| Carbs | g | 3.26 | 6.09 | 3.87 | 6.97 | 7.81 | 6.79 |
| Fiber, total dietary | g | 1 | 2.3 | 1.3 | 2.7 | 2.7 | 2.5 |
| Sugars, total | g | 1.98 | 1.11 | 2.5 | 2.07 | 0.22 | 2.38 |
| Cholesterol | mg | 0 | 0 | 0 | 0 | 0 | |
| Vitamins | | | | | | | |
| Vitamin C | mg | 2.1 | 0 | 0.06 | 0 | 0 | 0.01 |
| Thiamin | mg | 0.08 | 0.12 | 0.13 | 0.15 | 0.23 | |
| Riboflavin | mg | 0.40 | 0.35 | 4.5 | 0.24 | 0.2 | 0.22 |
| Niacin | mg | 3.61 | 4.96 | 0.15 | 6.59 | 7.03 | 3.88 |
| Vitamin B-6 | mg | 0.10 | 0.11 | 28 | 0.06 | 0.1 | 0.29 |
| Folate | mcg | 17 | 38 | 0.05 | 21 | 48 | 13 |
| Vitamin B-12 | mcg | 0.04 | 0 | 0 | 0 | 0 | |
| Vitamin A, IU | IU | 0 | 48 | 0.02 | 0 | | |
| Vitamin E | mg | 0.01 | 0 | | 0.01 | | |
| Vitamin D | mcg | 0.2 | 0.7 | 0.3 | 28.1 | 0.1 | 0.4 |
| Minerals | | | | | | | |
| Calcium | mg | 3 | 3 | 3 | 1 | 0 | 2 |
| Iron | mg | 0.5 | 1.33 | 0.31 | 0.3 | 1.15 | 0.41 |
| Magnesium | mg | 9 | 18 | 108 | 10 | 16 | 20 |
| Phosphorus | mg | 86 | 120 | 364 | 74 | 105 | 112 |
| Potassium | mg | 318 | 420 | 9 | 204 | 359 | 304 |
| Sodium | mg | 5 | 18 | 0.53 | 1 | 3 | 9 |
| Zinc | mg | 0.52 | 0.77 | | 0.75 | 0.65 | 1.03 |
| Lipids | | | | | | | |
| Fatty acids, total saturated | g | 0.05 | 0.06 | 0.06 | 0.03 | 0.02 | |
| Fatty acids, total mono - unsat. | g | 0 | 0.03 | 0.02 | 0.03 | 0 | |
| Fatty acids, total poly- unsat. | g | 0.16 | 0.12 | 0.12 | 0.09 | 0.09 | |