Raw Almonds Health Benefits, Nutrition Facts Compared with Other Nuts
Almonds, an ancient nut and food that have been written about in many historical texts, originated in western Asia and North Africa. Almonds are now widely cultivated in many parts of the world. The almond seed is a kernel inside the fruit of the almond tree.
Almonds are closely related to peach, apricot and cherry trees (Genus: Prunus), but the kernel of the seeds is eaten rather than the flesh of the fruits. The edible almond nut is encased in a hard shell and there are two basic types of almonds; Sweet and Bitter.
Almonds are oval in shape and are covered with a brown skin that is easily removed producing blanched almonds. While the skin is quite nutritious, but most almonds are eaten blanched. Almonds are also available as slivers and halves as well as almond flour and almond milk.
Almonds, like most nuts, have a relatively high fat content, but most of the fats are health-promoting monounsaturated fatty acids.
Almonds also are relatively rich in fiber, vitamin E, magnesium and copper and protein. A quarter-cup of almonds, contains about 8 gm of protein, which is greater than the protein in an egg (about 6 gm).
This article summarizes the health benefits and nutrition facts for almonds in comparison with other popular nuts: Brazil nuts, cashew nuts, macadamia nuts, pecans, pistachio nuts and walnuts.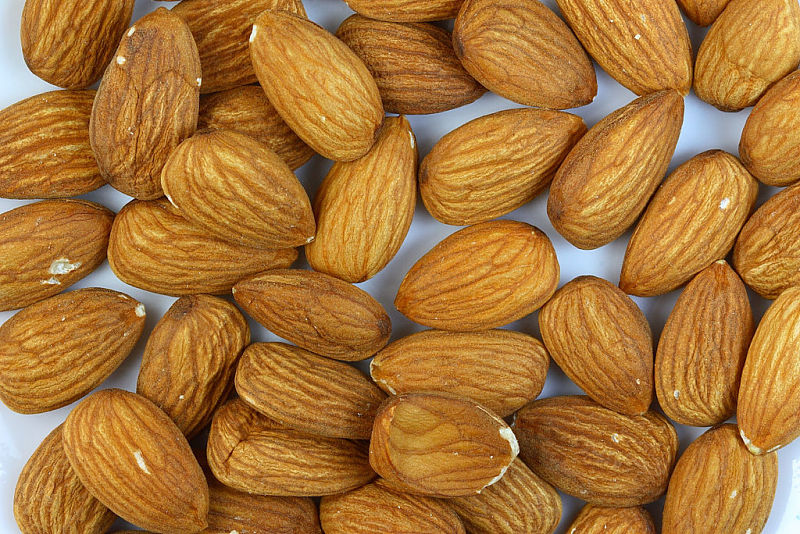 Health Benefits of Almonds
Almonds have been rightly called a super food: A small handful of almonds (about 20 nuts) contains:
12% percent of your daily requirements of protein (21 g per 100g)
35% of your daily allowance of vitamin E
25% of your daily allowance of magnesium
More magnesium than is found in spinach or oatmeal.
The same amount of calcium as a quarter of a cup of milk
Almond are rich in many of the B-complex group of vitamins such as niacin, riboflavin, pantothenic acid, thiamin, vitamin B-6, and folates. Almonds are richer in these vitamin than most of the other nuts shown in the table below.
Almonds are an excellent source of vitamin E; containing about 25 g per 100 g of nuts, some ten times the amount found in the other nuts.

Almonds are gluten-free and almond flour is a popular replacement for wheat flour in baking and in sweet and savory dishes.

Almonds are also rich source of minerals such as manganese, potassium, copper, magnesium, zinc and iron. Once again, the mineral levels found in almonds are much higher than in other nuts.

Like the other nuts, the calories counts are quite high at 575 calories per 100g. But almonds have less calories than Brazil nuts, macadamia, pecans and walnuts.

The dietary fiber content of almonds (12 gm per 100g) is also higher than all the other nuts in the table.

Almonds, while having relatively high amounts of fat, are low in saturated fats, with most fats being monounsaturated fat, which is the good type of fat (similar to what is found in olive oil, promoted for the Mediterranean diet.
About 90% percent of the fat in almonds is unsaturated fat. The total fat concentration is lower than the other nuts except for cashews and pistachios

Almonds are a plant based food, and so they contain no cholesterol.

The folic acid level in almonds (50 micro gm per 100g) is higher than in the other nuts, except for pistachios.

The iron level in almonds (about 4 mg per 100g) is higher than in all nuts apart from pistachios (see table).
Choosing Fresh Almonds and Storing Them
Almonds that are stored in their original shells last the longest. Always choose fresh almonds that do not show any signs of splits, mold, marks or stains.
Shelled almonds will last longer if stored in sealed containers. Look for shelled almonds that have a uniform in color, are firm and plump, not shrivelled or soft. Stale almonds tend to go soft quickly and firmness is a god sign that they are fresh.
Good quality almonds will have a sweet and nutty aroma. Remember that the high fat content of almonds will mean they will go rancid if kept for too long.
Refrigerated almonds that are well sealed in containers will keep for several months, even longer if stored in the freezer.
Culinary Uses for Fresh Almonds
Almond can be eaten raw, or combined with sultanas and dried fruit as a healthy snack.
They can be added as whole blanched almonds, or slivers, to salads and dessert.
Almonds make fabulous additions to a variety of cooked dishes, from baked goods to curries and stews.
Sweetened almond milk is a very popular drink in Asian and Indian countries - why not try it yourself?
Almonds are widely used in sweets and confectionery.
Almonds are also popular additions to baked good such as biscuits, cookies, slices and cakes and sweet pies.
Almonds can be blended or 'pulsed' in a food processor to make almond-butter, which is popular substitute for peanut butter.
Nutrition Data For Almonds Compared with Other Nuts
| Nutrients (Serving Size 100g) | almonds (raw) | brazil nuts (raw) | cashew nuts (raw) | macadamia nuts (raw) | pecans (raw) | pistachio nuts (raw) | walnuts, black (raw) |
| --- | --- | --- | --- | --- | --- | --- | --- |
| Calories (kcal) | 575 | 656 | 554 | 720 | 691 | 561 | 617 |
| Protein (g) | 21.23 | 14.32 | 18.24 | 7.9 | 9.17 | 20.28 | 24.06 |
| Total Fat (g) | 49.42 | 66.42 | 43.84 | 75.77 | 71.96 | 45.4 | 59.01 |
| Total Carbohydrates (g) | 21.66 | 12.28 | 30.19 | 13.83 | 13.86 | 27.51 | 9.91 |
| Dietary Fiber (g) | 12.35 | 7.41 | 3.17 | 8.47 | 9.52 | 10.23 | 6.7 |
| Sugar (g) | 3.88 | 2.33 | 5.93 | 4.59 | 3.99 | 7.65 | 1.09 |
| Vitamins | | | | | | | |
| Vitamin C (mg) | 0 | 0.71 | 0.35 | 1.06 | 1.06 | 5.64 | 1.76 |
| Thiamin (mg) | 0.21 | 0.62 | 0.42 | 1.2 | 0.66 | 0.87 | 0.06 |
| Riboflavin (mg) | 1.01 | 0.04 | 0.06 | 0.16 | 0.13 | 0.16 | 0.13 |
| Niacin (mg) | 3.39 | 0.3 | 1.06 | 2.47 | 1.17 | 1.3 | 0.47 |
| Pantothenic Acid (mg) | 0.47 | 0.18 | 0.86 | 0.76 | 0.86 | 0.52 | 1.66 |
| Vitamin B6 (mg) | 0.14 | 0.1 | 0.42 | 0.28 | 0.21 | 1.7 | 0.58 |
| Folate (mcg) | 49.38 | 21.16 | 24.69 | 10.58 | 21.16 | 49.38 | 31.75 |
| Vitamin B12 (mcg) | 0 | 0 | 0 | 0 | 0 | 0 | 0 |
| Vitamin A (IU) | 0 | 0 | 0 | 0 | 56.44 | 416.23 | 38.8 |
| Vitamin E (mg) | 26.21 | 5.71 | 0.92 | 0.53 | 1.41 | 2.29 | 1.8 |
| Vitamin K (mcg) | 0 | 0 | 34.22 | | 3.53 | | 2.82 |
| Minerals | | | | | | | |
| Calcium (mg) | 264.55 | 158.73 | 35.27 | 84.66 | 70.55 | 105.82 | 59.96 |
| Iron (mg) | 3.7 | 2.43 | 6.67 | 3.7 | 2.54 | 3.92 | 3.1 |
| Magnesium (mg) | 268.08 | 377.43 | 292.77 | 130.51 | 119.93 | 119.93 | 201.06 |
| Phosphorus (mg) | 483.25 | 726.63 | 592.59 | 186.95 | 278.66 | 490.3 | 511.46 |
| Potassium (mg) | 705.47 | 659.61 | 659.61 | 366.84 | 409.17 | 1026.46 | 522.05 |
| Sodium (mg) | 0 | 3.53 | 10.58 | 3.53 | 0 | 0 | 3.53 |
| Zinc (mg) | 3.07 | 4.06 | 5.78 | 1.31 | 4.51 | 2.19 | 3.39 |
| Copper (mg) | 0.99 | 1.74 | 2.19 | 0.75 | 1.2 | 1.3 | 1.36 |
| Manganese (mg) | 2.29 | 1.22 | 1.65 | 4.13 | 4.5 | 1.2 | 3.9 |
| Selenium (mcg) | 2.47 | 1917.11 | 19.75 | 3.53 | 3.88 | 7.05 | 16.93 |
| Fatty Acids | | | | | | | |
| Saturated Fat (g) | 3.73 | 15.14 | 7.78 | 12.06 | 6.18 | 5.56 | 3.37 |
| Monounsat. Fat (g) | 30.89 | 24.55 | 23.8 | 58.88 | 40.8 | 23.82 | 15.01 |
| Polyunsat. Fat (g) | 12.07 | 20.58 | 7.84 | 1.5 | 21.62 | 13.74 | 35.08 |