Health Benefits of Coleslaw, Nutrition Guide, Recipes
Coleslaw is a simple raw salad made with sliced or shredded cabbage, a sprinkle of other vegetables and a dressing such as a mayonnaise or vinaigrette. The name 'coleslaw' is derived from the Dutch phrase 'koolsla', meaning 'cabbage salad'. The dressing is the key to its health benefits and potential detriments. Raw shredded vegetables are always going to be healthy and nutritious to some extent. The dressing and additive are what matters when you buy various ready-made coleslaws or make your own.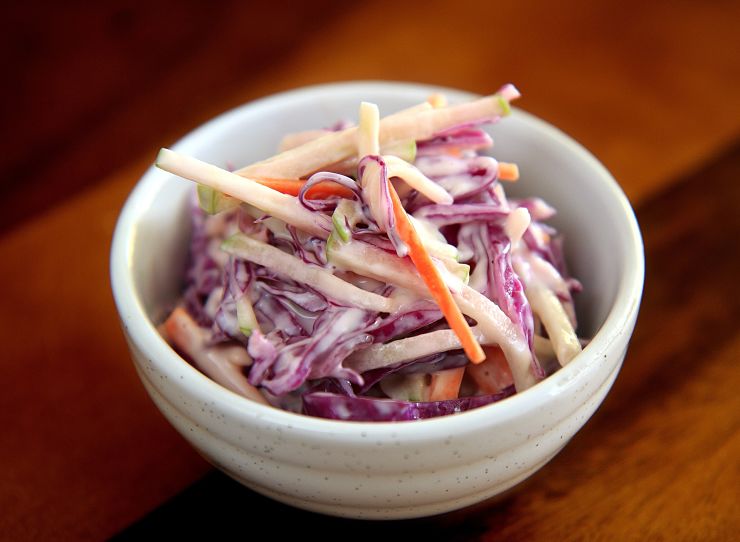 You can enhance the shredded cabbage base by adding shredded or chopped carrots, onions, celery or apple. You can make the dressing zing and provide more flavour by adding mustards herbs or spices to create variety, colors, texture variations and different tastes. Coleslaw is a wonderful side dish or accompaniment for barbecue foods, burgers, beef, pork or chicken, as well as seafood and fish. Various vegetarian and vegan versions of coleslaw are available and can be made at home.
Discover our definitive guide to the health benefits of coleslaw and the various dressing options. See our collection of the best every delicious and healthy coleslaw recipes for you to try.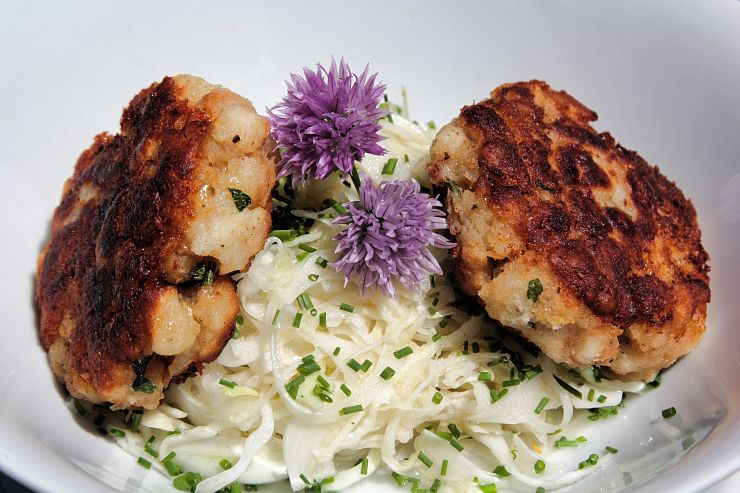 There are a huge range of different types of coleslaw available from supermarkets, farmer markets, deli counters and various health food shops. Below is a summary of the nutrients in a typical homemade coleslaw made with cabbage, carrots, onions and mayonnaise.
Nutrition Summary for Typical Homemade Coleslaw (1 cup serving)
Calories 71.7
Total Carbohydrate 7.9 g
Sugars 1.8 g
Protein 0.8 g
Dietary Fiber 1.2 g
Total Fat 4.5 g
Saturated Fat 0.7 g
Polyunsaturated Fat 2.4 g
Monounsaturated Fat 1.2 g
Cholesterol 3.4 mg
Sodium 299.1 mg
Potassium 126.8 mg
Calories per Ingredient for Homemade Coleslaw
Calories for a 1 cup serving of Homemade Coleslaw (100 cals ; percentages)
86 cals for Mayonnaise
9 cals for Cabbage
5 cals for Added Sugar,
3 cals for Carrots,
2 cals for Onions,
1 cals for Celery seed,
0 cals for Salt
0 cals for White Vinegar
Clearly, Coleslaw generally has high calories and a high fat content mostly due to the mayonnaise or other dressing. As the table above shows, typically more than 80% of the calories are in the dressing. Coleslaw has low levels of protein, but this can be boosted by adding plants with high amounts of vegetable protein such as Edamame and Lentils both with 18 grams of protein per cup) and Pinto beans with
15 g per cup. Coleslaw is a great source of fiber and has a low energy density and helps to delay the onset of hunger pangs between meals.
A 100 g serve (about 1/2 cup) of most coleslaws provide about 25% of the recommended daily consumption of vitamin A you need to remain healthy. This is mostly attributed to the cabbage and added carrot the recipe. Coleslaw is also a good source of vitamin E derived from the oils used to make the mayonnaise.
When choosing a commercial coleslaw, or coleslaw dressing check the ingredient list to make sure it doesn't contain too much fat, salt and calories. Beware that shop-bought coleslaws, deli coleslaws and fast food variety can have very high levels of fat and calories.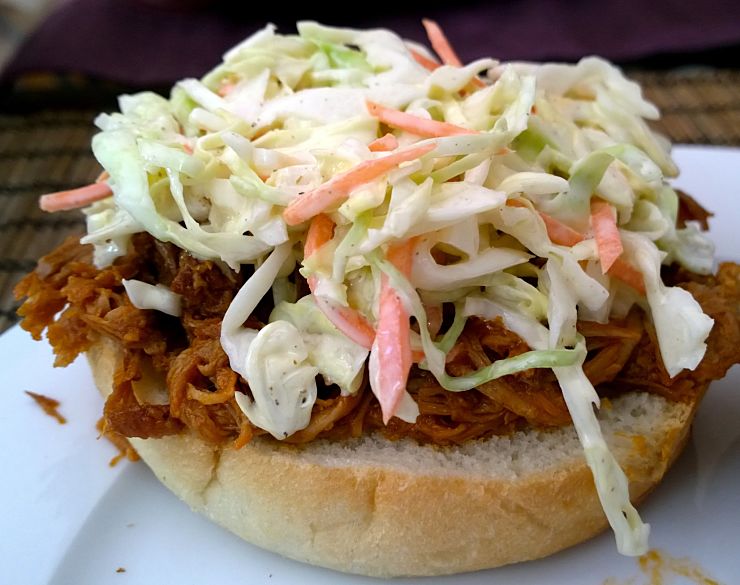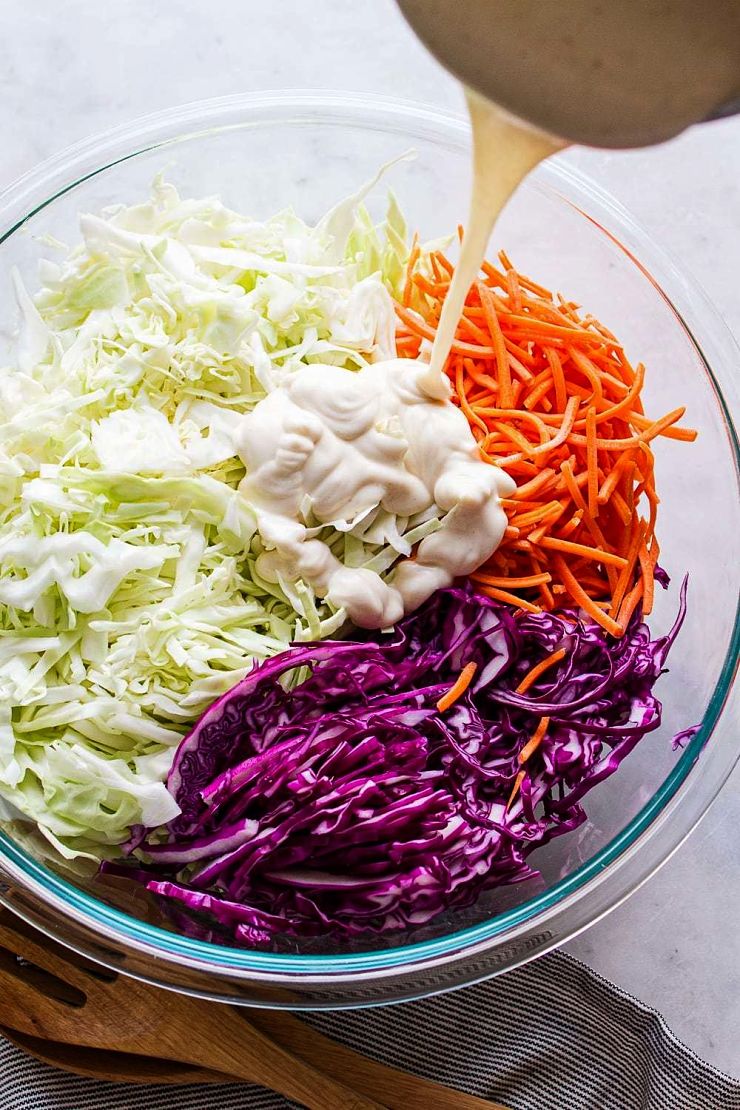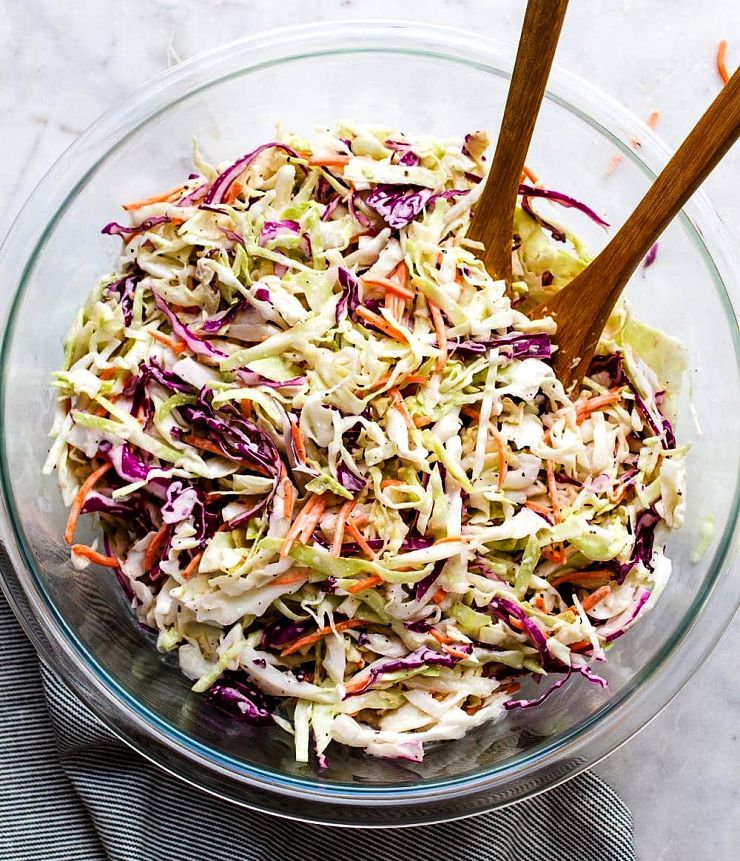 The table below compares the nutrients in homemade coleslaw with commercial low-fat, low-calorie commercial coleslaw and fast-food coleslaw. Clearly the bought fast-food varieties have 3-times the number of calories, 2-times the amount of carbohydrate and 7-times the amount of fat. Even the low-cal version have more calories and fat than the best homemade varieties.
Benefits of Making Your Own Coleslaw
Coleslaw is very easy to make at home and there are so many great benefits. Using a low-cal version of the mayonnaise or dressing does not mean that the coleslaw will be bland and lifeless. You can swap the oil in the mayonnaise or dressing for crème fraîche, natural yogurt or sour cream. This will provide all the creaminess and taste you need for a great saving in fat and calories. You can make your own tasty coleslaws by adding vegetables and herbs to the standard grated cabbage. Try adding onions, carrots, apple, celery, herbs and spices (such as fennel seeds, mustard, turmeric) for extra taste and to boost the nutritional value.
Nutrients in Homemade Coleslaw Compared with Commercial Low-Cal and Fast Food Varieties
| | | | |
| --- | --- | --- | --- |
| Coleslaw (1 Cup Serving) | Homemade | Low Cal Dressing | Fast-Food |
| Calories | 83 cal | 102 cal | 282 cal |
| Calories (kJ) | 346 kJ | 426 kj | 1182 kJ |
| Total Carbohydrate | 14.9 g | 16 g | 24.6 g |
| Dietary Fiber | 1.8 g | 2 g | 1.5 g |
| Protein | 1.5 g | 2 g | 2.8 g |
| Sodium | 28 mg | 190 mg | 516 mg |
| Total Fat | 3.1 g | 4 g | 21.2 g |
| Saturated Fat | 0.5 g | 0 g | 3.1 g |
| Polyunsaturated Fat | 1.6 g | 0 | 12.3 g |
| Monounsaturated Fat | 0.8 g | 0 | 4.7 g |
| Cholesterol | 10 mg | 0 mg | 10 mg |
| Calcium | 54 mg | 0 | 65 mg |
| Potassium | 217 mg | 0 | 342 mg |
| Iron | 1 mg | 0 | 1 mg |
| Vitamin A | 438 mg | 0 | 649 mg |
| Vitamin C | 39 mg | 0 | 16 mg |
Best Ever Healthy Coleslaw Recipe Collection
Related Articles
Stellar Healthy Coleslaw Recipes to Try!
Classic Healthy Simple Coleslaw Recipe
Ingredients
6 carrots, peeled
1 small white cabbage
3 tablespoons cider vinegar
1 teaspoon golden caster sugar
1 red apple, cut into matchsticks
200 g (7 oz) good quality mayonnaise
1 tablespoon mustard (any type you prefer)
100 g (3.5 oz) cheddar or similar, grated (optional)
Method
Finely shred the cabbage and coarsely grate the carrot. Transfer to a medium size bowl and season with salt. Then, add the vinegar and sugar, and toss everything together. Set aside for 15-20 minutes for the vegetables to very lightly pickle. Then, stir through the mustard and mayonnaise. Add other ingredients you want such as apple, cheese, herbs and chilli, before serving. The coleslaw can be made a day ahead and chilled before serving the next day.
Coleslaw with Tangy Tahini Yogurt Dressing
Ingredients
1 garlic clove, crushed
1 1/2 tablespoons tahini paste
1 small onion, halved and finely sliced
5 tablespoons Greek-style natural yogurt
3 small carrots, cut into fine matchsticks
1 small red cabbage, quartered and finely sliced
Method
Add the tahini, garlic, yogurt and some of the seasoning to a large bowl and mix well until smooth. If the dressing becomes too thick add 2-3 tablespoons of cold water to dilute it. Add the vegetables to the dressing, and toss everything together until the vegetables are well coated. Serve with fresh herbs.
Lemon Chicken Skewers Recipe with Herbed New Potatoes & Apple Coleslaw
Ingredients
2 Boneless chicken breasts, with skin removed and cut into bite-sized cubes
For the marinade
1 garlic clove, crushed
1 small lemon, juice and zest
1 tablespoons finely chopped tarragon
50 ml (2 fl oz) low-fat natural yogurt
For the herbed new potatoes
300 g (11 oz) new potatoes
1/2 tablespoons snipped chives
1/2 tablespoons finely chopped mint
1/2 tablespoon finely chopped parsley
1 tablespoon grape seed or rice bran oil
For the apple coleslaw
1 lemon juiced
1 carrot, roughly grated
1 teaspoon wholegrain mustard
100 ml (3 fl oz) low-fat crème fraîche
100 g (3.5 oz) fennel, trimmed and roughly grated
1 sharp Green apple, such as Granny Smith, grated
100 g (3.5 oz) young white cabbage, cored and finely shredded
Method
Soak wooden skewers in water for 10 minutes prior to using them. Heat your grill to a high temperature, placing a non-stick baking pan below the grill. Mix the marinade ingredients in a large bowl. Then, add the chicken, and fold though to ensure all the pieces are thoroughly coated. Cover the bowl with plastic wrap and set aside.
Prepare the potatoes by adding to a large pan of boiling water. Cook until tender, about 10-12 minutes. Meanwhile, mix the herbs with the oil in a small bowl. Next, make the dressing for the coleslaw by mixing the mustard, crème fraiche, and lemon together in a large bowl. Add the apple and all the vegetables and stir to combine well.
Drain the potatoes using a sieve, and place them back into the empty pan. Ladle the herb mixture over the potatoes, stirring gently to mix without breaking the potatoes apart. Cover the pan to keep the potatoes warm and set aside.
Next place chicken onto 4 skewers and place onto the hot baking tray beneath the grill. Spoon the excess marinade over the chicken. Place the tray under the grill and cook for 6-9 minutes, turning the skewers every 2 minutes or so to ensure they are evenly cooked. Slice open one piece of chicken to ensure it's cooked well enough. Serve the chicken skewers with the coleslaw and herbed potatoes.
Winter Slaw Recipe with Warm Celery Seed Dressing
Ingredients
4 large carrots, shredded
1 small white onion, diced
1 small head white cabbage , shredded
200 g (7 oz) thick green beans, halved length-ways, then cut in half
For the dressing
1 teaspoon celery seeds
4 tablespoons caster sugar
5 tablespoons sunflower oil
5 tablespoons cider vinegar
1 tablespoon wholegrain mustard
Method
Boil the green beans in salted water for one minute. Then, drain in a colander and rinse using cold tap water. Next, transfer to a large bowl with the onion, cabbage and carrot. Then, bring all the dressing ingredients to the boil in a small saucepan. Add a pinch of salt and freshly ground black pepper and stir. Remove the pan from the heat, cool for 5-8 minutes. Pour over the salad and toss before serving warm.
Best Healthy Coleslaw Ever Recipe- No Mayonnaise(no mayo!)
Ingredients
For the slaw
1/2 cup pepitas
1 cup finely chopped cilantro
1/4 cup toasted sliced almonds
2 heaping cups shredded carrots
1 jalapeño, seeded and finely diced
1/2 cup green onion (green part only)
1/2 medium head of green cabbage, shredded (about 3 cups shredded cabbage)
1/2 medium head of purple cabbage, shredded (about 3 cups shredded cabbage)
For the dressing
1/2 teaspoon salt
1 tablespoon pure maple syrup
1 clove garlic, finely minced
2 tablespoons apple cider vinegar
3 tablespoons extra virgin olive oil
1/4 teaspoon cayenne pepper, optional
1/2 teaspoon freshly ground cracked black pepper
Method
Add all the slaw ingredients, apart from the almonds and pepitas, to a medium size bowl. Whisk together all the ingredients for the dressing in another small bowl. Spoon the dressing over the slaw and toss well using tongs to combine thoroughly. Taste and adjust seasonings as require for you taste preference. Cover the bowl and set the coleslaw aside in your refrigerator for at least 60 minutes to allow the flavors to meld together. Sprinkle over the toasted, sliced almonds and pepitas. Toss to mix through again and serve immediately.
Healthy Coleslaw Recipe with Greek Yogurt
Ingredients
For the Coleslaw
zest of 1 lemon
1 avocado, thinly sliced
1/2 cup carrots, shredded
1 cup red cabbage, thinly sliced
1 mango, peeled and cut into slices
8 mint leaves, fresh, thinly sliced
1 cup red bell pepper, thinly sliced
1 cup green napa cabbage, thinly sliced
1 ear of corn, cooked and kernels harvested
For the Dressing
1 tablespoon honey
kosher salt, to taste
1/2 cup low-fat Greek yogurt
2 teaspoons lime juice, plus zest
Freshly ground black pepper, to taste
3 tablespoons whole grain mustard, or Dijon
1/4 teaspoon chili pepper, ground, more to taste
Method
Combine the carrot, corn kernels, cabbage, bell pepper and mango in a medium-size bowl. Add avocado and mint leaves and stir through.
Whisk together the lime juice, honey, yogurt, mustard and chili pepper in a small bowl. Season with salt and freshly ground black pepper as desired for the taste you want. Gently fold the dressing through the coleslaw until just combined and all the strands of the vegetables are coated.
Classic Vegan Coleslaw Recipe
Ingredients
1 cup carrots, shredded
2 cups red cabbage, shredded
6 cups green cabbage, shredded
For the Coleslaw Dressing
salt to taste
2/3 cup vegan mayo
1 tablespoon dijon mustard
2 tablespoons apple cider vinegar
freshly ground black pepper to taste
1 teaspoon celery seed powder, optional
1 tablespoon pure cane sugar or pure maple syrup
Method
Add the carrots and cabbage to large mixing bowl. Ladle the dressing over the cabbage and carrot, and toss to combine well. Season with salt and pepper to taste.