Health Benefits of Grapes, Nutrition Facts, Versatile Uses
Grapes are nutritious and very versatile if you know how to use them, both cooked and uncooked. They offer color, texture, moisture and bliss bombs for many meals. But a warning at the outset. Whole grapes can be a major choking hazard for infants.
First and foremost you need good quality grapes. There are lots of varieties available, with more of them now seedless. One of the advantages of grapes is that you can always sample one or two to make sure they match what you want for the use you have in mind. The taste and texture changes with both ripeness and variety.
Don't choose ripe or over-ripe grapes for adding to salads and desserts or for cooking. Ripe grapes are best for eating straight away. Slightly unripe grapes that are firm and tart provide the luscious explosions in your mouth that is really what grapes are all about - flavor, acidity, texture, crispness, juiciness, sweetness and tartness combines and color.
Like most fruit, you only get the full quota of nutrients if you leave the skins on when preparing them.

This article provides a list of some great ways to used fresh grapes and a summary of the nutritional facts and figures for grapes and their health benefits (at the end of the article).
Farmers markets are a great place to shop for fresh grapes in season. They are also widely available at super markers and fruit stores.
Versatile Ways to Use Fresh Grapes
Pop whole grapes into salads where they pair well with tiny tomatoes and pitted olives
Add grapes to pasta sauce just before serving
Slip a few grapes into the topping for homemade pizza
Use grapes as accompaniment for a wide range of desserts, or as toppings
Whenever you think of berries, think also of grapes as they go well together
Grapes are wonderful with cheese, but like pairing wines to cheeses, you need to think carefully about which grapes pair with which cheese. Try to offer a variety of grapes with a variety of cheeses, and let the diner choose what they want.
Grapes can be drizzled with honey, olive oil and apple cider vinegar, and then roasted gently to make a lovely sauce for grilled and roasted meats.
Grapes make wonderful jams and conserves.
Add larger grapes to skewers when grilling or barbecuing meats
Add grapes to stuffings for roast meat dishes
Simmering red grapes with blue berries or blackberries and a little sugar creates a delightful syrupy sauce for ice cream or yogurt
Grapes can be added to fruit flans and Pavlovas and look for cake recipes with grapes.
Replace raisins with fresh grapes in curries and other recipes. Grapes are ready to go and don't need to be plumped up like raisins
Health Benefits and Nutrition Facts for Grapes
Grapes are unique in having high levels of rich resveratrol which is a powerful antioxidant with a number of proven health benefits for reducing the risk of cancer, aiding digestion and even providing benefits to the circulation and helping to lower the risk of stroke.
Grapes are also rich in other antioxidants such as Anthocyanins and Catechins.

Grapes are very low in calories, despite their natural sweet taste, with 100 g containing just 69 calories. They also have no cholesterol and have low levels of fat

Grapes are rich source of minerals such as iron, copper, potassium and manganese.
Grapes are a very good source of vitamins C, A, K, carotenes and a range of B-complex vitamins such as pyridoxine, folate, riboflavin and thiamin.
Nutrients in 100 g Fresh Grapes
Macronutrients
Energy | 69 Calories
Carbohydrates | 18 g
Protein | 1 g
Total Fat | 0.2 g
Dietary Fiber | 0.9 g
Vitamins
Folates | 2 mcg
Niacin | 0.2 mg
Pantothenic acid | 0.1 mg
Pyridoxine | 0.1 mg
Thiamin | 0.1 mg
Vitamin A | 66 IU
Vitamin C | 11 mg
Vitamin E | 0.2 mg
Vitamin K | 15 mcg
Minerals
Calcium | 10 mg
Copper | 0.1 mg
Iron | 0.4 mg
Magnesium | 7 mg
Manganese | 0.1 mg
Zinc | 0.1 mg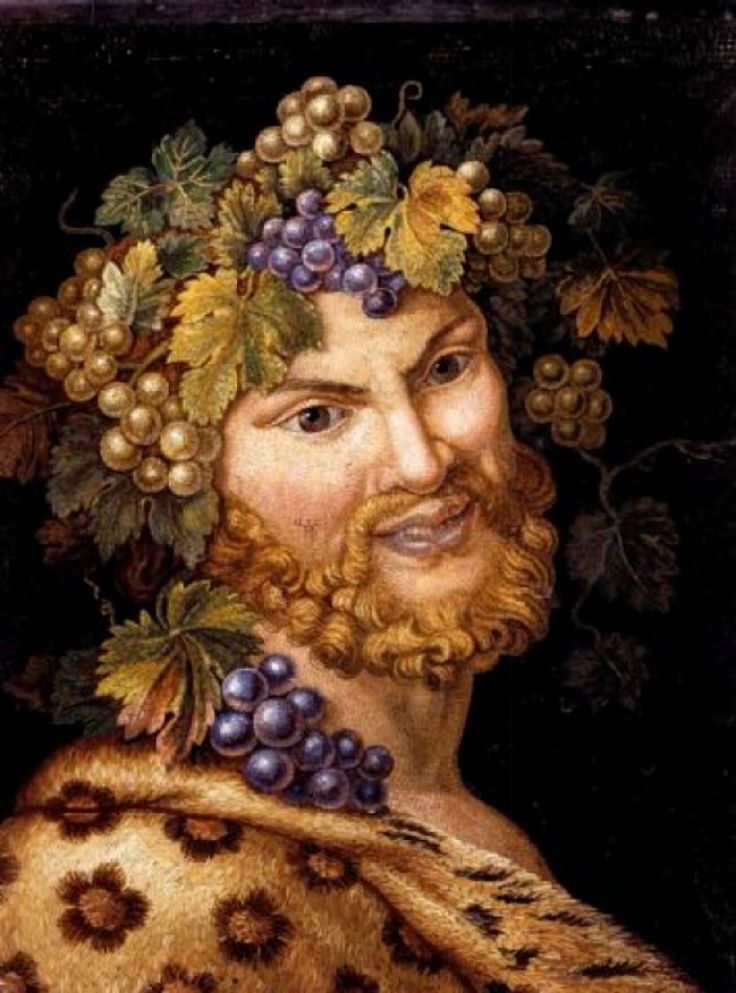 Source:
By Michelangelo Maestri (c. 1779 – c. 1812) [Public domain], via Wikimedia Commons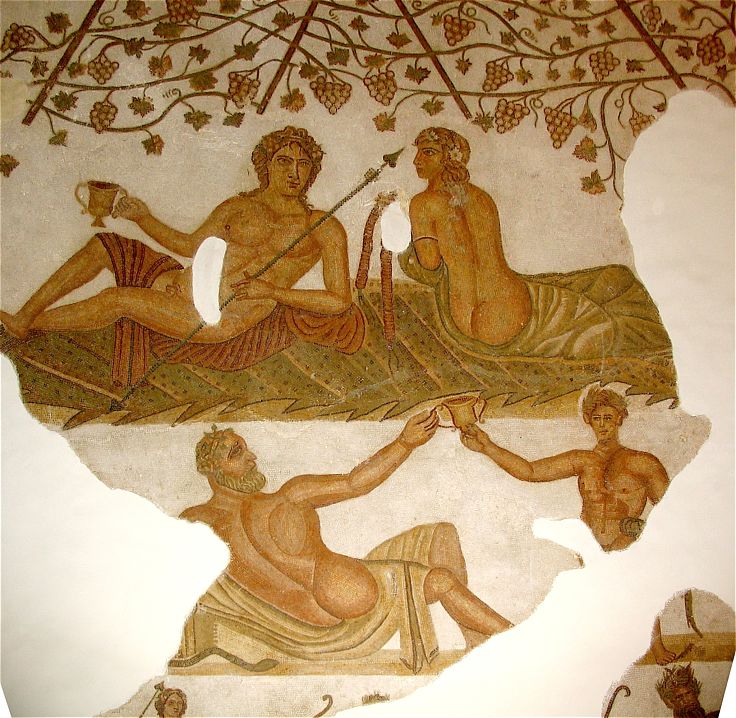 Source:
By Giorces (Own work) [CC-BY-2.5], via Wikimedia Commons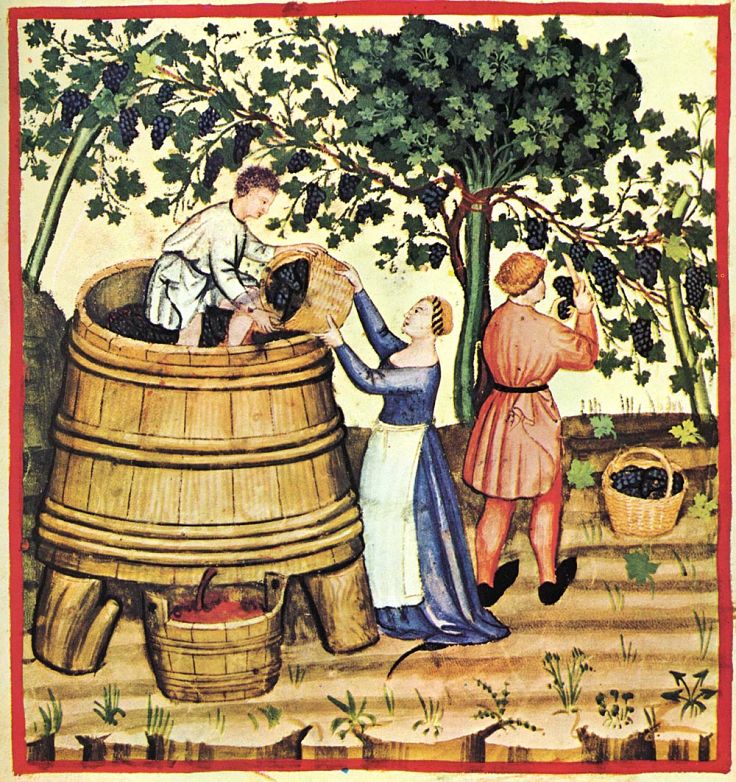 Source:
By unknown master (book scan) [Public domain], via Wikimedia Commons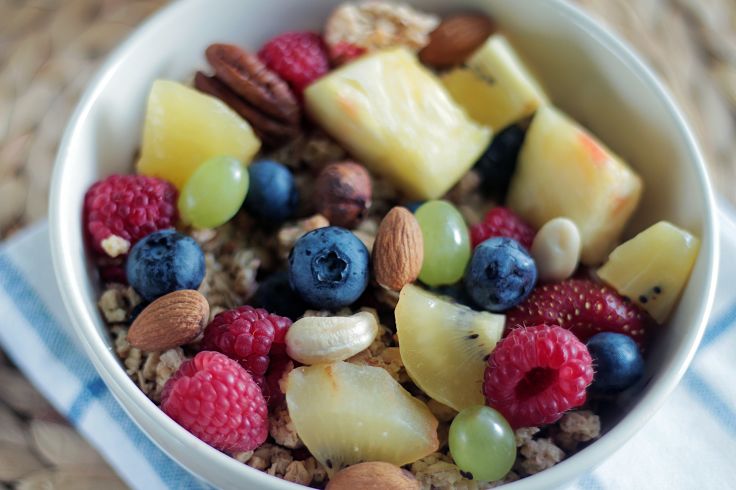 Source: Public Domain CC0 pexel.com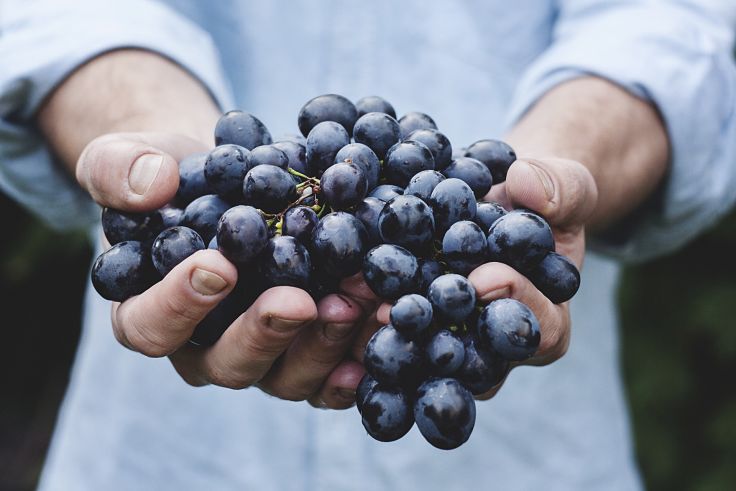 Source: Public Domain CC0 pexel.com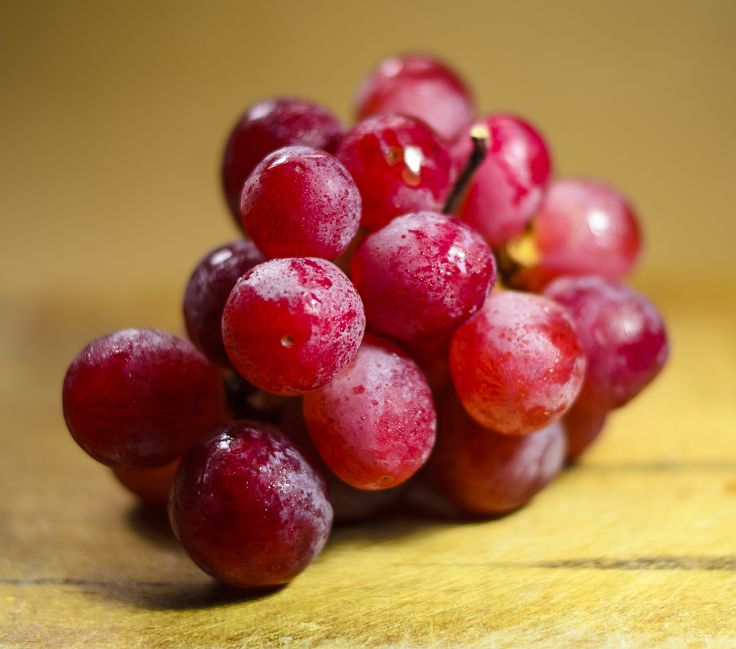 Source:
By Rooey202 [CC BY 2.0], via Wikimedia Commons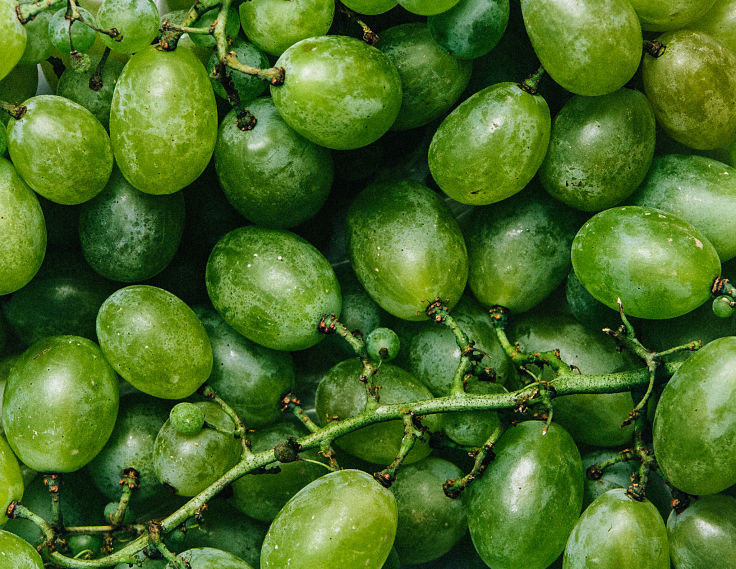 Source:
By Mannamajumder (Own work) [CC BY-SA 4.0], via Wikimedia Commons