Health Benefits of Polyphenols, Types and Major Food Sources
Polyphenols are a large group of nutrients found naturally in various plant foods, such as herbs, spices, fruits, vegetables, chocolate, cocoa, and even beverages such as coffee, hot chocolate, tea and wine.

They have renowned health benefits. They function as powerful antioxidants, which means they can act to neutralize harmful free radicals that would otherwise damage your cells and organs. Free radicals in your body increase your risks of conditions such as diabetes, cancer and heart disease.

Polyphenols have a number of other health benefits, particularly reducing inflammation and repairing damaged skin. Regular consumption of polyphenols in your diet is known to aid digestion and improve brain health.
This article reviews everything there is to know about polyphenols: the various types, their health benefits and foods with the highest natural levels.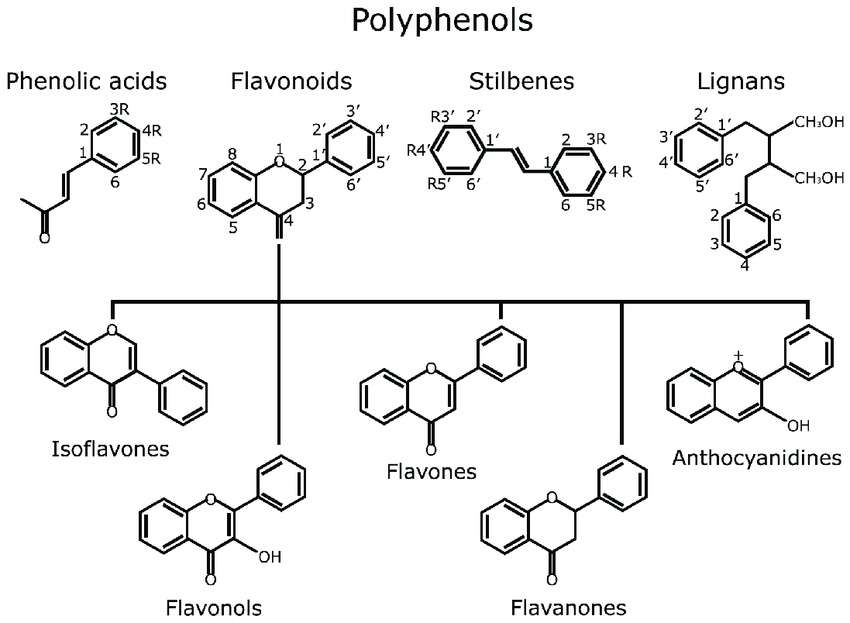 Types of polyphenols
Over 7,000 types of polyphenols have been identified. They can be grouped and categorized into four main types:
Flavonoids - These account for around 60% of all polyphenols. Examples include quercetin, catechins, kaempferol and anthocyanins. These types of compounds which are found in foods like onions, dark chocolate, apples and red cabbage.
Phenolic acids - This group accounts for around 30% of all polyphenols. Examples include lignans and stilbenes, which are commonly found in vegetables, fruits, seeds and whole grains.
Polyphenolic amides - This group includes the capsaicinoids, which are found in chili peppers. Another type is avenanthramides, which is found in oats and other grains.
Other polyphenols - This large and diverse group includes resveratrol, which is found in red wine. Another type is ellagic acid, which is found in berries. Curcumin is found in in turmeric. Then there is the lignans which are found in flax seeds, some whole grains and sesame seeds.
The quantity and type of polyphenols found in foods depend on the food substance. Factors which affect polyphenols id food include origin and source, ripeness, and how the food was grown, how it was transported, stored, and prepared and cooked.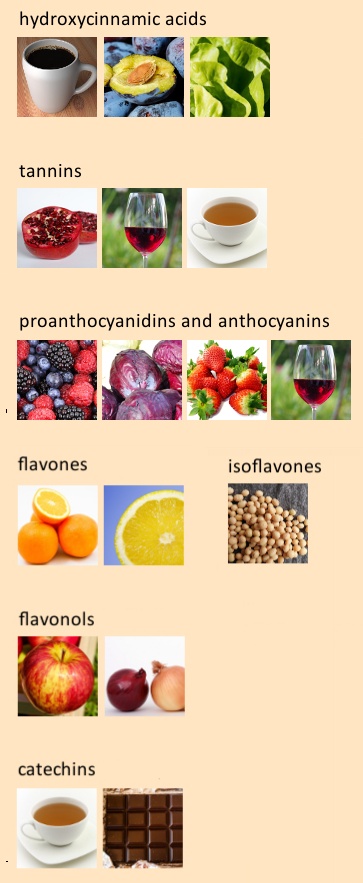 Detailed research studies on the affects of various types of cooking show that the total amount of carotenoids, polyphenols and overall antioxidant capacity in green leafy vegetables were significantly reduced by common cooking method. Boiling, steaming, and frying all affected the polyphenol levels. Frying was found to reduces the levels of flavonoids, polyphenols, carotenoids, and antioxidant activities in all leafy vegetables studied. However, boiling and steaming had varying effects on the carotenoids, polyphenols and antioxidant properties, depending on the leafy green vegetable type. In some vegetables boiling and steaming increased the levels possibly by breaking cell walls so that the contents were more available.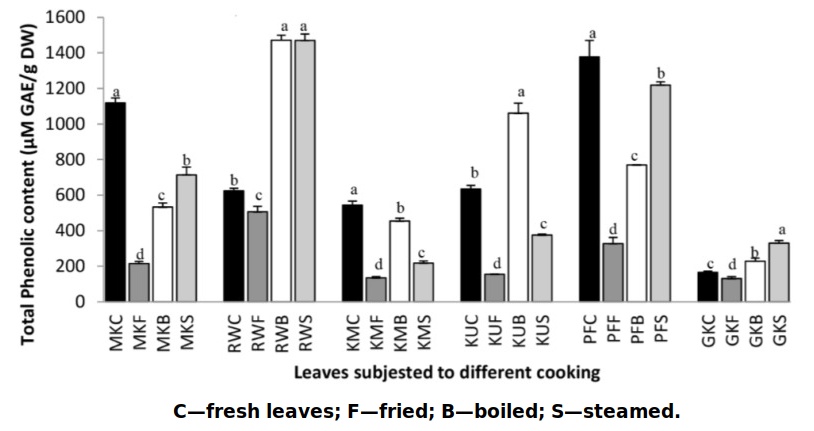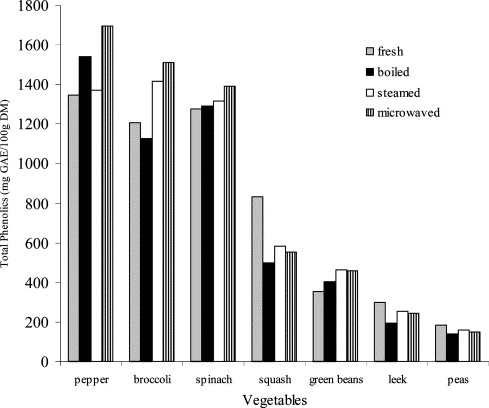 Health Benefits of Polyphenols
Helps lower blood sugar levels - Polyphenols have been shown to help lower blood sugar levels, and may also help stimulate the secretion of insulin to help keep your blood sugar levels in equilibrium.
Helps reduce the risk of heart disease - Studies have shown that this benefit largely due to the antioxidant properties of polyphenols, which help reduce chronic inflammation, which is a risk factor for heart disease.
Helps reduce the risk of blood clots - In animal studies, polyphenols appeared to reduce the platelet aggregation process, thereby reducing the risk of forming blood clots.
May help protect against cancer - Polyphenols have strong anti-inflammatory and antioxidant effects, both of which help in cancer prevention
Improves digestion and gut health - Polyphenols improve digestion by promoting the growth of beneficial gut bacteria. Polyphenols also help probiotic processing bacteria to thrive and survive. These bacteria occur in fermented foods and help provide their health benefits.
May improve brain function - Various studies have shown that eating Polyphenol-rich foods may boost memory and improve the blood flow to the brain. Extracts from Ginkgo biloba and cocoa, which are rich in polyphenols, have been shown to boost memory, learning, and concentration.
Foods Rich in Polyphenols
A definitive study in 2010 identified the top 100 foods richest in polyphenols and antioxidants.
The table below show the foods in various categories that had the highest levels in terms of mg of polyphenols per 100 g serving. Below that table is another one that lists the top 100 foods containing antioxidants.
Herbs and Seasonings
Cloves had the highest level or any food, with a total of 15,188 mg polyphenols per 100 g. Many other dried herbs had amongst the highest levels. Dried peppermint, ranked second with 11,960 mg polyphenols. Star anise, ranked third with 5,460 mg.
The top 10 highest ranking herbs and seasonings are:
Cloves => 15,188 mg
Peppermint, dried 11,960 mg
Star anise => 5,460 mg
Mexican oregano, dried => 2,319 mg
Celery seed => 2,094 mg
Common sage, dried => 1,207 mg
Rosemary, dried => 1,018 mg
Spearmint, dried => 956 mg
Common thyme, dried => 878 mg
Capers => 654 mg
Sweet basil, dried 322 mg
Cocoa Products and Chocolate
Cocoa powder was the fourth richest food identified, with 3,448 mg polyphenols per 100 g of the powder. Dark and milk chocolate are rich sources of polyphenols. Hot chocolate was one of the highest beverages with polyphenols.
The top 3 Cocoa Products were:
Cocoa powder => 3,448 mg
Dark chocolate => 1,664 mg
Milk chocolate => 236 mg
Berries
Many berries are rich in polyphenols. These include popular and easily available berries:
Black chokeberry => 1,756 mg
Black elderberry => 1,359 mg
Low bush blueberry => 836 mg
Blackcurrant => 758 mg
High bush blueberry => 560 mg
Blackberry => 260 mg
Strawberry => 235 mg
Red raspberry => 215 mg
Non-Berry Fruits
A large number of fruits contain moderate level polyphenols, less than most berries, but more than most vegetables. These include:
Black currants, => 758 mg
Plums => 377 mg
Sweet cherries => 274 mg
Apples, => 136 mg
Fruit juices such as pomegranate and apple juice also contain high levels of polyphenols per 100 ml.
Pure apple juice => 68 mg
Pure pomegranate juice => 66 mg
Pure blood orange juice => 56 mg
Pure grapefruit juice => 53 mg
Pure blond orange juice => 46 mg
Beans and Soybean Products
Beans and soybeans are naturally rich in polyphenols. The top 7 products are:
Roasted soybean => 246 mg
Soy, tempeh => 148 mg
Soy yogurt => 84 mg
Soy meat => 73 mg
Black bean => 59 mg
White bean => 51 mg
Soy tofu => 42 mg
Nuts
A wide range of nuts have moderate levels of polyphenols in both raw and roasted nuts. The top 5 ranking nuts are:
Chestnut => 1,215 mg
Hazelnut => 495 mg
Pecan nut => 493 mg
Almond => 187 mg
Walnut => 28 mg
Vegetables
Many vegetables that contain polyphenols. However, vegetables generally have less than nuts and fruit. The top 12 ranking vegetables are:
Black olive => 569 mg
Green olive => 346 mg
Globe artichoke heads => 260 mg
Red chicory => 235 mg
Red onion => 168 mg
Green chicory => 166 mg
Spinach => 119 mg
Shallot => 113 mg
Yellow onion => 74 mg
Broccoli => 45 mg
Asparagus => 29 mg
Potato => 28 mg
Soy and Soy Products
Soy, in all its various forms and products, contains moderate levels of polyphenols:
Soy tempeh => 148 mg
Soy flour => 466 mg
Tofu => 42 mg
Soy yogurt => 84 mg
Soybean sprouts => 15 mg
Coffee, Black and Green tea, Wine and Other Beverages
Many beverages are a good source of polyphenols. Amounts are shown for a 100 ml serving.
Coffee, filter => 214 mg
Black tea => 102 mg
Red wine => 101 mg
Green tea => 89 mg
Chocolate beverage => 21 mg
Soy milk => 18 mg
White wine => 10 mg
Rose wine => 10 mg
Grains and Cereals
Grains and cereals have moderate to low levels of polyphenols
Whole wheat flour => 201 mg
Refined maize flour => 153 mg
Whole rye flour grain => 143 mg
Refined rye flour => 31 mg
Common Seeds
Many seeds have moderate levels of polyphenols
Flaxseed meal => 1,528 mg
Sunflower seeds => 1,400 mg
Pistachios => 642 mg
Peanuts => 460 mg
Pumpkin seeds => 149 mg
Soybean sprout => 15 mg
Soy cheese => 12 mg
Table 1. Foods with Highest Total Polyphenols per 100 g serving, Grouped by Food Type
| | | |
| --- | --- | --- |
| Food | Group | Polyphenols |
| Coffee, filter | Beverages | 214 |
| Black tea | Beverages | 102 |
| Red wine | Beverages | 101 |
| Green tea | Beverages | 89 |
| Pure apple | Beverages | 68 |
| Pure pomegranate | Beverages | 66 |
| Pure blood orange juice | Beverages | 56 |
| Pure grapefruit | Beverages | 53 |
| Pure blond orange juice | Beverages | 46 |
| Pure lemon | Beverages | 42 |
| Chocolate beverage | Beverages | 21 |
| Soy milk | Beverages | 18 |
| Pure pummelo juice | Beverages | 18 |
| White wine | Beverages | 10 |
| Rose´ wine | Beverages | 10 |
| Whole wheat flour | Cereals | 201 |
| Refined maize flour | Cereals | 153 |
| Whole rye flour grain | Cereals | 143 |
| Whole wheat flour | Cereals | 71 |
| Refined rye flour | Cereals | 31 |
| Cocoa powder | Cocoa products | 3448 |
| Dark chocolate | Cocoa products | 1664 |
| Milk chocolate | Cocoa products | 236 |
| Black chokeberry | Fruits | 1756 |
| Black elderberry | Fruits | 1359 |
| Low bush blueberry | Fruits | 836 |
| Blackcurrant | Fruits | 758 |
| High bush blueberry | Fruits | 560 |
| Plum | Fruits | 377 |
| Sweet cherry | Fruits | 274 |
| Blackberry | Fruits | 260 |
| Strawberry | Fruits | 235 |
| Red raspberry | Fruits | 215 |
| Prune | Fruits | 194 |
| Black grape | Fruits | 169 |
| Apple | Fruits | 136 |
| Peach | Fruits | 59 |
| Redcurrant | Fruits | 43 |
| Apricot | Fruits | 34 |
| Nectarine | Fruits | 25 |
| Quince | Fruits | 19 |
| Pear | Fruits | 17 |
| Green grape | Fruits | 15 |
| Extra-virgin olive oil | Oils | 62 |
| Rapeseed oil | Oils | 17 |
| Cloves | Seasonings | 15188 |
| Peppermint, dried | Seasonings | 11960 |
| Star anise | Seasonings | 5460 |
| Mexican oregano, dried | Seasonings | 2319 |
| Celery seed | Seasonings | 2094 |
| Common sage, dried | Seasonings | 1207 |
| Rosemary, dried | Seasonings | 1018 |
| Spearmint, dried | Seasonings | 956 |
| Common thyme, dried | Seasonings | 878 |
| Capers | Seasonings | 654 |
| Sweet basil, dried | Seasonings | 322 |
| Curry, powder | Seasonings | 285 |
| Ginger, dried | Seasonings | 202 |
| Common thyme, fresh | Seasonings | 163 |
| Lemon verbena, dried | Seasonings | 106 |
| Cumin | Seasonings | 55 |
| Chinese cinnamon | Seasonings | 48 |
| Caraway | Seasonings | 33 |
| Ceylan cinnamon | Seasonings | 27 |
| Parsley, dried | Seasonings | 25 |
| Marjoram, dried | Seasonings | 23 |
| Vinegar | Seasonings | 13 |
| Flaxseed meal | Seeds | 1528 |
| Chestnut | Seeds | 1215 |
| Hazelnut | Seeds | 495 |
| Pecan nut | Seeds | 493 |
| Soy flour | Seeds | 466 |
| Roasted soybean | Seeds | 246 |
| Almond | Seeds | 187 |
| Soy, tempeh | Seeds | 148 |
| Soy yogurt | Seeds | 84 |
| Soy meat | Seeds | 73 |
| Black bean | Seeds | 59 |
| White bean | Seeds | 51 |
| Soy tofu | Seeds | 42 |
| Walnut | Seeds | 28 |
| Soybean sprout | Seeds | 15 |
| Soy cheese | Seeds | 12 |
| Black olive | Vegetables | 569 |
| Green olive | Vegetables | 346 |
| Globe artichoke heads | Vegetables | 260 |
| Red chicory | Vegetables | 235 |
| Red onion | Vegetables | 168 |
| Green chicory | Vegetables | 166 |
| Spinach | Vegetables | 119 |
| Shallot | Vegetables | 113 |
| Yellow onion | Vegetables | 74 |
| Broccoli | Vegetables | 45 |
| Asparagus | Vegetables | 29 |
| Potato | Vegetables | 28 |
| Curly endive | Vegetables | 24 |
| Red lettuce | Vegetables | 23 |
| Endive (Escarole) | Vegetables | 18 |
| Carrot | Vegetables | 14 |
Table 2. Foods with Highest Antioxidants per 100 g serving, Grouped by Food Type
| | | |
| --- | --- | --- |
| Food | Group | Antioxidants |
| Coffee, filter | Beverages | 267 |
| Red wine | Beverages | 215 |
| Pure pomegranate | Beverages | 204 |
| Black tea | Beverages | 104 |
| Rose´ wine | Beverages | 82 |
| Pure blood orange juice | Beverages | 72 |
| Green tea | Beverages | 62 |
| Pure grapefruit | Beverages | 54 |
| Pure apple | Beverages | 34 |
| White wine | Beverages | 32 |
| Whole wheat flour | Cereals | 186 |
| Refined maize flour | Cereals | 102 |
| Whole wheat flour | Cereals | 90 |
| Whole rye flour grain | Cereals | 72 |
| Refined rye flour | Cereals | 45 |
| Dark chocolate | Cocoa products | 1860 |
| Cocoa powder | Cocoa products | 1104 |
| Milk chocolate | Cocoa products | 854 |
| Black elderberry | Fruits | 1950 |
| Black chokeberry | Fruits | 1752 |
| Prune | Fruits | 1195 |
| Red raspberry | Fruits | 980 |
| Blackcurrant | Fruits | 821 |
| Blackberry | Fruits | 570 |
| Lowbush blueberry | Fruits | 471 |
| Redcurrant | Fruits | 448 |
| Plum | Fruits | 411 |
| Strawberry | Fruits | 268 |
| Highbush blueberry | Fruits | 205 |
| Black grape | Fruits | 205 |
| Apple | Fruits | 205 |
| Sweet cherry | Fruits | 144 |
| Apricot | Fruits | 133 |
| Green grape | Fruits | 122 |
| Pear | Fruits | 108 |
| Peach | Fruits | 107 |
| Nectarine | Fruits | 55 |
| Extra-virgin olive oil | Oils | 55 |
| Rapeseed oil | Oils | 18 |
| Cloves | Seasonings | 16047 |
| Ceylan cinnamon | Seasonings | 9070 |
| Spearmint, dried | Seasonings | 6575 |
| Mexican oregano, dried | Seasonings | 5452 |
| Sweet basil, dried | Seasonings | 4317 |
| Marjoram, dried | Seasonings | 3846 |
| Capers | Seasonings | 3600 |
| Common sage, dried | Seasonings | 2920 |
| Caraway | Seasonings | 2913 |
| Rosemary, dried | Seasonings | 2519 |
| Cumin | Seasonings | 2038 |
| Common thyme, dried | Seasonings | 1815 |
| Star anise | Seasonings | 1810 |
| Parsley, dried | Seasonings | 1584 |
| Common thyme, fresh | Seasonings | 1173 |
| Curry, powder | Seasonings | 1075 |
| Peppermint, dried | Seasonings | 980 |
| Ginger, dried | Seasonings | 473 |
| Chestnut | Seeds | 2757 |
| Pecan nut | Seeds | 1816 |
| Walnut | Seeds | 1576 |
| Black bean | Seeds | 1390 |
| Hazelnut | Seeds | 687 |
| Almond | Seeds | 191 |
| White bean | Seeds | 138 |
| Globe artichoke heads | Vegetables | 1142 |
| Spinach | Vegetables | 248 |
| Broccoli | Vegetables | 198 |
| Green olive | Vegetables | 161 |
| Red chicory | Vegetables | 129 |
| Black olive | Vegetables | 117 |
| Shallot | Vegetables | 115 |
| Red lettuce | Vegetables | 114 |
| Red onion | Vegetables | 91 |
| Yellow onion | Vegetables | 75 |
| Asparagus | Vegetables | 75 |
| Carrot | Vegetables | 58 |
| Potato | Vegetables | 54 |