Health Benefits of Turmeric : Fabulous Recipes, Use and Cooking Tips
The humble spice, Turmeric has been used as a spice for cooking and as a medicine for 4,000 years as a remedy for a variety of conditions. Studies show that turmeric, and its active ingredient curcumin, appears to fight infections, reduce inflammation, remedy digestive problems.
Recent laboratory studies have suggested that it be effective in treatment of various types of cancer and may help improve the effectiveness of chemotherapy. It has also be suggested that it may be beneficial for stroke and dementia patients as well. It has known antioxidant properties.
Turmeric is widely used in cooking and is the source of the yellow color and flavor to traditional Indian curry dishes.
It is also used in mustards and relishes and to color cheese and butter. However this article shown that turmeric can be used in a wide variety of other dishes apart from curries and mustards.
So see how you can get the benefits of this wonderful spice in lots of different and interesting ways.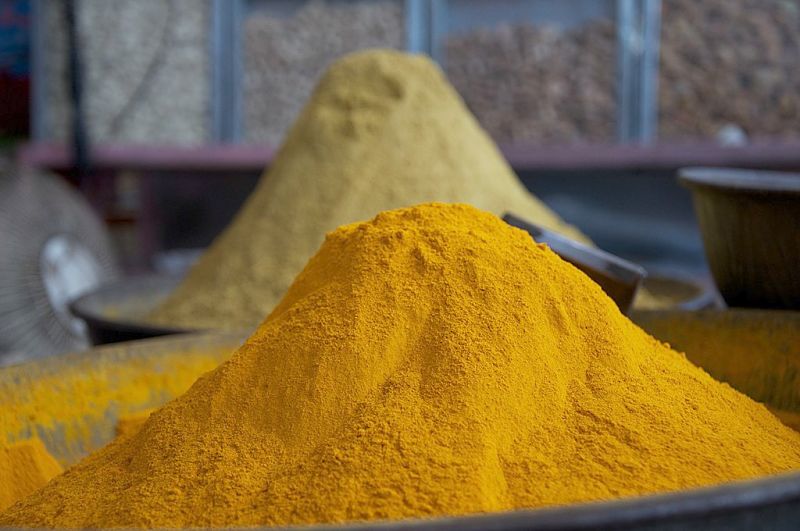 What is Turmeric?
Turmeric is closely related to ginger and spreads from underground rhizomes which are harvested. It is native to the Himalayan mountain region. Turmeric has been grown in India for hundreds of years.
It reached China, East Africa and West Africa about a thousand years ago. It was introduced to Jamaica and the New World in the 18th Century. Turmeric was probably initially cultivated as a dye, and then became more widely used as a condiment and for cosmetics.
In the 13th century Marco Polo praised this spice, as a cheaper substitute for costly saffron. It is now cultivated widely throughout the world in both tropical and subtropical regions.

The plant grows up to a meter (3 feet) high and has broad dark green aromatic leaves.The rhizome has a dark brown skin on the outside and deep orange-yellow pulp on the inside similar to fresh ginger.
Once the root sections are harvested, they are boiled, then dried thoroughly and ground to make turmeric powder. If you can get it, the fresh turmeric is far better than the dried and ground powder.
The taste is described as a mild pepper flavor and somewhat bitter. It has a sweet smell reminiscent of ginger and orange. The yellow to orange color imparts a beautiful hue to all dished cooked with turmeric.
Health Benefits of Turmeric
Turmeric has been used in both Chinese and Ayurvedic (Hindu) traditional medicine as an anti-inflammatory, to treat digestive and liver problems, skin diseases, and wounds. Curcumin also has known antioxidant properties. There are extensive reviews of the health and medicinal properties claimed for turmeric and curcumin (see the image below).

The best known benefits of Turmeric are:
Osteoarthritis - Turmeric may help because of its ability to reduce inflammation, and its antioxidant properties.
Indigestion - Curcumin apparently helps trigger the gallbladder to release bile, which may help improve digestion.
Cancer - Evidence from laboratory studies suggests that curcumin may help prevent or treat various kinds of cancers, including breast, skin, prostate and colon cancer (yet to be proven clinically). The effectiveness of Turmeric may be related to strong antioxidant properties and other benefits and properties, generally protecting cells from damage. New research studies suggest that it may help improve the effectiveness of chemotherapy.
Bacterial and Viral Infections -Test tube and animal studies suggest turmeric may kill viruses and bacteria, but more research is needed to confirm this in clinical trails.
Antiseptic Properties - widely used in Chinese medicine for treating and disinfecting cuts and burns.
Alzheimer's Disease - may prevent and slow the progression of the disease by slowing the amyloyd plaque buildup in the brain (more research needed on this).
Weight Control - Curcumin may affect fat metabolism in the body and may assist with weight management and weight loss plans.
Antifungal Properties - Research studies have shown that Curcumin displayed antifungal properties against all 14 Candida strains tested .
Depression - Turmeric has been used for a long time as a treatment for depression in Chinese medicine.
Turmeric can be taken in powder or pill form, which are available in most health food outlets, commonly in 250-500mg capsules. However it is much more interesting to get the benefits of this condiment from food and meals.
A published review over 3000 studies on curcumin, concluded that more definitive studies were needed to fully evaluate the safety and efficacy of reformulated curcumin, the structural analogues of curcumin, as well as how curcumin interacts with existing therapies. Nevertheless, the low cost of curcumin, its pharmacological safety, its proven therapeutic efficacy and multiple applications make curcumin a promising agent for prevention and treatment of various human diseases. Meanwhile, research continues on how to enhanced the bioavailability of curcumin and reduce its side effects. This looks very promising.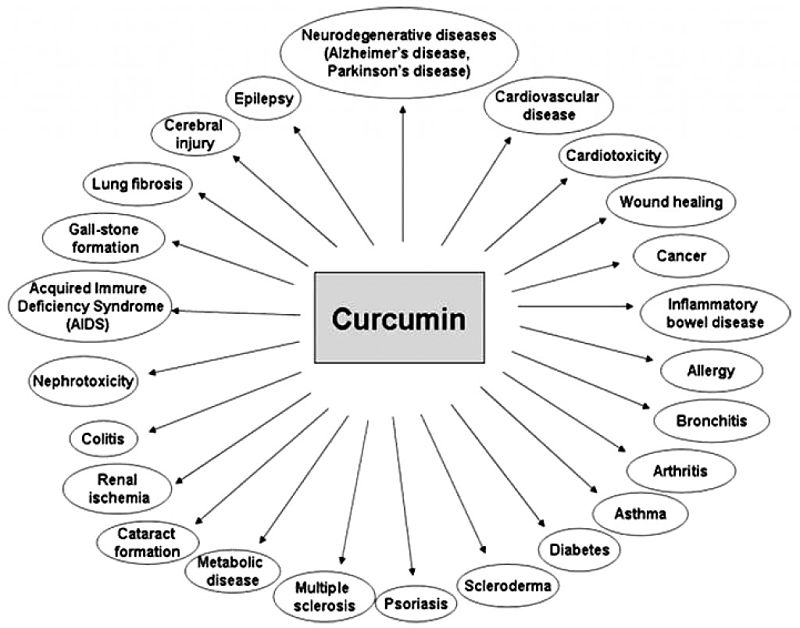 Nutrients in Turmeric
One tablespoon of turmeric powder contains about 24 calories, 1.4 g fiber, 4 g carbohydrates, 0.5 g, 0.7 g fat and 3 mg sodium and no cholesterol. Turmeric is rich in several important nutrients such as manganese, iron, copper, zinc, calcium, potassium, magnesium and phosphorus. Turmeric also contains several Vitamins and pre-cursors such as choline, folate, niacin, vitamin C, vitamin E, vitamin K and vitamin B6 and phytochemicals.
For details about the nutrients see the table below.
Turmeric Recipe Ideas and Uses
Couscous with Turmeric, Coriander and Lemon Juice
2 tablespoons fresh lemon juice
1/3 cup chopped fresh cilantro (Coriander or Chinese Parsley)
1 1/2 cups couscous, uncooked
1/2 teaspoon salt
1 teaspoon finely grated lemon peel
1 2/3 cups chicken broth
1/2 teaspoon turmeric
2 garlic cloves, minced
2 tablespoons olive oil
Heat oil in a medium saucepan over moderate heat. Add the turmeric and garlic and cook for about 1-2 minutes. Add 1 2/3 cups water, 1/2 teaspoon coarse salt and the lemon peel, and then bring the liquid to the boil. Take the pan off the heat. Add the couscous and cover the pan and let it stand for about 5 minutes until all the liquid is absorbed. Fluff with the couscous with a fork; add the cilantro and lemon juice and stir. Season with a little salt and pepper if desired.
Bean and Bell Pepper Soup with Turmeric
3/4 cup chopped green bell pepper
1 1/2 cups cooked garbanzo beans
1 cup chopped fresh tomato
1 tablespoon tamari
3 cups low sodium chicken stock
1 pinch cayenne pepper
1 pinch ground cinnamon
1 teaspoon salt
1 teaspoon dried basil
1 teaspoon ground turmeric
2 teaspoons paprika
2 cups diced sweet potatoes
2 cloves garlic, crushed
1/2 cup chopped celery
2 cups chopped onion
2 tablespoons olive oil
Heat the olive oil in a large heavy base saucepan or stock pot over moderate heat. Fry the garlic, celery, onion and sweet potatoes for 5-7 minutes, or until onion is just starting to soften. Add the basil, salt, paprika, cayenne, turmeric, cinnamon and the bay leaf. Mix to blend and add the in chicken stock and tamari. Cover the pot and gently simmer the soup over low heat for about 15 minutes. Then add the garbanzo beans, tomatoes and green pepper, and simmer the soup for an additional 10-15 minutes. Check to make sure that all of the vegetables are tender. Season with salt and pepper to taste.
Baked Turmeric Chicken
4 pounds (2 kg) of chicken
4 tablespoons turmeric
2 cloves garlic, large and minced
3 tablespoons olive oil
3 tablespoons reduced-sodium soy sauce
Run warm water over the chicken, and then dry it. Cut it up into 2 breasts, 2 thighs, 2 wings, 2 drumsticks, and cut the back in half. Using a small bowl, add the minced garlic, soy sauce, and olive oil and stir to mix. Coat the dried chicken pieces with the turmeric powder by mixing in a bowl. Another way to do this is to place the turmeric and chicken in a large strong plastic bag. Close and seal the bag tightly leaving plenty of room for air. Shake the chicken in the bag to coat it with turmeric. Next, roll the coated chicken in the soy sauce and olive oil mixture, or brush the liquid over the chicken. Bake the chicken pieces at 350 degrees F (180 degrees C) for 45 minutes. Remove the breasts, as they require less cooking and continue baking for another 30 minutes.
Chinese Style Turmeric Chicken
1 whole chicken (about 1.5 kg or 3 pounds)
1 tablespoon Chinese wine of Sherry
1 teaspoon sugar
1 teaspoon salt
1 tablespoon oyster sauce
1 tablespoon sesame oil
250ml water
1 tablespoons of rice bran oil (or other high temperature oil suitable for frying)
4 stalks lemon grass
100g fresh young ginger
50g fresh turmeric (or 80g powder)
Clean the whole chicken and slice in half. Place the ginger, turmeric, and lemon grass into a food processor and blend until very finely chopped (or slice finely by hand). In a heavy non-stick frying-pan, fry the blended ingredients in a tablespoon of oil for 1-2 minutes until the flavors and fragrances are released. Add the water, season to taste and bring the liquid to the boil. Add in chicken, and cover the pot with a lid and simmer using low heat for about 30 minutes. Check to make sure the chicken is cooked. Remove the chicken and allow to cool, and then cut into pieces. Use the liquid remaining in the pot to make a sauce. Add a tablespoon shaoxing or Chinese wine bring to boil. Thicken by adding a tablespoon of cornflour dissolved in with 2 tablespoons of water. Pour the sauce over chicken and serve.
Savory Pork Roast with Figs and Turmeric
1 (5 pound) boneless pork loin roast
1 cup chicken broth
1 (14.5 ounce) can whole peeled tomatoes
2 tablespoons fig compote
1 onion, roughly chopped
3 cloves garlic, roughly chopped
2 tablespoons butter
2 tablespoons olive oil
salt and ground black pepper to taste
1 pinch ground cayenne pepper
1 teaspoon ground cumin
2 teaspoons chili powder
2 teaspoons ground ginger
1 tablespoon garam masala
1 tablespoon ground turmeric
1 tablespoon curry powder
Preheat an oven to about 345 degrees F (170 degrees C). Dry the pork with a clean towel. Mix the ground ginger, garam masala, chili powder, curry powder, turmeric, cumin, cayenne, pepper and salt in a small bowl. Rub the spice mixture all over the pork roast. Heat the butter and olive oil over moderate heat in a large, heavy pan or Dutch oven. Add the seasoned pork to the pot and fry until browned on all sides (about 2 minutes for each surface. Remove pork from the pot and set aside. Add the onion and garlic to the pot and cook while stirring until the onion is soft and transparent (about 5 minutes). Stir in the fig compote and mix well. Put the pork back into the pot and pour in the chicken broth and tomatoes, and bring to a boil. Then transfer the covered pot to a preheated oven. Cook the pork for about 2 hours or until it is no longer pink inside. Your meat thermometer should reach 160 degrees F (70 degrees C) when inserted into the center of the pork.
Lamb Tagine with Turmeric
2 pounds lamb meat, cut into 1 1/2 inch cubes
1 tablespoon honey
1 tablespoon sun-dried tomato paste
1 (14.5 ounce) can homemade chicken broth or low-sodium canned broth
1 lemon, zested
1 tablespoon freshly grated ginger
3 cloves garlic, minced
5 carrots, peeled, cut into fourths, then sliced lengthwise into thin strips
2 medium onions, cut into 1-inch cubes
3/4 teaspoon ground coriander
3/4 teaspoon garlic powder
1 pinch saffron
1/2 teaspoon ground ginger
1 teaspoon kosher salt
1/2 teaspoon ground cardamom
1/4 teaspoon ground cloves
1 teaspoon ground cinnamon
1/4 teaspoon cayenne pepper
1/2 teaspoon ground cumin
1/4 teaspoon ground turmeric
2 teaspoons paprika
3 tablespoons olive oil, divided
1 tablespoon cornstarch (optional)
1 tablespoon water (optional)
Place diced lamb in a bowl, coat with about 2 tablespoons of the olive oil, and set aside. Add the coriander, garlic powder, saffron, ginger, salt, cardamom, cloves, cinnamon, cayenne, cumin, turmeric and paprika to a large thick plastic bag, and mix well. Transfer the lamb to the bag, seal and toss it around to coat all surfaces of the lamb thoroughly. Refrigerate the lamb for a least 8 hours or overnight. Heat 1 tablespoon of olive oil in a large, heavy pot or saucepan over moderate heat. Add about one third of the lamb, and brown well. Transfer to a plate, and repeat with remaining lamb. Add carrots and onions to the pot and cook for about 5 minutes. Add the fresh ginger and garlic and cook for an extra 5 minutes. Return all the lamb to the pot and add the chicken broth, tomato paste, lemon zest and honey. Increase the heat and bring the content to a boil, then turn the heat down to low, cover, and simmer for about 1 1/2 to 2 hours, stirring occasionally, until the lamb is tender. If preferred you can thicken the mixture with cornstarch dissolved in water during the few minutes.
Vegetarian Bean, Spinach and Red Lentil Curry with Turmeric
1 (15.5 ounce) can mixed beans, drained, rinsed and drained again
4 sprigs fresh cilantro, chopped
2 tablespoons vegetable oil
2 tomatoes, chopped
4 cups loosely packed fresh spinach, coarsely chopped
1 (1 inch) piece fresh ginger root, grated
2 cloves garlic, chopped
1 onion, chopped
1/2 teaspoon chili powder
1/2 teaspoon ground cumin
1/2 teaspoon ground dried turmeric
1 teaspoon garam masala
1/2 (8 ounce) container plain yogurt
1/4 cup tomato puree
1 cup red lentils
Wash the lentils using several changes of water and transfer to saucepan with just enough water to cover the lentils. Bring to the boil while stirring and then reduce the heat to low, cover the pot and simmer for 20 minutes over low heat, and then drain in a sieve. In a small bowl, combine the yogurt and tomato puree and add the turmeric, cumin, garam masala and chili powder. Stir until well combined and creamy. Heat oil in a skillet over moderate heat. Cook the onions, garlic, and ginger, until onions just start to soften and brown. Add the spinach and cook until the leaves wilt. Add the yogurt mixture a little at a time and then stir in the cilantro and tomatoes. Add the lentils and beans and combine well. Heat all the ingredients well while stirring for about 5 minutes.
Corn Relish with Turmeric
2 quarts sweet corn kernels
1 cup water
1 quart apple cider vinegar
1 tablespoon ground turmeric
1 tablespoon salt
1 tablespoon mustard seed
1 tablespoon celery seed
2 tablespoons ground dry mustard
1 cup white sugar
1 cup chopped red bell pepper
1 cup chopped green bell pepper
1 cup chopped onion
4 cups chopped cabbage
In a large saucepan, add the cabbage, onion, corn, green bell pepper, red bell pepper, white sugar, celery seed, mustard seed, salt, ground dry mustard, turmeric, water and apple cider vinegar. Bring to a boil. Reduce heat and simmer for 20 minutes. Transfer the mixture to sterile glass jars. Seal and keep cool in the refrigerator until serving.
Barbecued Thai Style Chicken with Turmeric
1 (3 pound) chicken, cut into pieces
1/4 cup coconut milk
3 tablespoons fish sauce
1 pinch salt
1 tablespoon white sugar
1 teaspoon curry powder
1 teaspoon ground turmeric
3 small red hot chili peppers, seeded and chopped
3 cloves garlic, peeled
1 bunch fresh cilantro (or coriander)
Chop the cilantro thoroughly, keeping several leaves aside for garnishing. In a food processor or blender, combine the chili peppers, turmeric, curry powder, cilantro, garlic, sugar, and salt. Pulse to a coarse paste. Pour in the fish sauce, and then pulse until smooth. Place chicken in a large shallow bowl and rub all over with the cilantro paste. Cover, and marinate the chicken for at least 3 hours in the refrigerator. Preheat the grill or barbecue to a high temperature and lightly oil the grill. Place chicken pieces on the prepared grill, brush with coconut milk and grill the chicken pieces for 8 to 15 minutes per side, depending on the thickness of the pieces. Turn the chicken only once, and baste several times with coconut cream. Cook until tender and browned on both sides (test to make sure the juices run clear).
Traditional Beef Curry
2 pounds boneless beef chuck, cut into 1-1/2-inch pieces
1 cup water
1 teaspoon cayenne pepper
1 teaspoon garlic powder
1 teaspoon ground turmeric
1 teaspoon ground coriander
1 teaspoon ground cumin
1 1/2 (2 inch) cinnamon sticks
2 whole cloves
3 whole cardamom seeds
1 teaspoon ginger paste
5 green chili peppers, finely sliced
6 cloves garlic, minced
1 onion, chopped
3 tablespoons rice bran oil (or olive oil)
Heat the oil in a heavy skillet or frying pan over moderate heat. Add the onion and cook while stirring until the onion has softened and become transparent (about 5 minutes). Turn down the heat to low and cook while stirring for another 15-20 minutes until the onion is dark brown and very tender. Add the garlic,ginger paste, cardamom seeds, cloves, green chilies and cinnamon sticks. Cook and stir until the garlic just starts to brown (generally about 3 to 5 minutes). Add the turmeric, garlic powder, cumin, coriander, cayenne pepper and water to the onion mixture and simmer until most of the liquid has evaporated and the curry has thickened. Add the pieces of beef and stir to coat with spice mixture. Simmer the curry over moderate heat, stirring occasionally for 1 to 1 1/2 hours until the beef is tender and cooked.
Nutrients in Turmeric - 100g (Ground)
| Nutrient | Quantity | % of Recommended Daily Average |
| --- | --- | --- |
| Energy | 354 Cal | 17% |
| Carbohydrates | 64.9 g | 50% |
| Protein | 7.8 g | 14% |
| Total Fat | 10 g | 33% |
| Cholesterol | 0 mg | 0% |
| Dietary Fiber | 21 g | 52.50% |
| Vitamins | | |
| Folates | 39 micro g | 10% |
| Niacin | 5 mg | 32% |
| Pyridoxine | 1.8 mg | 138% |
| Riboflavin | 0.233 mg | 18% |
| Vitamin A | 0 IU | 0% |
| Vitamin C | 26 mg | 43% |
| Vitamin E | 3.1 mg | 21% |
| Vitamin K | 13.4 micro g | 11% |
| Minerals | | |
| Calcium | 183 mg | 18% |
| Copper | 603 micro g | 67% |
| Iron | 41.4 mg | 517% |
| Magnesium | 193 mg | 48% |
| Manganese | 7.8 mg | 340% |
| Phosphorus | 268 mg | 38% |
| Potassium | 2525 mg | 54% |
| Sodium | 38 mg | 3% |
| Zinc | 4.3 mg | 40% |
Source: Turmeric (Curcuma longa), Nutritive Value per 100g (Ground) (Source: USDA National Nutrient data base)