Health Benefits Pineapple - Nutrition Facts and Uses for Fresh Pineapple
The health benefits of Pineapple are clear to see in the lists of nutrients and nutrition facts.
Fresh pineapple is treasure trove of health promoting nutrients, minerals and vitamins and it is so versatile in its uses. It is best eaten fresh but the preserved fruit and juice is also very healthy.
The fruit tastes sweet when ripe, but is relatively low in calories with only 50 calories per 100 g of fresh pineapple ( about the same as 100g of apple or orange), contains no cholesterol or saturated fats.
Pineapple has a low GI and is a rich source of vitamin C and of insoluble and soluble dietary fiber such as pectin. Pineapple and pineapple juice have many outstanding health benefits in comparison with other fruits such as apples and oranges.
This article highlights these benefits and provide and table of nutrition facts and showcases the many uses from pineapple flesh and juice. Pineapple is consumed as a fresh fruit in desserts, and it is used in a wide variety of main meal dishes, and its juice is also very popular. Pineapple can be used as a diet food and as part of a whole foods diet.
History of Pineapple Trees and Biology of the Fruit
The pineapple plant is native to Paraguay in South America. The plant was carried by the local Indians up and into Central America, and eventually to the West Indies. From there is was brought to Spain and distributed throughout Europe. The pineapple belongs to the family of Bromeliaceae.
Pineapple fruits have a white or yellow flesh and a prickly outer skin that features diamond shaped pattern. Pineapple is a multiple fruit form the combination of hundreds of flowers that develop in a spiral form around an axis. Each flower produces a single individual fruits, which combine together to produce one large pineapple fruit.
Juicy flesh ranges from yellow to creamy white and has a rich mixture of tart and sweet tastes depending on ripeness. Unlike other fruits that have start reserves that are converted to sugar as the picked fruit ripens, all the sugar come from the stem of the plant.
Consequently the pineapple has to be harvested at peak ripeness, though the green color turns to yellow and the flesh sweetens as the picked pineapple ripens.
Pineapples are available fresh, canned or dried and pineapple juice is widely available.
Health Benefits and Nutrients in Pineapple Fruit
Pineapple contains a special enzyme called bromelain that is a natural tenderizer and helps with the digestion process of food by breaking down protein molecules. Bromelain is also known to be an anti-inflammatory and anti-clotting agent. For this reason regular eating of pineapple helps relieve indigestion and aids in the treatment of arthritis.
As the table comparing pineapple with apple an oranges shows pineapple has the best nutritional attributes of both of these other fruits. It is the best of both worlds.
Pineapple is an excellent source of vitamin C (100g provides and about 80% of the daily allowance) and matches the concentration of vitamin C that in oranges. Vitamin C helps maintain resistance against infectious agents (sustains immunity) and is good for the eyes and skin.
It also contains good concentrations of Vitamin A (there are 58 International Units per 100 g) and beta-carotene levels. Vitamin A and the beta-carotene compounds are known to have antioxidant properties. Vitamin A is also required maintaining healthy skin, mucus membranes and is essential for vision.
Pineapple is a better source of iron than apples and oranges.
In addition, Pineapple is relatively rich in B-complex group of vitamins like folates, thiamin, pyridoxine, riboflavin.
It is also a good source of minerals including manganese (40% of daily allowance in 100 g), copper, iron and potassium. Potassium is very important electrolyte in the body and also helps control the heart rate and blood pressure.
Fresh pineapple is a healthier choice with less than 40 % of the calories of the sweetened frozen and canned varieties, to which sugar is added.

Nutrients in Pineapple Compared with Apple and Orange
| | Pineapple | Apple | Orange |
| --- | --- | --- | --- |
| NUTRIENT | 100 g | 100 g | 100 g |
| Calories | 50 | 52 | 47 |
| Total Fat | 0.12 g | 0.17 g | 0.12 g |
| Saturated Fat | 0.01 g | 0.03 g | 0.01g |
| Sodium | 1 mg | 1 mg | 0 mg |
| Carbohydrate | 13.1 g | 13.8 g | 11.8 g |
| Dietary Fiber | 1.4 g | 2.4 g | 2.4 g |
| Sugar | 9.9 g | 10.4 g | 9.4 g |
| Protein | 0.5 g | 0.3 g | 0.9 g |
| | Percent | Allowance | Each Day |
| Vitamin A | 1% | 1% | 5% |
| Calcium | 1% | 1% | 4% |
| Vitamin C | 80% | 8% | 89% |
| Iron | 2% | 1% | 1% |
Pineapple Nutrition Data
| Serving 100 g | Nutrient | Percent of Recommended Daily Allowance |
| --- | --- | --- |
| Energy | 50 Cal | 2.50% |
| Carbohydrates | 13.5 g | 10% |
| Protein | 0.5 g | 1% |
| Total Fat | 0.1 g | <1% |
| Cholesterol | 0 mg | 0% |
| Dietary Fiber | 1.4 g | 4% |
| Vitamins | | |
| Folates | 18 ug | 4.50% |
| Niacin | 0.5 mg | 4% |
| Pyridoxine | 0.1 mg | 9% |
| Riboflavin | 0.02 mg | 1.50% |
| Thiamin | 0.08 mg | 6.50% |
| Vitamin A | 58 IU | 2% |
| Vitamin C | 47.8 mg | 80% |
| Vitamin E | 0.02 mg | <1% |
| Vitamin K | 0.07 ug | 0.50% |
| Minerals | | |
| Sodium | 1 mg | 0% |
| Potassium | 109 mg | 2.50% |
| Calcium | 13 mg | 1.30% |
| Copper | 0.1 mg | 12% |
| Iron | 0.3 mg | 3.50% |
| Magnesium | 12 mg | 3% |
| Manganese | 0.9 mg | 40% |
| Phosphorus | 8 mg | 1% |
| Selenium | 0.1 ug | <1% |
| Zinc | 0.1 mg | 1% |
| Phyto-nutrients | | |
| Carotene-ß | 35 ug | |
| Crypto-xanthin-ß | 0 mcg | |
Beneficial Nutrients in Pineapple Juice
Fresh pineapple juice has less than 40 percent of the calories (50 Cal per 100 g) that are in the sweetened frozen and canned varieties, making unsweetened pineapple juice the best nutritional value. It can be combined with other fresh or preserved Pineapple juice is low in fiber and high in carbohydrates and calories (without added sugar), making it a very least attractive option. Commercial pineapple juice also has various preservatives added to it.
Eight ounce glass of pineapple juice also contains about 20% of the daily recommended allowance of Thiamine, one of the B group of vitamins.
Eight ounces of pineapple juice contains about 75% of the daily recommended allowance of vitamin C.
About Eight ounces of pineapple juice provides about 20% of the daily recommended allowance for Potassium.
Eight ounce glass of pineapple juice contains about 12% of the daily recommended allowance of vitamin B6.
Many Uses for Pineapples
Pineapple is a favorite ingredient that is added to fruit salad, cakes, ice cream, pies, punches, yogurt, punches, and a huge range of other desserts. Fresh pineapple is healthier than canned because it has low calories and low sugar (comparable to apples and oranges (see table)
Add pineapple slices to fruit salads and pieces if pineapple to salads with walnuts, cashews of almonds.
Pineapple juice is an excellent ingredient for use as a marinades. The bromelain enzyme tenderizes tough meats and adds a unique taste to the meat that combines well with the other herbs and species used in the marinade..
Beware that this same bromelain enzyme can cause gelatins to fail to set, and dairy products to separate. So it pays not to experiment but to follow recipes. Cooking and canning destroys the enzyme.
Pineapple also works very well in huge variety of savory dishes and stir fries. Pineapple goes very well with pork but is also very good with poultry, ham and seafood.
Most sweet and sour recipes use pineapple chunks or the juice.
How to Buy Pineapple
Pineapple is available fresh, dried, canned and crystallized. When choosing fresh pineapple, select one that feels heavy for its size, is yellow, not brown, is firm and has a healthy plume of fresh green leaves. The rind can be dark green, yellow, or reddish yellow ( depending on ripeness and sweetness preferences) . However avoid fruit that shows any bruising or extensive brown spots. A ripe pineapple will have a district, rather strong fragrant scent. Avoid green fruit that has little or no scent. Also any pineapples that have a withered appearance or those with leaves in the top that have turned brown.
How to Store Pineapple and Pineapple Juice
Whole fresh pineapple (un-sliced) can be kept at room temperature for several days, depending on ripeness, but it should be used as soon as possible. Whole pineapples can placed in a perforated plastic bags and kept in the refrigerator for about 4 - 5 days. Fresh pineapple can be peeled, sliced or cubed and then kept in airtight containers for 2-3 days in the refrigerator. Sliced or cubed pineapple pieces can be frozen in airtight plastic bags or containers bathed in its own juice. Frozen pineapple does lose some of its flavor, unless it is frozen in sugar syrup.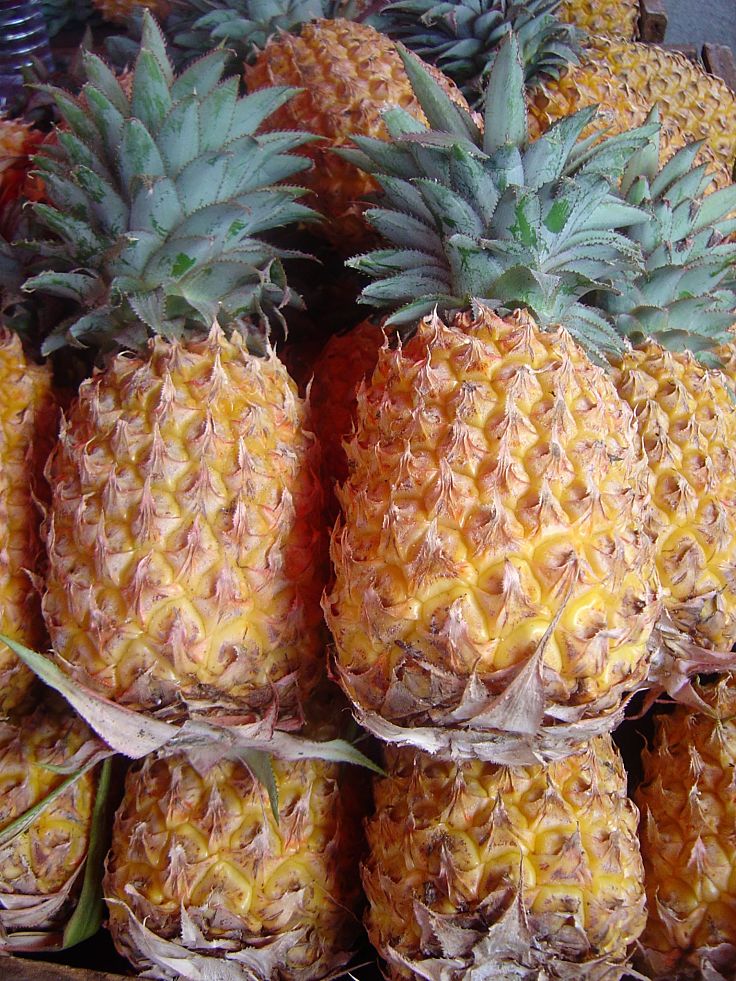 Source: Public Domain CC0 pexels.com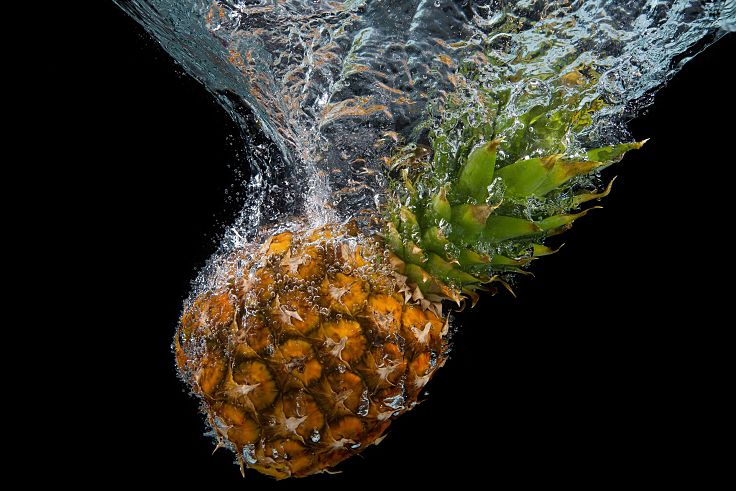 Source: Public Domain CC0 pexels.com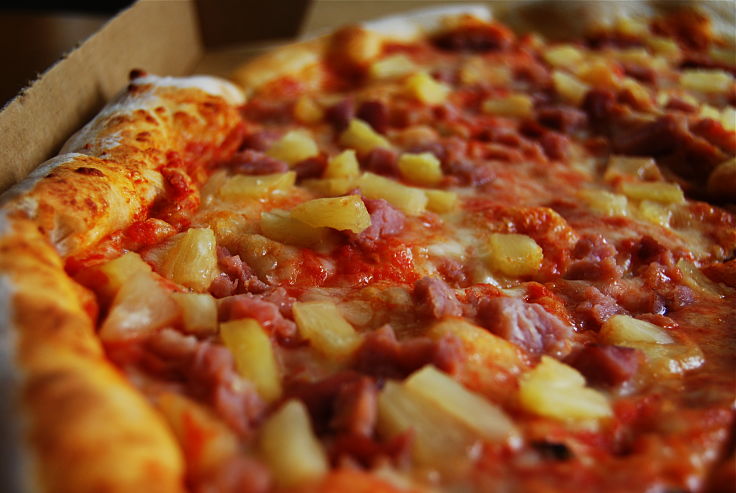 Source:
Janine from Mililani, Hawaii [CC-BY-2.0], via Wikimedia Commons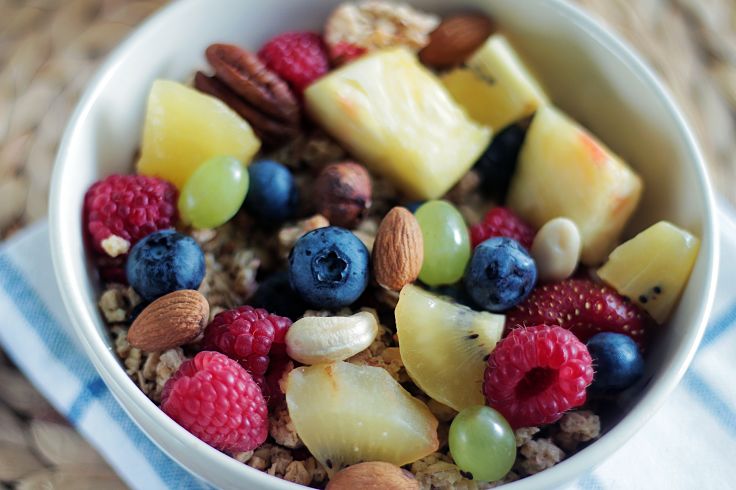 Source: Public Domain CC0 pexels.com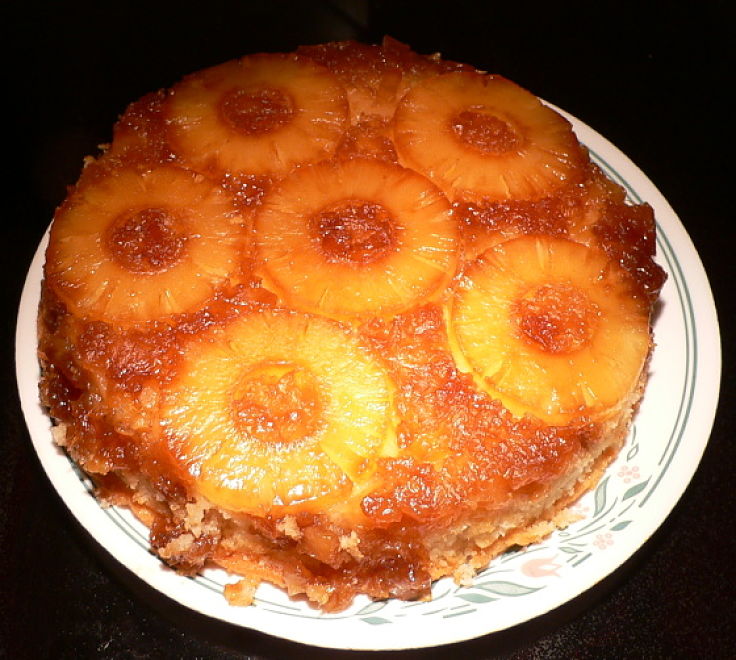 Source:
Mark Pellegrinib [CC-BY-SA-2.5], via Wikimedia Commonss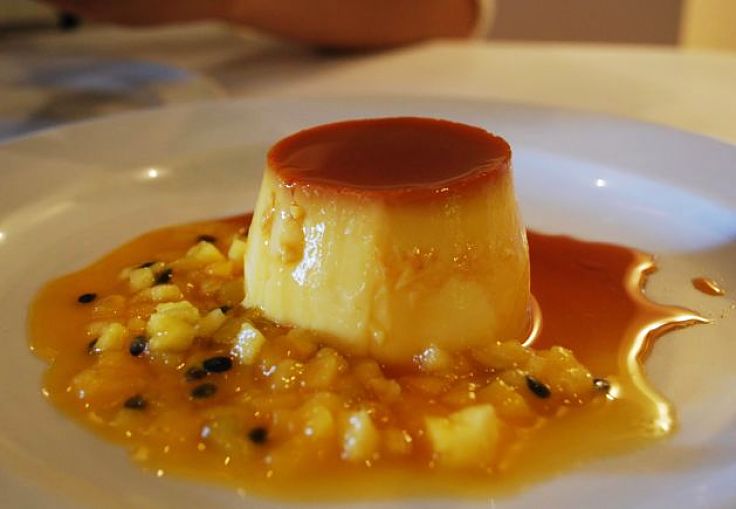 Source:
Alpha [CC-BY-SA-2.0], via Wikimedia Commons