Health Benefits Quinoa, Nutritional Information, Cooking Tips and Use Guide
Quinoa is a grain-like seed that has a long history as a staple food in the traditional South American diet. It has been promoted as a superfood offering many health benefits showcased by the outstanding nutrition facts for Quinoa. It is now commonly available in America, Europe, Great Britain and Australia.
The Quinoa plant is the relative of green leafy vegetable plants like Swiss chard and spinach.
However, the edible part is the seed which resembles a grain and can be substituted for rice, barley and wheat in most dishes to boost the nutrient levels.
Quinoa is fluffy and light when cooked, and looks and tastes like a hearty grain.
This article reviews the health benefits of Quinoa and provides a chart comparing the Quinoa Nutrition Facts with Oats, Wheat, Brown Rice, Rye, Pearl Barley and Buckwheat.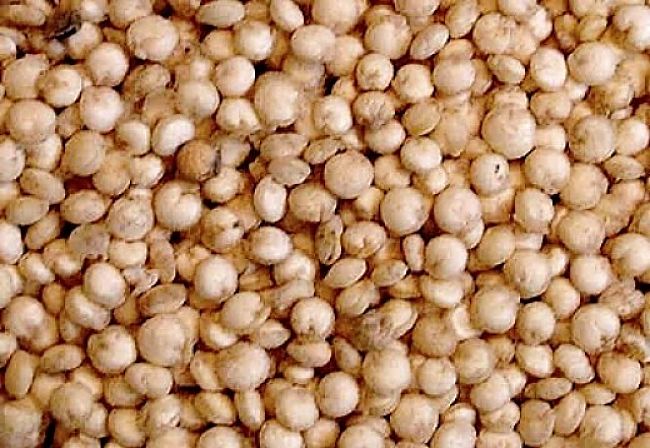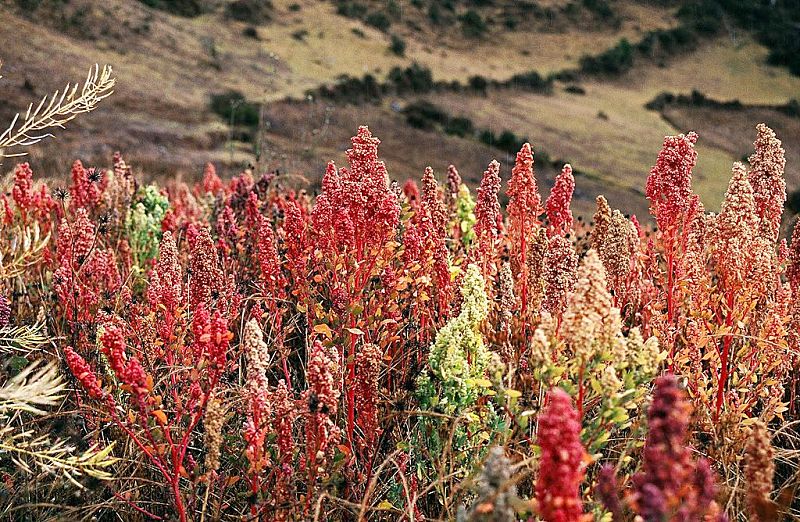 Health Benefits of Quinoa
The nutrition facts for Quinoa and other seeds and grains that it can substitute for, are shown in the table below.

Protein - Quinoa is very rich in protein, having more than most other grains with 14 g of protein in 100 g. Quinoa is a good source of protein for vegetarians and vegans because it contains all 9 essential amino acids.

Fiber - Quinoa is a good source of fiber with 7 g per 100 g of seeds, which is much more than brown rice, but less than for the other grains.

B-Group Vitamins - Quinoa is a very rich source of G-group Vitamins with highest concentrations for Vitamin B6 and especially folate ( 183 micro g per 100 g of seeds. It is also a good source of riboflavin, that helps maintain energy metabolism within muscle and brain cells.

Anti-inflammatory phytonutrients - Quinoa is a good source of antioxidants including the polysaccharides, flavonoids like quercetin and kaempferol; and saponins. Quinoa also contains moderate amounts of the anti-inflammatory omega-3 fatty acid, alpha-linolenic acid (ALA).

Vitamin E - Quinoa has the highest level of Vitamin E of any of the other grains for which data is available

Minerals - Quinoa is a very rich source for Magnesium, Manganese, Iron Phosphorus, Potassium Zinc and Copper (see the table)

Saturated Fat - Quinoa has very low levels of saturated fats compared with other grains.

Gluten-Free - Quinoa is naturally gluten-free, making it an excellent food for people on a gluten-free diet. Quinoa flour can be used for baking cookies, breads and muffins that are gluten-free.
Low GI - Quinoa has a low glycemic index and is a good food for dieting.
Preparation of Quinoa
Most quinoa you buy has already been cleaned, but it is wise to give it a thorough extra rinse before cooking in a colander. Quinoa has saponins, that area a soapy resin that helps protects the seeds when they are growing. These saponins need to be washed out to prevent a bitter taste when cooked.

General Cooking Instructions - Combine 1 cup of rinsed quinoa with 2 cups water or broth, bring the mixture to the boil, then simmer for 10 to 15 minutes. Check to see when the germ of the seed uncoils to form a little "tail." and the seeds become translucent. This is a sign that the seeds are cooked.
Cooked Quinoa has a light, fluffy texture and a delightful nutty taste. Cooked Quinoa can be eaten as a tasty porridge or can be added to casseroles, soups, stews, stir fries, salads and even to pasta sauce and pizzas.
Culinary Uses for Quinoa
When you make a risotto use quinoa instead of the traditional Arborio rice to get the benefits of the extra nutrients.
Use as a rice substitute as Quinoa is much more nutritious than even brown rice (see table).
Use in salads as a substitute for pasta or to provide some extra crunch to a green salad.
Add to curries, stews and soups such as minestrone soup to increase the nutrients.
Quinoa is a great alternative to oats in homemade granola bar recipes.
Use as a hot morning breakfast cereal as a substitute for oatmeal, or combine the two to add extra protein to your breakfast.
Quinoa is an excellent ingredient for homemade vegetarian burgers providing texture, taste and giving the burgers a nutty, crunchy taste.
Comparison of Quinoa Nutrition Facts with Other Grains
| Serving 100 g | Quinoa | Oats | Wheat | Brown Rice (cooked} | Rye | Barley (pearled) | Buckwheat |
| --- | --- | --- | --- | --- | --- | --- | --- |
| Macronutrients | | | | | | | |
| Calories (Cal) | 367 | 390 | 340 | 108 | 340 | 352 | 348 |
| Protein (g) | 14.12 | 16.90 | 13.69 | 2.52 | 10.40 | 9.92 | 13.40 |
| Total Fat (g) | 6.07 | 6.90 | 2.48 | 0.88 | 1.64 | 1.16 | 3.45 |
| Total Carbohydrates (g) | 64.16 | 66.28 | 71.13 | 22.39 | 76.31 | 77.72 | 72.36 |
| Dietary Fiber (g) | 7.06 | 10.51 | | 1.80 | 15.24 | 15.60 | 10.00 |
| Sugar (g) | | | | 0.34 | 0.98 | 0.80 | |
| Vitamins | | | | | | | 0.00 |
| Vitamin C (mg) | | 0.00 | 0.00 | 0.00 | 0.00 | 0.00 | 0.00 |
| Thiamin (mg) | 0.36 | 0.76 | 0.42 | 0.09 | 0.32 | 0.19 | 0.10 |
| Riboflavin (mg) | 0.32 | 0.14 | 0.12 | 0.02 | 0.25 | 0.11 | 0.43 |
| Niacin (mg) | 1.52 | 0.96 | 6.74 | 1.49 | 4.30 | 4.60 | 7.10 |
| Pantothenic Acid (mg) | 0.77 | 1.35 | 0.94 | 0.28 | 1.46 | 0.28 | 1.25 |
| Vitamin B6 (mg) | 0.49 | 0.12 | 0.42 | 0.14 | 0.30 | 0.26 | 0.21 |
| Folate (mcg) | 183.53 | 56.41 | 43.75 | 4.00 | 38.10 | 24.00 | 30.95 |
| Vitamin B12 (mcg) | 0.00 | 0.00 | 0.00 | 0.00 | 0.00 | 0.00 | 0.00 |
| Vitamin A (IU) | 14 | 0 | 0 | 0 | 12 | 22 | 0 |
| Vitamin E (mg) | 2.45 | | | 0.03 | 0.86 | 0.02 | |
| Vitamin K (mcg) | 0.00 | | | 0.60 | 5.95 | 2.20 | |
| Minerals | | | | | | | |
| Calcium (mg) | 47.06 | 53.85 | 33.33 | 10.00 | 23.81 | 28.00 | 19.05 |
| Iron (mg) | 4.56 | 4.72 | 3.52 | 0.41 | 2.64 | 2.50 | 2.24 |
| Magnesium (mg) | 197.65 | 176.92 | 143.75 | 42.00 | 109.52 | 80.00 | 233.33 |
| Phosphorus (mg) | 456.47 | 523.08 | 508.33 | 81.00 | 333.33 | 220.00 | 350.00 |
| Potassium (mg) | 562.35 | 428.21 | 431.25 | 42.00 | 511.90 | 280.00 | 466.67 |
| Sodium (mg) | 4.71 | 2.56 | 2.08 | 5.00 | 2.38 | 8.00 | 0.00 |
| Zinc (mg) | 3.11 | 3.97 | 4.17 | 0.61 | 2.67 | 2.12 | 2.43 |
| Copper (mg) | 0.59 | 0.63 | 0.55 | 0.10 | 0.37 | 0.42 | 1.11 |
| Manganese (mg) | 2.03 | 4.92 | 3.01 | 0.88 | 2.59 | 1.32 | 1.31 |
| Selenium (mcg) | 8.47 | | 89.38 | 9.60 | 14.05 | 37.80 | 8.33 |
| Fatty Acids | | | | | | | |
| Saturated Fat (g) | 0.71 | 1.22 | 0.45 | 0.18 | 0.20 | 0.24 | 0.75 |
| Monounsaturated Fat (g) | 1.61 | 2.18 | 0.34 | 0.32 | 0.21 | 0.15 | 1.05 |
| Polyunsaturated Fat (g) | 3.29 | 2.54 | 0.98 | 0.32 | 0.77 | 0.56 | 1.05 |