Health Benefits Raspberries, Nutrition Facts, Great Recipes
Delicious and tangy, the bright red raspberry a very popular berry grown all over the world. Though fresh raspberries are only available for a very short season, they freeze well, and they can be bought frozen, as well.
Raspberries are a fabulous source of nutrients that provide a range of health benefits.
Raspberries are surprisingly versatile and can be used to make a wide variety of dessert, pies, muffins and various other baked foods.
Raspberries combine well with dairy products such as ice cream, smoothies, milkshakes and yogurt.
They can also be used in savory dishes, either as whole fruit, or as ingredients in delightful spicy sauces and marinades.
This article summarizes the nutrition data and health benefits of raspberries. It provides a comparison with other common berries: Blackberry, Mulberry, Blueberry, Strawberry and the unrelated Kiwi Fruit, which is a superfood for nutrients.
There are several fabulous raspberry recipes to try. Enjoy!
Introduction
Most raspberries are red, but various cultivars range from red-pink to black, purple, orange, yellow and even white. The taste sensation of raspberries varies, but most people regard the taste as similar to strawberries, though slightly more acidic and tangy. Raspberries are delicious to eat as a fresh fruit, as juice in smoothies and other drinks, in desserts and in a variety of baked goods.
Health Benefits of Raspberries
The table below summarizes the nutrition data for 100 g of fresh raspberries. It also provides data for other berries to make a comparison. The data for Kiwi fruit is also provided for comparison purposes.
The nutritional and health benefits of raspberries are:
► Raspberries are generally low in saturated fats and calories. A serving of 100 g of fresh raspberries contains just 52 calories which is the same as in the same weight of apple, but less than in avocado or mangoes.
► Raspberries are a delicious source of dietary fiber providing 6.5 g of fiber per 100 g which is about 20% of the daily recommended allowance. They have more fiber than most other berries and twice that in blueberries, strawberries and Kiwi fruit.
► Raspberries have significantly high levels of antioxidants and phytochemicals. The Oxygen Radical Absorbance Capacity (ORAC value), which is a measure of antioxidant capacity is about 4900 per 100 grams of raspberries, which is very high for similar fruits.
► The natural sugar-substitute Xylitolis extracted from raspberries. One teaspoonful of xylitol only has about 10.9 calories as compared to a teaspoon of sugar which has 15 calories.
► Fresh raspberries are a good source of Vitamin C, with a 100 g serving providing 26 mg of Vitamin C (almost 50% of the recommended daily allowance). However strawberries, mulberries and especially Kiwi fruit have higher levels of Vitamin C.
► Raspberries have the highest level of Vitamin E of all the berries listed in the table and good levels of Vitamin K.
► Raspberries are an excellent source of B-group Vitamins, and have moderate levels of folate.
► Raspberries are an excellent source of many essential minerals such as: manganese, magnesium, potassium, copper and iron.
► Raspberries have very small amounts of fat and contain no cholesterol.
► While protein levels are low – they are comparable with other berries.
► Carbohydrate levels in raspberries are moderate, compared with other berries.
Culinary Uses for Raspberries
► Fresh raspberries are fabulous eaten by themselves as snacks, added to vanilla ice cream, mixed with yogurt or added to fruit smoothies.
► Raspberries can be added to fresh salads, cakes, puddings, tarts, and other desserts.
► At breakfast time raspberries can be added to cereals, waffles, and pancakes. Wholemeal toast can be revved up with raspberry jams and conserves.
► Raspberries can also be added to savory dishes such as curries and they make wonderful sauces and marinades for grilled, barbecued and roast meat, particularly chicken and pork.
► Raspberries can also be used to flavour balsamic vinegar and salad dressings.
Best Ever Raspberry Recipes
A selection of fabulous Raspberry Recipes is provided below. Frozen raspberries can be used if no fresh raspberries are available. Generally you will need to reduce the water and other liquid ingredients and the frozen raspberries contain more water.
Raspberry Pavlova with Whipped Cream and Mint
2 cups fresh raspberries
1/2 teaspoon vanilla extract
1/4 teaspoon cream of tartar
3 egg whites
1/8 teaspoon salt
2 teaspoons cornstarch
1 cup superfine sugar
Whipped cream and Fresh mint (optional)
Heat oven to 250 degrees F (120 degrees C). Line a baking sheet with baking paper that has a 7-inch (17 cm) circle marked on the underside. Combine 3/4 cup of the sugar, salt and cornstarch in a small bowl. Using an electric mixer beat the cream of tartar and egg whites and using a medium speed setting until soft peaks form (generally about about 2 minutes). Raise the beater speed to high and slowly add the sugar mixture in batched of 1 tablespoon. When all the sugar mix has been added, pour in the vanilla and continue beating on high until all the sugar has been incorporated and the mixture is glossy (generally about 5 minutes).

Pour and spoon the egg-sugar mixture onto the parchment paper and spread within the marked circle, leaving a slight dip in the center for the raspberry sauce. Bake slowly in the pre-heated over on the middle rack for 60 minutes. Turn off oven, and let the oven cool inside for about an 1 hour.

For the raspberry sauce. Add 1 cup of raspberries, 1/4 cup or sugar and 1 tablespoon water to a pot and heat using medium heat. Bring the mixture to the boil and then lower the heat and simmer for about 3 minutes. Add the rest of the raspberries, stir and and pour the sauce mixture into a bowl to cool.

Place the cooled Pavlova onto a serving. Pour and spoon the raspberry sauce into the cavity and garnish with mint and whipped cream.
Cheesecake Bars with Raspberry Topping
3/4 teaspoon almond extract
2/3 cup granulated sugar
1/2 cup brown sugar (packed into cup)
2 x 8-ounce (50 g total) package cream cheese, softened
1/2 cup butter or other shortening
1/2 cup sliced almonds
1/2 cup finely chopped sliced almonds
1 cup raspberry preserves or fresh raspberries (crushed)
1/2 cup flaked coconut
1 1/4 cups all-purpose flour
2 eggs
Mix the flour, the finely chopped almonds and brown sugar in a large bowl. Cut in the shortening and mix until the mixture has the texture of fine crumbs. Remove 1/2 cup crumb mixture and set aside.
For the crust - push the rest of the crumb mixture into the base of a 13 in x 9in x 2in (33cm x 20cm x 5cm) baking pan. Bake in a 350 degree F (175 degrees C)oven for about 12 - 15 minutes ( the edges should be golden brown).
For the filling - beat the cream cheese, eggs, granulated sugar and almond extract in small bowl until the mixture is smooth. Spread the filling over the hot baked crust. Bake for another 15 minutes.
For the topping - combine the crumb mixture, that was set aside, with the sliced almonds and coconut. Spread the mixture over the top of the hot cream cheese layer. Sprinkle extra coconut mixture on top. Bake for and additional 15 minutes. Remove from the oven and let cool on a wire rack while left in the in pan. Transfer to the refrigerator and cool for 3 hours, Then cut into about 32 into bars.
Curried Fish with Papaya and Raspberry Relish
6 cups cooked basmati rice (or similar)
1 can reduced-fat coconut milk
2-3 teaspoons canola oil
Curry powder, for seasoning ( or homemade Dukkah)
1 1/2 pounds fresh fish fillets (such as halibut), cut into 4 pieces
2 teaspoons olive oil
2 teaspoons fresh lime juice
2 tablespoons finely chopped red onion
1/4 cup chopped fresh cilantro leaves, with extra for garnish
1 cup seeded, peeled and chopped papaya
1 cup chopped fresh raspberries
Sea salt, to taste
Remove the fish from the refrigerator and allow to warm to room temperature. Place an oven-proof skillet into and oven and heat to 500 degrees F (260 degrees C).
For the relish - Combine the cilantro, onion, raspberries, papaya, olive oil and lime juice together in a small bowl. Season with salt and pepper and set aside as a sauce.
Rub the fish pieces all over with the curry powder, spices and salt. Heat the canola oil in a frying pan over medium-high heat. Sear the fish pieces until golden brown on both sides (about 45-60 seconds per side). Remove the fish and place into the hot skillet in the oven. Roast for about 5-8 minutes until the fish is just cooked right through. Transfer the fish to a warm platter and cover.
Next pour the coconut milk into hot skillet sitting on the stove over medium-low heat. Scrape the base of the pan to lift caramelized pieces into the mixture as milk heats up and add salt to taste.
To serve place a quarter of the rice into 4 serving bowls. Put the fish on top and spoon coconut milk onto the fish. Spoon some of the raspberry relish on top of fish and add fresh cilantro leaves as a dressing.
Raspberry Nutrition Information
Nutrition Data for 100 g of Raspberries and other Berries and Kiwi Fruit
| Nutrients for 100 g Serving | Raspberry | Blackberry | Blueberry | Strawberry | Kiwi Fruit |
| --- | --- | --- | --- | --- | --- |
| Energy | 52 Cal | 43 Cal | 57 Cal | 32 Cal | 61 Cal |
| Carbs | 11.94 g | 9.61 g | 14.49 g | 7.7 g | 14.66 g |
| Protein | 1.20 g | 1.39 g | 0.74 g | 0.67 g | 1 g |
| Total Fat | 0.65 g | 0.49 g | 0.33 g | 0.30 g | 0.52 g |
| Cholesterol | 0 mg | 0 mg | 0 mg | 0 mg | 0 mg |
| Dietary Fiber | 6.5 g | 5.3 g | 2.4 g | 2.0 g | 3 g |
| Vitamins | | | | | |
| Folates | 21 mcg | 25 mcg | 6 mcg | 24 mcg | 25 mcg |
| Niacin | 0.6 mg | 0.646 mg | 0.42 mg | 0.386 mg | 0.341 mg |
| Pantothenic acid | | 0.276 mg | 0.12 mg | 0.125 mg | |
| Pyridoxine | 0.05 mg | 0.030 mg | 0.05 mg | 0.047 mg | |
| Thiamin | | 0.020 mg | | | 0.027 mg |
| Riboflavin | 0.038 mg | | 0.04 mg | 0.022 mg | 0.025 mg |
| Vitamin A | 33 IU | 214 IU | 54 IU | 12 IU | 87 IU |
| Vitamin C | 26.2 mg | 21 mg | 9.7 mg | 58.8 mg | 92.7 mg |
| Vitamin E | 1.42 mg | 1.17 mg | 0.57 mg | 0.29 mg | 1.46 mg |
| Vitamin K | 7.8 mcg | 19.8 mcg | 19.3 mcg | 2.2 mcg | 40.3 mcg |
| Electrolytes | | | | | |
| Sodium | 1 mg | 1 mg | 1 mg | 1 mg | 3 mg |
| Potassium | 151 mg | 162 mg | 77 mg | 153 mg | 312 mg |
| Minerals | | | | | |
| Calcium | 25 mg | 29 mg | 6 mg | 16 mg | 34 mg |
| Copper | 90 mcg | 165 mcg | | | 0.130 mg |
| Iron | 0.69 mg | 0.62 mg | 0.28 mg | 0.41 mg | 0.31 mg |
| Magnesium | 22 mg | 20 mg | 6 mg | 13 mg | 17 mg |
| Manganese | 0.670 mg | 0.646 mg | 0.34 mg | 0.386 mg | 0.098 mg |
| Selenium | | 0.4 mcg | | | |
| Zinc | 0.42 mg | 0.53 mg | 0.16 mg | 0.14 mg | 0.14 mg |
| Phyto-nutrients | | | | | |
| Carotene-alpha | 12 mcg | 128 mcg | 32 mcg | 7 mcg | 52 mcg |
| Carotene-beta | 16 mcg | 0 mcg | 80 mcg | 26 mcg | 0 mcg |
| Lutein-zeaxanthin | 136 mcg | 118 mcg | | | 122 mcg |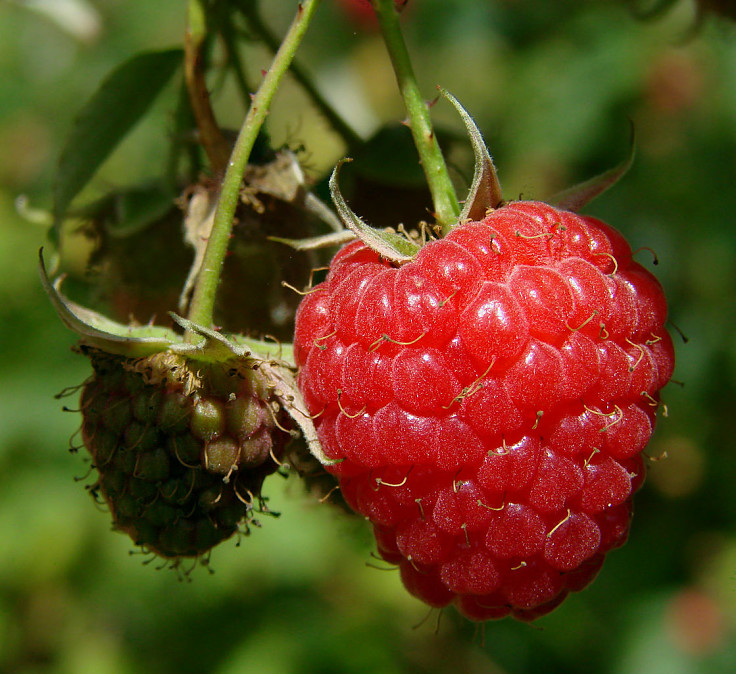 Source:
By Vassil (Own work) [Public domain], via Wikimedia Commons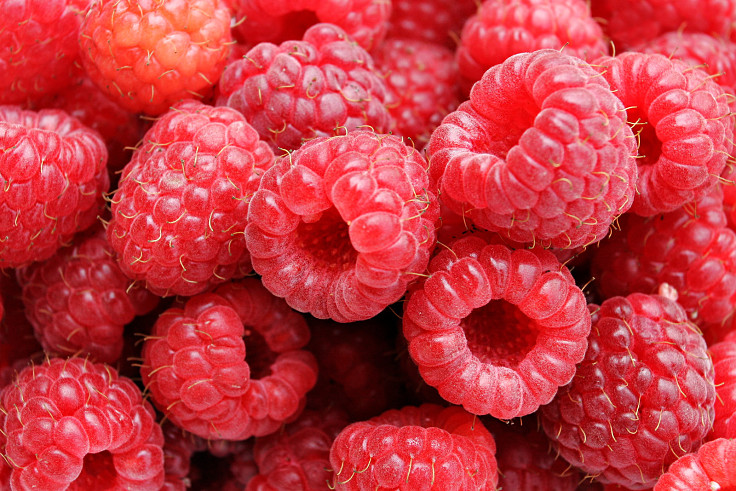 Source:
Fir0002 (Own work) [Public Domain] via Wikimedia Commons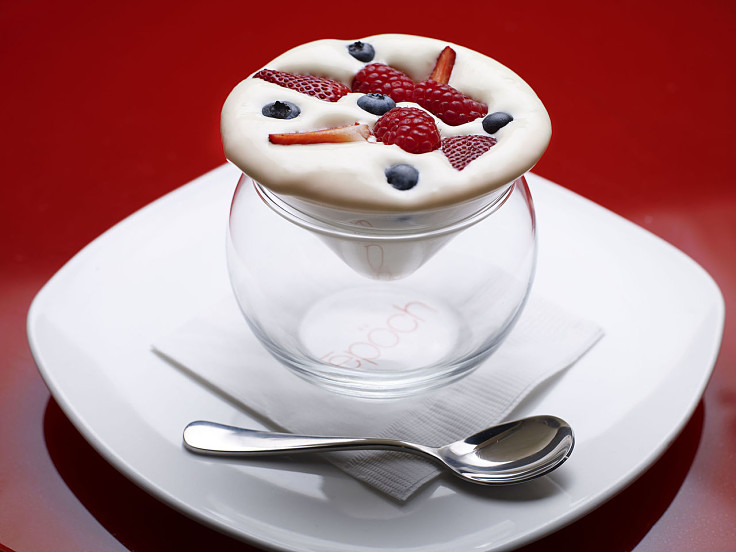 Source:
By hkcm (Own work) [CC-BY-3.0], via Wikimedia Commons
Source:
By misbehave (raspberry cheesy-cake) [CC-BY-2.0], via Wikimedia Commons