Lentils Amazing Health Benefits and Nutritional Facts - Culinary & Medicinal Uses
Lentils are a type of bean, or pulse, that probably originated in India. There are a huge range of types and species and lentils range in color from yellow to orange, green to brown and even black.
Lentils also come in a wide variety of sizes, though the small green, yellow/orange and red varieties are the types most commonly available. All the varieties are relatively rich in protein, which represents about around 25% percent of the weight of lentils. Lentils are also relatively rich in vegetable fiber and have a fabulous array of nutrients and minerals. In many ways lentils are a super food, but they are often neglected.
The small seeds require about 10 to 40 minutes cooking but are used in a wide variety of dishes throughout South Asia, West Asia and many countries around the Mediterranean region. Lentils are relatively inexpensive and this adds to their appeal as a super food throughout the world. Many people don't realise how value they are.
This article summaries the nutritional and health benefits of lentils in comparisons with a range of beans and seeds including: chickpeas (garbanzo beans), kidney beans, lima beans, mung beans, navy beans, peanuts (raw), peas (split), soybeans (raw).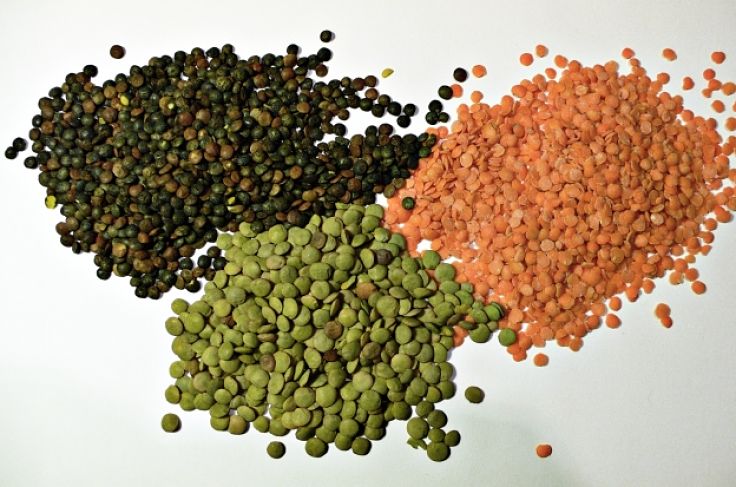 Lentils are a Rich Source of Vegetable Protein
With almost 30% of their caloriesderived from protein and 25% of their weight as pure vegetable protein, lentils are third in the highest level protein, by weight, of any nut, seed or legume. Soybeans and hemp and the only seed with higher amounts of protein.
Importantly lentils and the least expensive source protein in many parts of the world, particularly Indian, Pakistan and West Asia. Lentils lack two essential amino acids - cysteine and methionine, and so vegans should be aware of this and find sources for these amino acids in other vegetables. Nevertheless lentils are a wonderful source of vegetable protein.
Key Nutrients in Lentils
The table below summarizes the nutrients in 100 g of dry lentils. The table below compares the nutrients in lentils with a range of other beans and peas (all for a standard 100g). The key features are:

High Calories, Very Low Fat, No Cholesterol

A serving of 100 g of lentils contains 360 calories. But this is for dry seeds and 100 g of lentils is a very large serving. However more than 30% of the calories are derived from protein, which is slow release. But the fat content is very low - only 1 g, and there is no saturated fat. Low-fat foods are good for the heart and the circulation.

Carbohydrates and Dietary Fiber

Lentils have about 20 g of carbohydrates and 8 g of dietary fiber. The carbohydrate is the slow release type and the high protein and fiber content tends to slow down the digestion rate, which tends to postpone feelings of hunger that you can get from eating highly processed carbohydrate in biscuits, bread and cakes.

Vitamins in Lentils

The 180 micrograms of folate per 100g serving in much higher than in many other beans and many vegetables. Lentils are moderately rich in Vitamin C, second only to soybeans (see the table below). Most of the B group vitamins are high in lentils.

Minerals

Lentils are also relatively rich in iron, potassium, zinc, phosphorus and magnesium.
Nutrition Data for Lentils (100g dry lentils)
| Lentils, raw ( 100 g dry weight) | Values |
| --- | --- |
| Energy | 1,477 kJ (350 Cals) |
| Carbohydrates | 60 g |
| # as sugars | 2 g |
| # as Dietary Fiber | 31 g |
| Fat | 1 g |
| Protein | 26 g |
| Vitamins | |
| Folate (vit. B9) | 479 mcg (120%) |
| Niacin (vit. B3) | 2.605 mg (17%) |
| Pantothenic acid (B5) | 2.120 mg (42%) |
| Riboflavin (vit. B2) | 0.211 mg (18%) |
| Thiamine (vit. B1) | 0.87 mg (76%) |
| Vitamin B6 | 0.54 mg (42%) |
| Vitamin C | 4.4 mg (5%) |
| Minerals | |
| Calcium | 56 mg (6%) |
| Iron | 7.54 mg (58%) |
| Magnesium | 122 mg (34%) |
| Phosphorus | 451 mg (64%) |
| Potassium | 955 mg (20%) |
| Sodium | 6 mg (0%) |
| Zinc | 4.78 mg (50%) |
Known Health Benefits of Lentils
Regulation of Blood Sugar

The high fiber, high protein tends to slow the release of carbohydrate from food avoiding high sugar spikes in blood sugar bloods. Lentils are a low-glycemic food, that play a role in appetite control and may help prevent type 2 diabetes from developing.

Bone Health

Lentils are a rich source of lysine, an amino acid which promotes healthy bones. It has been shown to assist the processes for the absorption of calcium.

Aid to Digestion

One serving of lentils yields about 20% of the recommended adult intake of fiber. This helps maintain regular bowel movements and may also help relieve various symptoms of poor digestion.

Weight Loss

The Low GI, high protein and high fiber in lentils means that eating lentils will prolong the sense of satiety and reduce the risk that dieters will eat snacks between meals.

Heart and Blood Circulation

Eating lentils and other beans as a replacement or 'dilution' for meat helps maintain heart health in several ways. Lentils contain no cholesterol and much lower amounts of fat for the calories eaten. There is no saturated fat in lentils. Dietary fiber in the diet also reduces the risk of cardiovascular diseases and risks of stroke. The folic acid and the magnesium found in lentils is also good for heart health and helps maintain circulation.
Tips for Cooking Lentils
Don't overcook lentils or they will become soft and mushy. This means taking precautions when adding them to soups, curries and stews. Lentils generally take 25-35 minutes to cook, so delay adding them to the end of the cooking period.
Use about 1 1/2 cups of water or broth for each cup of lentils.
Don't add any salt at the start. Wait until the lentils are cooked, otherwise the salt will make them tough.
Always bring the water or broth to the boil before adding the lentils. Then boil vigorously for 2 - 3 minutes before reducing the heat and completing the cooking by simmering. Brown and green lentils require about 45 minutes, red lentils 25 minutes.
Always test for doneness. Cooking times vary considerably and so test after 20-30 minutes to avoid overcooking.
Culinary Uses for Lentils
Lentils are perfect for making soups, stews, curries and casseroles. They work best when they are added to other ingredients. Adding a hand full of lentils to a soup or stew boosts the nutrients and adds to flavor and texture, especially if they are not overcooked.
Tips and Suggestions on how you can use more lentils in various dishes:
Prepare lovely nutritious vegetarian dips by pureeing cooked lentils and seasoning with citrus and nut butter.
Add nutrition to salads by adding lentils
Adding lentils to stir-fries enhances the texture and thickens the sauce
Add lentils to tacos and quesadilla fillings.
Add color, texture, flavor to curries or stews by adding red lentils.
Make your own dhal and other special lentil dishes such as soups
Add cooked lentils to various baked goods including savory slices.
Great Lentil Recipes to Try
=> Best Lentil Recipes | Easy, Healthy, Nutritious Uses for Lentils
=> Mujadara Recipes - Authentic Lebanese Mujadara with Rice, Lentils, Onions
Nutrient Comparison for Lentils Compared with other Beans and Pulses
| Serving Size 100g | Lentils | chick peas | kidney beans | lima beans, large | mung beans | navy beans | peanuts, raw | peas, split | soybeans, raw |
| --- | --- | --- | --- | --- | --- | --- | --- | --- | --- |
| Calories (kcal) | 116 | 163 | 127 | 115 | 105 | 140 | 568 | 118 | 445 |
| Protein (g) | 9.02 | 8.87 | 8.67 | 7.8 | 7.02 | 8.23 | 25.78 | 8.34 | 36.49 |
| Total Fat (g) | 0.38 | 2.59 | 0.5 | 0.38 | 0.38 | 0.62 | 49.24 | 0.39 | 19.94 |
| Total Carbs (g) | 20.13 | 27.41 | 22.8 | 20.88 | 19.15 | 25.46 | 16.12 | 21.1 | 30.15 |
| Dietary Fiber (g) | 7.88 | 7.56 | 6.44 | 7.02 | 7.62 | 10.55 | 8.47 | 8.27 | 9.25 |
| Sugar (g) | 1.8 | 4.8 | 0.32 | 2.9 | 2 | 0.37 | 3.99 | 2.9 | 7.33 |
| Vitamins | | | | | | | | | |
| Vitamin C (mg) | 1.52 | 1.34 | 1.24 | 0 | 0.99 | 0.88 | 0 | 0.41 | 6.02 |
| Thiamin (mg) | 0.17 | 0.12 | 0.16 | 0.16 | 0.16 | 0.24 | 0.64 | 0.19 | 0.87 |
| Riboflavin (mg) | 0.07 | 0.06 | 0.06 | 0.06 | 0.06 | 0.07 | 0.13 | 0.06 | 0.87 |
| Niacin (mg) | 1.06 | 0.53 | 0.58 | 0.42 | 0.58 | 0.65 | 12.07 | 0.89 | 1.62 |
| Pantothenic Acid (mg) | 0.64 | 0.29 | 0.22 | 0.42 | 0.41 | 0.27 | 1.77 | 0.59 | 0.79 |
| Vitamin B6 (mg) | 0.18 | 0.14 | 0.12 | 0.16 | 0.07 | 0.14 | 0.35 | 0.05 | 0.38 |
| Folate (mcg) | 180.81 | 171.95 | 129.94 | 82.98 | 159.41 | 139.56 | 239.86 | 65.31 | 374.19 |
| Vitamin B12 (mcg) | 0 | 0 | 0 | 0 | 0 | 0 | 0 | 0 | 0 |
| Vitamin A (IU) | 8.08 | 26.83 | 0 | 0 | 23.76 | 0 | 0 | 7.14 | 21.51 |
| Vitamin E (mg) | 0.11 | 0.35 | 0.03 | 0.18 | 0.15 | 0.01 | 8.32 | 0.03 | 0.86 |
| Vitamin K (mcg) | 1.72 | 4.02 | 8.36 | 2.02 | 2.67 | 0.55 | 0 | 5 | 47.1 |
| Minerals | | | | | | | | | |
| Calcium (mg) | 19.19 | 48.78 | 35.03 | 17.02 | 26.73 | 69.23 | 91.71 | 14.29 | 277.42 |
| Iron (mg) | 3.33 | 2.89 | 2.21 | 2.39 | 1.4 | 2.36 | 4.59 | 1.29 | 15.7 |
| Magnesium (mg) | 36.36 | 47.56 | 41.81 | 42.55 | 47.52 | 52.75 | 169.31 | 35.71 | 279.57 |
| Phosphorus (mg) | 179.8 | 168.29 | 137.85 | 110.64 | 99.01 | 143.96 | 377.43 | 98.98 | 703.23 |
| Potassium (mg) | 368.69 | 291.46 | 404.52 | 508.51 | 266.34 | 389.01 | 705.47 | 362.24 | 1797.85 |
| Sodium (mg) | 2.02 | 7.32 | 1.13 | 2.13 | 1.98 | 0 | 17.64 | 2.04 | 2.15 |
| Zinc (mg) | 1.27 | 1.52 | 1.01 | 0.95 | 0.84 | 1.03 | 3.28 | 1 | 4.88 |
| Copper (mg) | 0.25 | 0.35 | 0.22 | 0.24 | 0.16 | 0.21 | 1.14 | 0.18 | 1.66 |
| Manganese (mg) | 0.49 | 1.03 | 0.43 | 0.52 | 0.3 | 0.53 | 1.93 | 0.4 | 2.52 |
| Selenium (mcg) | 2.83 | 3.66 | 1.13 | 4.47 | 2.48 | 2.86 | 7.05 | 0.61 | 17.85 |
| Fatty Acids | | | | | | | | | |
| Saturated Fat (g) | 0.05 | 0.27 | 0.07 | 0.09 | 0.12 | 0.1 | 6.83 | 0.05 | 2.88 |
| Monounsat. Fat (g) | 0.06 | 0.58 | 0.04 | 0.03 | 0.05 | 0.14 | 24.43 | 0.08 | 4.4 |
| Polyunsat. Fat (g) | 0.17 | 1.16 | 0.27 | 0.17 | 0.13 | 0.49 | 15.56 | 0.17 | 11.26 |