Nutrient Comparisons for Tofu vs Tempeh - Which is Healthier and Why?
Which of the two most popular soy foods is the healthier choice for various dishes?
► Tofu is simply made by using a coagulant to curdle fresh hot soy milk and collecting the 'solids' by filtering and squeezing.
► Tempeh is made from soybeans that have been fermented and then compressed. Tempeh has a denser texture and is more processed that tofu.
A priori, tofu as a more natural product may be healthier than tempeh, but the fermentation process may add extra nutrients in a similar way to the process of converting milk into yogurt via fermentation.
This article compares the nutrients on tofu and tempeh to help you decide which one is healthier.
► Tofu is softer and 'creamier' and tends to absorb the flavors from dishes more readily.
► Tempeh is firmer, drier and more 'chewy'.
So the uses for these popular vegan meat substitutes varies considerably.
Nutrient Comparisons for Tofu and Tempeh
The table below compares the nutrients in tofu and tempeh as well as highlighting the major differences as percentages

► Tofu has lower calories with 145 calories per 100g compared with 193 calories in tempeh

► Tempeh has more Protein with 18.5g per 100 g compared with 15.8g in tofu. The soy protein in tempeh is rendered more digestible through the fermentation process. Many people find tempeh easier to digest.
Tempeh has more than twice the vegetable fiber of tofu

► Tempeh has slightly more fat than tofu with 10.8 g per 100g serve compared with 8.7g in tofu

► Tempeh has twice the level of carbohydrate as tofu with 9.4 g per 100g.

► Vitamins C and A are higher in tofu, or absent from some varieties of tempeh


► The nutrients that are higher in Tempeh, listed with the highest differences first, are:
Fatty acids, total monounsaturated
► The nutrients that are higher in Tofu, listed with the highest differences first, are:
Fatty acids, total polyunsaturated
So it is very much a mixed bag. The higher levels of calcium and sodium in tofu arises from the coagulant ingredients used in the processing. Tempeh is richer in many minerals such as Iron, Potassium, Phosphorus and Magnesium.


Other Considerations
Soy is high in phytic acid, a substance tends to bind to minerals in the gut and to stop them being absorbed into the blood stream. This can dramatically lower the effective absorption of minerals such as magnesium by up to 90%.
The processes used to prepare tofu leaves the phytic acid levels unchanged, whereas the fermentation used to make tempeh reduces it by 50-75%.
This means that your body will only absorb 10% of this mineral in tofu but 90% of it in tempeh.
Phytic acid has a strong binding affinity to important minerals, such as calcium, iron, magnesium and zinc,
Phytic acid is found within the hulls of many seeds, nuts and grains. The lower level of phytic acid is a major benefit of tempeh.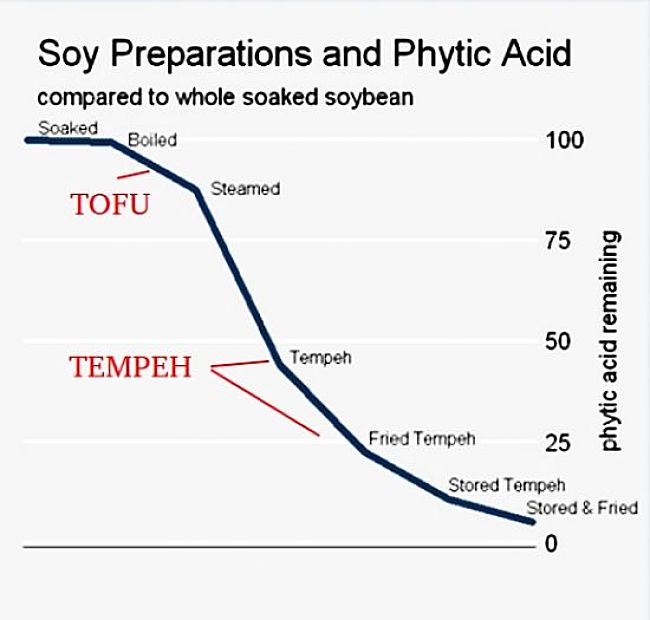 Conclusion
Tempeh is better nutritionally than tofu, especially considering the effect of phytic acid on mineral absorption. However tofu is more versatile, more widely available and is still a very healthy product.


| Nutrient in 100 g serving | Value per 100 g | Tempeh | Percentage higher in Tempeh | Percentage lower in Tempeh |
| --- | --- | --- | --- | --- |
| Energy (kcal) | 145 | 193 | 33 | |
| Protein (g) | 15.78 | 18.54 | 17 | |
| Total lipid (fat) (g) | 8.72 | 10.8 | 24 | |
| Carbs (g) | 4.27 | 9.39 | 120 | |
| Fiber (g) | 2.3 | 4.8 | 200 | |
| Minerals | | | | |
| Calcium, Ca (mg) | 683 | 111 | | -84 |
| Iron, Fe (mg) | 2.66 | 2.7 | 2 | |
| Magnesium, Mg (mg) | 58 | 81 | 40 | |
| Phosphorus, P (mg) | 190 | 266 | 40 | |
| Potassium, K (mg) | 237 | 412 | 74 | |
| Sodium, Na (mg) | 14 | 9 | | -36 |
| Zinc, Zn (mg) | 1.57 | 1.14 | | -27 |
| Vitamins | | | | |
| Vitamin C (mg) | 0.2 | 0 | | |
| Thiamin (mg) | 0.158 | 0.078 | | -51 |
| Riboflavin (mg) | 0.102 | 0.358 | 251 | |
| Niacin (mg) | 0.381 | 2.64 | 593 | |
| Vitamin B-6 (mg) | 0.092 | 0.215 | 134 | |
| Folate, (mcg) | 29 | 24 | | -17 |
| Vitamin B-12 (mcg) | 0 | 0.08 | | |
| Vitamin A (IU) | 166 | | | |
| Fatty Acids | | | | |
| Fatty acids, total saturated (g) | 1.261 | 2.22 | 76 | |
| Fatty acids, total monounsaturated (g) | 1.925 | 3 | 56 | |
| Fatty acids, total polyunsaturated (g) | 4.921 | 3.827 | | -22 |
| Cholesterol (mg) | 0 | 0 | | |