Nutrition Facts for Turnips and Turnip Green Tops - Health Benefits, Uses
Turnips are a somewhat old-fashioned root vegetable widely available in America, Europe, Australasia, Asia and South-American countries.
A close look at the nutritional data shows that turnips deserve to be used more often, especially the tops, which are often simply thrown away or removed from the bulbs before sale.
The turnip roots or bulbs, are like potatoes in appearance, but they have an appealing, slightly bitter taste, that blends perfectly with white meats such as pork and poultry.
The smaller younger turnips are sweeter and are ideal for shredding and adding to salads and stir fries. The turnip tops, greens and sprouts are edible and are much more nutritious than the root bulbs.
This article provides nutrient charts for Turnip bulbs and tops compared with similar root vegetables: Beets, Parsnips, Potato, Pumpkin, Sweet Potato.
It also provides a comparison of the nutrients in Turnip greens with Beet greens.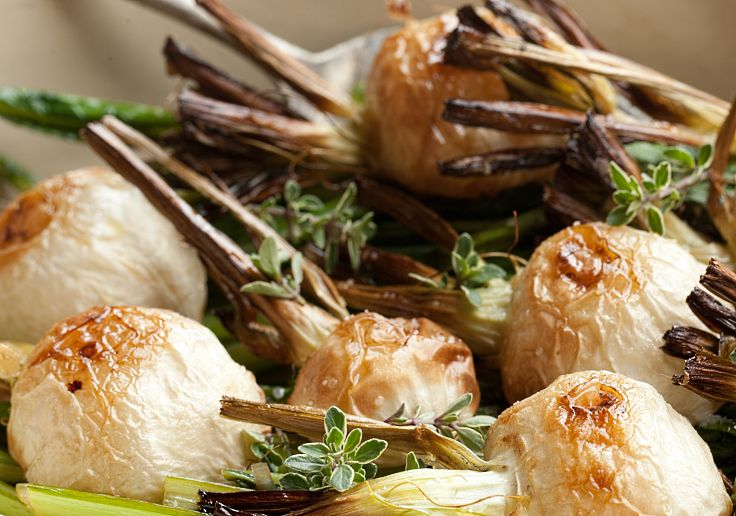 Turnips Nutrition Facts Compared with Other Similar Root Vegetables
Turnips (Brassica rapa), are a nutritious root vegetable in the Brassicaceae family, which also includes cabbage, Brussels sprouts, kale, and many of the common vegetables we eat. The roots have been grown and eaten as a staple food since the time of the ancient Greeks and Romans.
Although mostly grown for the starchy bulbous root, the much neglected fresh greens tops are very nutritious as well, especially for minerals, vitamins, minerals and many antioxidants.
The smaller bulbs are more versatile in their use and can be eaten raw in salads, or they can be added to soups, pasta sauce dishes and many other prepared foods.
The table below highlights the nutritional benefits of turnip tops compared with the turnip bulbs.
Comparison of Key Nutrients in Turnips and Turnip Greens
| Key Nutrients in Turnip Bulbs and Green Turnip Tops | Turnip greens/100 g | Turnips/100 g |
| --- | --- | --- |
| Calories | 32 | 28 |
| Vitamin C | 60 mg | 21 mg |
| Vitamin A | 11587 IU | 0 mg |
| Vitamin K | 251µg | 0.1µg |
| Calcium | 190 mg | 30 mg |
| Iron | 1.10 mg | 0.3 mg |
| Manganese | 0.47 mg | 0.13 mg |
| Carotene-ß | 6952 µg | 0 µg |
Pros and Cons for Turnips as a Nutritious Root Vegetable
The table below provides details of the nutrients in 100 g of raw Turnip bulbs and Turnip Tops compared with other root vegetables.
The key points are:
Turnips have fewer Calories per 100 g than Beets, Parsnips, Potato and Sweet potato. The number of calories per 100g is similar to that of pumpkin, but is much less than in Parsnips.
Protein levels in Turnips are generally low, but are higher than in Sweet potato.
Fiber levels are higher in Turnips than all the other vegetables except for Parsnips and Beets.
Turnips have the highest Vitamin C levels of any of the root vegetables.
Vitamin B levels are generally lower than in other vegetables, but Niacin and Folate levels are moderate.
Turnips are rich in Calcium, Iron, Magnesium, Zinc, Copper, Selenium and Manganese
Fat levels in Turnips are extremely low.
Health Benefits of Turnips and Turnip Tops
Turnips have very low calories, but they are an excellent source of vitamins, minerals and antioxidants, and especially dietary fiber. This makes them a healthier alternative to potatoes and pumpkin.

Fresh Turnip bulbs roots are one of the richest sources of vitamin C in any root vegetable. Turnips provide about 21 mg of vitamin C per 100 g, which is about 35% of the recommended daily allowance.
Vitamin-C is renowned as a powerful anti-oxidant that supports the immune system and many processes in a healthy body.
Vitamin C also helps scavenge harmful free radicals in the tissues and reduces inflammation.

Turnip tops and greens are a real Superfood being packed with Vitamins, Minerals and antioxidants. They are rich in vitamin A, vitamin K, carotenoid, xanthin and lutein.
The B group vitamins missing from the bulbs, are found in abundance in the tops, including folates, pyridoxine, pantothenic acid, riboflavin and thiamin.
Beet tops are slightly better for many nutrients than turnip tops, but both are excellent sources of nutrients.
Fresh Turnip top greens are rich in many essential minerals such as copper, calcium, iron and manganese.
Choosing Fresh Turnips, Storage and Culinary Uses
Turnips are generally available right through the year, as they store very well in a cool dry place.
They can also be cleaned and frozen whole, or when shredded.
Look for turnips with tops still attached if you can find them. Ensure that the tops are not limp and dehydrated.
Smaller bulbs tend to have as sweeter taste and are more versatile in their use, both cooked and raw.
The large bulbs are more bitter, but this is an asset for stews, soups and curries. The roots can be stored for weeks in the refrigerator.
Use the green tops as early as possible as they tend to wilt and quickly lose their nutrients.
Turnip Preparation, Cooking and Serving Tips
Clean and wash the Turnip bulbs in cold running water, and brush to remove any remnant soil or vegetable matter.
Cut off the bottom and top of the bulb.
Try not to peel the Turnips unless absolutely necessary, as many of the nutrients are close to the skin.
Peeling older turnips is necessary as the outer parts are tough and woody.
Tips for Cooking and Serving Turnips
Young turnips can be shredded and used raw, like shredded carrots and beets, in salads
Sliced and cubed turnips combine well with other vegetables like potato, carrots, beets and kohlrabi, either as side dishes served with meat, or added to soups, stew and curries.
Turnips are a favorite ingredient for many Asian, Indian and African dishes.
Nutrients in Turnips Compared with Other Vegetables
| Nutrients in 100g serve | Turnips | Beets | Parsnips | Potato | Pumpkin | Sweet potato | Turnip greens | Beet greens |
| --- | --- | --- | --- | --- | --- | --- | --- | --- |
| Calories (Cal) | 43 | 63 | 226 | 52 | 45 | 66 | 8 | 55 |
| Protein (g) | 1.37 | 2.35 | 3.61 | 1.40 | 1.72 | 1.21 | 0.34 | 5.82 |
| Total Fat (g) | 0.17 | 0.26 | 0.90 | 0.07 | 0.17 | 0.04 | 0.07 | 0.34 |
| Total Carbs (g) | 9.89 | 14.06 | 54.08 | 11.88 | 11.21 | 15.48 | 1.63 | 11.42 |
| Dietary Fiber (g) | 2.85 | 4.10 | 14.47 | 1.24 | 0.90 | 2.31 | 0.75 | 9.68 |
| Sugar (g) | 5.85 | 9.94 | 14.47 | 0.66 | 2.34 | 0.00 | 0.19 | 1.32 |
| Vitamins | | | | | | | | |
| Vitamin C (mg) | 32.43 | 7.13 | 51.55 | 5.39 | 15.47 | 1.83 | 13.74 | 78.95 |
| Thiamin (mg) | 0.08 | 0.04 | 0.27 | 0.03 | 0.09 | 0.06 | 0.02 | 0.29 |
| Riboflavin (mg) | 0.05 | 0.06 | 0.18 | 0.03 | 0.17 | 0.05 | 0.03 | 0.55 |
| Niacin (mg) | 0.62 | 0.50 | 2.08 | 0.79 | 1.03 | 0.42 | 0.14 | 1.03 |
| Pantothenic Acid (mg) | 0.31 | 0.24 | 1.80 | 0.21 | 0.50 | 0.62 | 0.09 | 0.68 |
| Vitamin B6 (mg) | 0.14 | 0.10 | 0.27 | 0.17 | 0.12 | 0.16 | 0.06 | 0.29 |
| Folate (mcg) | 23.66 | 160.03 | 199.01 | 15.59 | 26.76 | 8.28 | 44.54 | 41.55 |
| Vitamin B12 (mcg) | 0.00 | 0.00 | 0.00 | 0.00 | 0.00 | 0.00 | 0.00 | 0.00 |
| Vitamin A (IU) | 0 | 47 | 0 | 6 | 12731 | 10913 | 2653 | 16647 |
| Vitamin E (mg) | 0.05 | 0.06 | 4.51 | 0.02 | 1.81 | 0.20 | 0.65 | 3.95 |
| Vitamin K (mcg) | 0.23 | 0.22 | 67.85 | 1.13 | 1.78 | 1.36 | 57.48 | 1052.63 |
| Minerals | | | | | | | 0.00 | 0.00 |
| Calcium (mg) | 47.34 | 23.79 | 108.54 | 8.44 | 35.67 | 23.08 | 43.29 | 304.71 |
| Iron (mg) | 0.48 | 1.16 | 1.80 | 0.61 | 1.36 | 0.47 | 0.25 | 6.79 |
| Magnesium (mg) | 16.57 | 34.60 | 90.47 | 15.59 | 20.81 | 18.94 | 7.08 | 186.97 |
| Phosphorus (mg) | 42.60 | 58.40 | 217.08 | 39.29 | 77.29 | 36.09 | 9.57 | 110.82 |
| Potassium (mg) | 293 | 478 | 1131 | 301 | 586 | 259 | 68 | 2008 |
| Sodium (mg) | 104 | 115 | 27 | 6 | 3 | 43 | 9 | 596 |
| Zinc (mg) | 0.43 | 0.51 | 1.80 | 0.20 | 0.57 | 0.23 | 0.04 | 0.97 |
| Copper (mg) | 0.14 | 0.10 | 0.36 | 0.07 | 0.21 | 0.12 | 0.08 | 0.47 |
| Manganese (mg) | 0.22 | 0.47 | 1.71 | 0.12 | 0.21 | 0.20 | 0.11 | 1.03 |
| Selenium (mcg) | 1.18 | 1.09 | 5.41 | 0.22 | 0.59 | 0.48 | 0.29 | 2.08 |
| Fatty Acids | | | | | | | | |
| Saturated Fat (g) | 0.03 | 0.04 | 0.18 | 0.02 | 0.09 | 0.02 | 0.02 | 0.08 |
| Monounsat. Fat (g) | 0.00 | 0.04 | 0.36 | 0.01 | 0.03 | 0.00 | 0.01 | 0.08 |
| Polyunsat. Fat (g) | 0.08 | 0.09 | 0.18 | 0.03 | 0.00 | 0.02 | 0.03 | 0.13 |