Tamarind Nutrition Facts, Health Benefits, Culinary Uses, Recipes
Tamarind, with its sweet and tangy taste and unique aroma, is one of the most widely used spices in Asian and Indian dishes. However, it is often not noticed, because tamarind intertwines with, blends and complements other flavors in spicy dishes.
Many home cooks struggle to match the taste of their favorite restaurant dishes because they don't realise that the dishes they are trying to emulate contain tamarind. They don't include tamarind in the dish. Tamarind is a secret ingredient that sets restaurant dishes apart from home cooked ones.
The tamarind tree is native to sub-tropical Africa, but they are now grown throughout, Southern Asia, South America, Mexico and on many Caribbean islands. The trees produce tamarind pods that have a semi-hard shell. The pulp inside is tart and sweet-sour tasting.
The pulp can also be bought in blocks or in various extracts, pastes and sauces. The pulp from fresh or dried tamarind pods is soaked in water to release its flavours and strained before use.
Tamarind is popular spice for Thai, other Asian, Indian curries, African and Caribbean dishes. It is popular in fish and seafood dishes, noodle soups, chutneys, curries, sauces and many vegetarian, bean and lentil dishes.
Surprisingly, tamarind has many health benefits and is a good source of antioxidants, dietary fiber, vitamins and minerals. It should be used more often.
This article showcases the nutritional facts and health benefits of tamarind, highlights its many uses and provides several recipes to tempt you to try magical tamarind for yourself.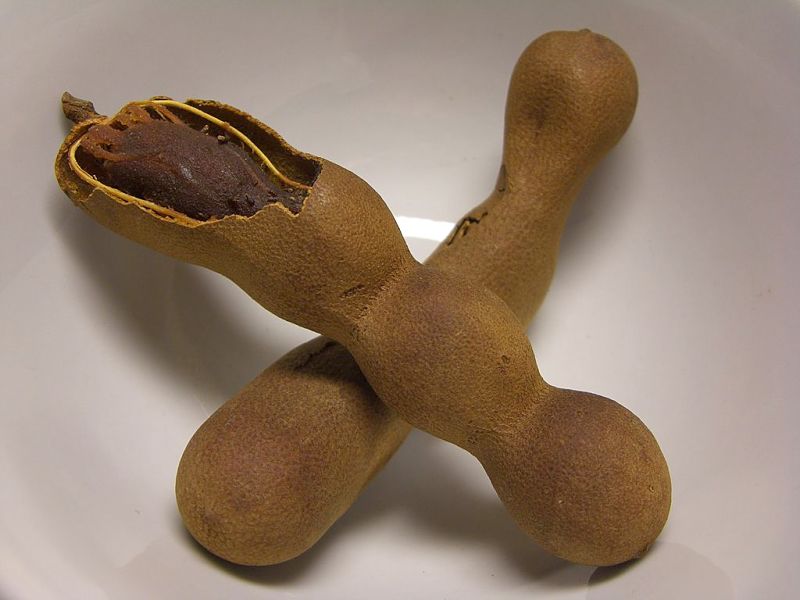 Health Benefits of Tamarind
The table at the end of the article summarizes the nutrients found in 100g of tamarind pulp.
The sticky pulp in the tamarind pods is a treasure trove of non-starch polysaccharides and dietary fiber in the form of pectin, tannins, gums, hemicelluloses and mucilage substances. A serving of 100 g of Tamarind pulp provides 5.1 g of fiber which is about 15% of the daily dietary fiber allowance. Natural dietary fiber aids the digestion and provides many health benefits in reducing the risks of diseases and cancer of the bowel.
The sour taste of tamarind is due to tartaric acid which is known to be a powerful antioxidant. The pulp also contains many other photochemicals that have antioxidant properties.
Tamarind is an excellent source of a wide range of minerals including: potassium, iron, selenium, calcium, zinc and magnesium.
Tamarind is a good source of a range of vitamins including Vitamin C, Vitamin A, folic acid and the B-group vitamins: particularly riboflavin, niacin and thiamine (one third of the recommended daily requirements)
Tamarind pulp is also used in many traditional medicines and home remedies as a laxative, for improving digestion and for upset stomachs bile disorders.
Tamarind is also an active ingredient for many syrups and other pharmaceutical products.
Selecting and Preparing Tamarind for Cooking
Fresh tamarind pods are generally available in late spring and early summer seasons. Out of season, tamarind is available as compressed tamarind blocks, pastes, concentrates, extracts and sauces. In generally the pulp is squeezed from the pods or the blocks are thinly sliced and added to warm water. After about 10-15 minutes, and several stirs the liquid can be drained through a cloth or a very fine sieve. The extracted juice is use for cooking. Pastes and sauces are readily available if you cannot get fresh pods or pulp blocks.
How to Make Homemade Tamarind Paste and Extract
The fruit from dried tamarind pods need to be extracted and placed in a pan with minimal water to make a thick paste. Bring to the boil and simmer for 10 - 15 minutes to soften. Remove from the stove and use a potato masher, fork or back of a spoon to gently push and break-up the pulp against the inside of the pan. The aim of this is to extract as much flavour and goodness from the pulp as possible. Strain the liquid through a fine strainer. Press the fruit through the strainer to get as much pulp extract as possible into the liquid. Strain out the seeds and discard. The homemade tamarind paste is now ready for use. Homemade pastes tend to be weaker than the commercial pastes and concentrated and your may need more than the amount stipulated for the commercial pastes in various recipes.
Culinary Uses for Tamarind Paste and Extract
Tamarind is widely used for making chutneys, sauces and marinades and is a common ingredient in many commercial sauces such as Worcestershire Sauce contains tamarind, and is also added to canned anchovies
It is widely used in noodle dishes and soups to impart a hot and sour, or sweet and sour taste.
The juice made of tamarind pulp is used to make many drinks throughout the world.
Tamarind is very popular as a flavour for fish and seafood dishes
It is used in a wide variety of curry sauces and ingredients
Add to lentils, chick peas and bean dished to impart flavor
It intensifies the color or soups and sauces while adding acidity, complexity and sweetness.
Tamarind makes an excellent ingredient for barbecue sauces in combination with tomatoes, coriander, brown sugar, chilli and Szechwan pepper.
Tamarind makes an excellent glaze add to meats, fish, ribs, fish and sea foods just before serving
Add to vegetable dishes and salsas to reduce sweetness..
Use Tamarind as an ingredient in jams, chutneys, sorbets, savory dips and condiments.
Add tamarind for Bloody Marys and margaritas.
Tamarind makes a great substitute for balsamic vinegar.
Combining tamarind with onions, ginger, garlic and spices makes a great marinade for all meat dishes. Like lime juice, tamarind acts as a tenderizer for meat.
Tamarind is a primary souring ingredient for Thai cooking, creating a fruity tartness that resembles lime to salads, soups and stir-fries.
Tamarind Recipe Ideas
Below are several recipes showing a variety of uses for Tamarind
Grilled Chicken Marinated in Yogurt and Tamarind
2 1/4 lbs (1 1/2 kg) boneless chicken thighs
1 tablespoon ground cumin
1 tablespoon garam masala
1 1/2 teaspoons ground cayenne pepper
1 1/2 teaspoons salt
1/4 cup canola oil
3 tablespoons garlic, chopped very finely
1 tablespoon tamarind paste
3/4 cup plain yogurt
1 lemon, cut into 6 wedges for serving (optional)
Mix all the ingredients in a large bowl. Add the chicken and mix well to ensure all the chicken pieces are covered with the marinade (rub in to make sure). Cover and marinate for a at least 4 hours or overnight (preferred)
Remove the excess marinade (as it will burn). Grill or barbecue the thighs for about 2-3 minutes per side. Test to ensure the center is cooked. Serve with the lemon wedges.
Spicy Tamarind Chutney
3 tablespoons tamarind concentrate
1 1/4 cups sugar
2 cups water
1/2 teaspoon garam masala
1/2 teaspoon fennel seeds
1/2 teaspoon chili powder
1 teaspoon ground ginger
1 teaspoon cumin seeds
1 tablespoon canola oil
Using a small saucepan or frying pan, fry all the spices added to the oil in the pan (1-2 minutes). This enhances the aroma and flavour of the spices. Add the tamarind concentrate, water and sugar. Bring to the boil, then lower the heat and simmer gently until the mixture thickens are becomes dark brown in color (30-50 minutes). It should be thick enough to coat the back of a spoon. Cool and store in a sealed container in the refrigerator. It will keep for up to two weeks.
Fried Fish with Tamarind Sauce
1 tablespoon tamarind paste
2 1/2 tablespoons sugar
1 shallots
2 cloves garlic
2 tablespoons fish sauce
1 whole fish cleaned and scaled
3 sprigs cilantro (Coriander)
2-4 chili peppers
Score the fish at an angle down both side, right to the bone. Add enough oil to a wok or deep, large pan so that the fish can be fully immersed while deep frying. Fry the fish using moderate heat until very crisp on both sides (about 10 minutes per side). Remove and place it in a moderate oven until the sauce is ready, as this will keep it crisp and hot.
To make the sauce, peel the garlic and shallot and finely chop. Remove seeds from the chilli and finely chop. Cut and chop the pepper. Add a teaspoon of oil to a frying pan or wok and heat over moderate heat. Add the mixture and stir until the onions are transparent. Add the fish sauce, tamarind, sugar and some water. Mix well and bring to the boil. Add more water if required to get a final consistency of maple syrup. Taste and adjust the flavour by adding extra ingredients. The sauce should be spicy, sweet and sour. Place the fish on a serving plate pour over the sauce and garnish with cilantro leaves. Serve hot with rice.
Tamarind Prawns (Shrimp)
3 tablespoons cooking oil
1/4 teaspoon salt
1 teaspoon sugar
4 tablespoons water
1 1/2 tablespoons tamarind pulp (or paste)
8 oz (250 g) shell-on prawns
Combine the tamarind pulp with 4 tablespoons water in a pan. Extract the juice from the tamarind by pressing the pulp. Pour the liquid though a fine sieve and push as much of the pulp as possible through the sieve. Discard the seeds and pod remnants.
Wash the prawns and remove the heads. De-vein the prawns by slitting along the back. Wash again and then dry with paper towels and place in a bowl. Add the tamarind juice, sieved pulp, sugar and salt into the prawns and rub well over the prawn with your fingers (wear gloves). Marinate for 15 minutes and then remove the tamarind pulp and excess sauce to prepare for cooking. Heat the wok, add the cooking oil and wait until the oil just starts to smoke. Drop the prawns into the wok a few at a time and pan fry until cooked and slightly burnt on the outside. Serve immediately.
Nutrition Facts for Tamarind
| Tamarind Nutritional values per 100g | Value |
| --- | --- |
| Energy | 239 Cal |
| Carbohydrates | 62.50 g |
| Protein | 2.80 g |
| Total Fat | 0.60 g |
| Cholesterol | 0 mg |
| Dietary Fiber | 5.1 g |
| Vitamins | |
| Folates | 14 mcg |
| Niacin | 1.94 mg |
| Pantothenic acid | 0.14 mg |
| Pyridoxine | 0.07 mg |
| Thiamin | 0.43 mg |
| Vitamin A | 30 IU |
| Vitamin C | 3.5 mg |
| Vitamin E | 0.10 mg |
| Vitamin K | 2.8 mcg |
| Electrolytes | |
| Sodium | 28 mg |
| Potassium | 628 mg |
| Minerals | |
| Calcium | 74 mg |
| Copper | 0.86 mg |
| Iron | 2.80 mg |
| Magnesium | 92 mg |
| Phosphorus | 113 mg |
| Selenium | 1.3 mcg |
| Zinc | 0.10 mg |
| Phyto-nutrients | |
| Carotene-beta | 18 mcg |
| Crypto-xanthin-beta | 0 mcg |
| Lutein-zeaxanthin | 0 mcg |