Lemongrass Guide - Preparation, Cooking Tips, Recipes, Nutrition
Lemongrass is an unusual herb. It is endemic to India, but is now cultivated all over the world. It is tall stiff, sedge-like grass with sharp blades. It is perennial in warm climates. It is blue-green in color and grows in 3-6 foot tall cascading clumps. There is no herb so big and imposing. Trimmed lemongrass stalks are widely available and you can easily grow it in your home garden.
This citrus tasting plant plays a leading star role in many Southeast-Asian cuisines, especially in Vietnamese cuisine. It is also used in cold drinks and marinades due to its distinctive citrus aroma. Lemongrass also has important medicinal benefits.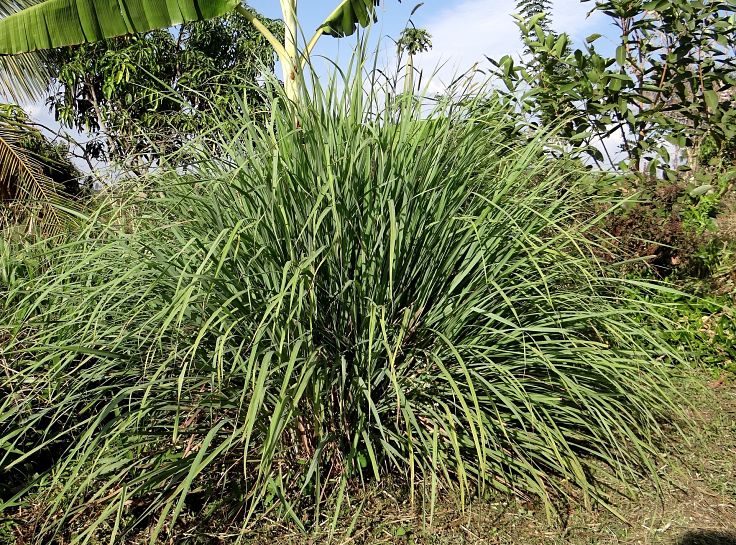 Choosing Lemongrass
Choose lemongrass stalks that smell fragrant, feel firm and look bright and fresh. Look for stems and bunches with tight bulbs. The tops and stems should be firm and pale to bright green in color. Bunches with tops that are somewhat dry are still good choices. However, avoid any bunches or stems appear completely dried out, or are yellow to brown in color. The tops are trimmed off and so their condition is less important.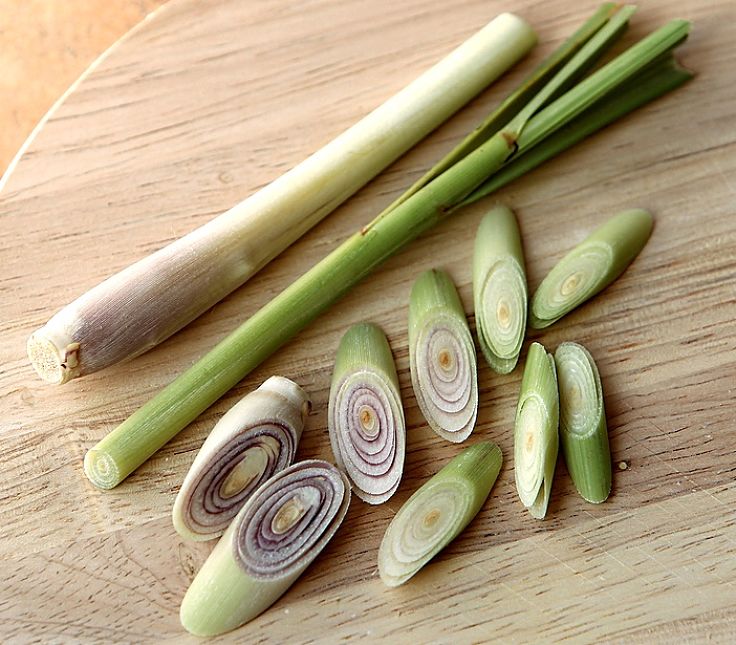 Preparing Lemongrass
Although lemongrass stalks can be quite long, almost all of the flavor is contained in the bottom 4-5 inches or so of the stalk. To get to that flavor-filled part, cut away the thinner top portion of the stalk and the very woody base, including the bulbs if tough. Then, remove the tough fibrous and dry outer layers to get to the tender inner part of the stalk. Even when peeled and chopped very finely, the lemongrass can be quite fibrous. So, it is best to use it in a way that it can be removed before serving the dish. This means using whole crushed lemongrass stalks to infuse flavor into the dish and then removing them, or chopping it very finely. To make it easier to chop or mince, use a very sharp knife slice it into a series of short rounds first. Then, slice these pieces length-ways to make the pieces thinner. Next, finely chop or mince the pieces. Alternatively, slice the stalks very thinly.
There are two key ways to use lemongrass when cooking various dishes, and each way dictates how you handle and prepare it:
To infuse into liquid such as teas, braising liquids, broths, soups, and curries, remove the spiky tops and the bases, and crush the stalks with the side of a knife to release their aromatic oils. Then, slice the crushed stalks into 1-2 inch (2-5 cm) pieces. Remove the lemongrass pieces before eating or drinking (they tend to be woody).
To use lemongrass in marinades, salads, spice rubs, stir-fries and curry pastes, trim the top and base off the stalks. Only the bottom 4-5 inches (10-13 cm) has the intense flavor you need. Next, peel off any tough or dry outer layers. Then finely chop the lemongrass stalk into fine slices. You can also mince or use a food processor or blender to release the aroma and flavors.
Lemongrass retains its structure and gains intensity the longer it is cooked. So it is easy to remove at the end of a long cooking process. For an intense lemongrass flavor, add the minced or chopped lemongrass at the beginning of cooking, browning it together with the other aromatics.
For a fresher and lighter lemongrass flavor and aroma, add it near the end of the cooking time for the dish.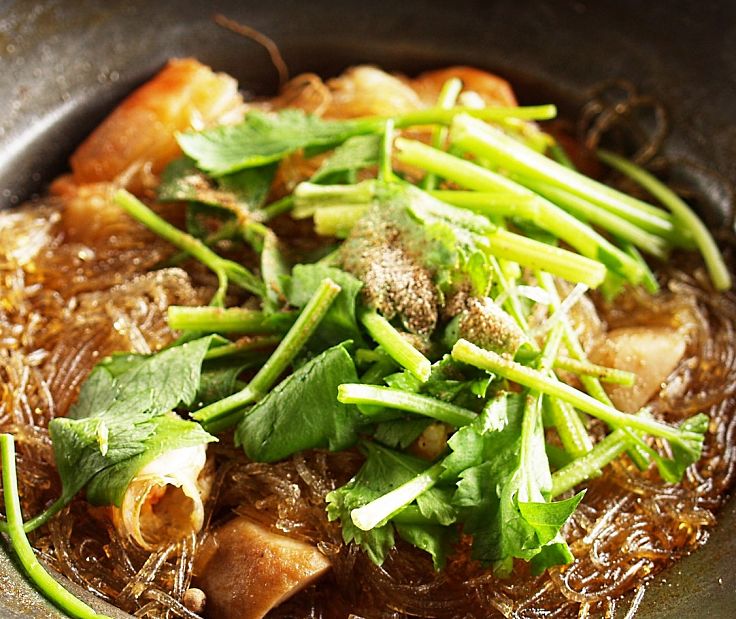 How to Use Lemongrass
Lemongrass can be used in many ways and adds a unique flavor to sweet and savory dishes. Some ideas are
Teas and Infusions
Curries and Slow Cooked meat and vegetable dishes
Indonesian, Thailand, Vietnam, Philippines and Malaysian Dishes
Dipping sauces, Dressings and Side Serve Sauces
Added to skewers between pieces of meat and vegetables
Sweet Dishes
Use in Tom yum, which is a favorite soup name in Thailand
Use as a flavor base for pickles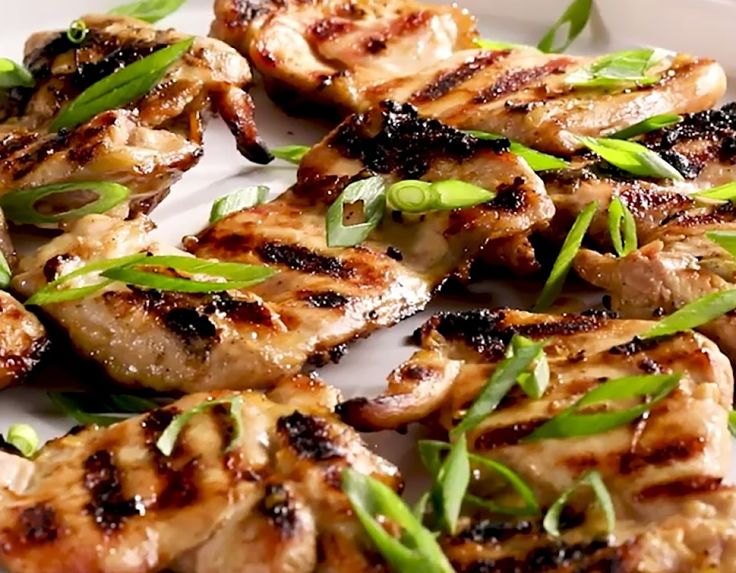 Lemongrass Health Benefits
The lemongrass herb has many unique health benefits and is rich in many essential oils, vitamins and minerals that are known to have anti-oxidant and health sustaining properties. Lemongrass has only 99 calories per 100 g and contains no cholesterol.
The major unique essential oil in lemongrass herb is lemonal also known as citral. This aldehyde compound responsible for its unique lemon odor and taste. Citral also has strong anti-fungal anti-microbial properties. Lemongrass is also a good source of other essential oils such as myrcene, methyl heptanone, di-pentene, geraniol, citronellol, limonene, geranyl acetate and nerol. These compounds are known to have anti-irritant, insecticidal, anti-fungal and antibiotic properties. Lemongrass is also a very good source of folates with 75 micrograms or 19% of RDA in 100 g of crushed stems. Lemongrass is a rich source of vitamins such as pyridoxine (vitamin B6), pantothenic acid (vitamin B5), thiamin (vitamin B1). vitamin-C and vitamin-A.
Lemongrass is also a rich source of minerals such as calcium, iron, manganese, potassium, zinc, copper, and magnesium. See the table below for in depth analysis of nutrients in 100 g of fresh lemongrass.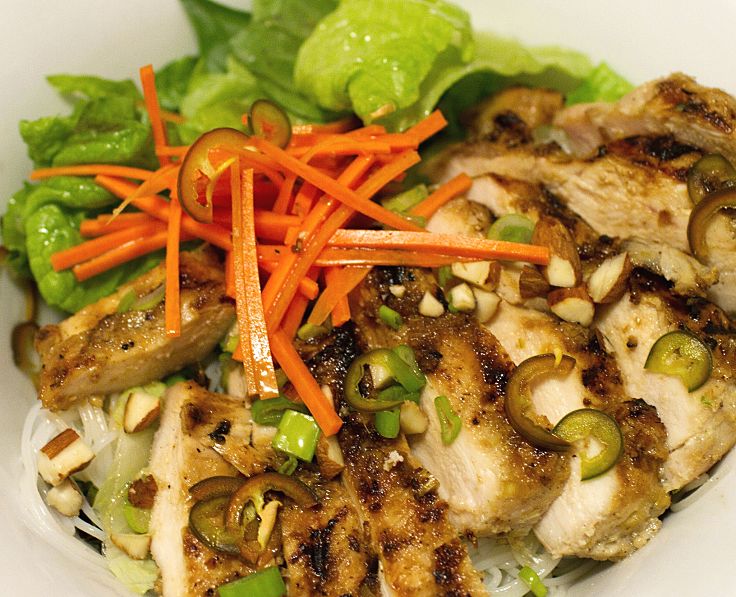 Lemongrass Nutrition Guide
Lemongrass, fresh, Nutritive value per 100 g. (Source: USDA National Nutrient data base)
Nutrient
Amount
Unit
Energy
99
Kcal
Carbohydrates
25.31
g
Protein
1.82
g
Total Fat
0.49
g
Cholesterol
0
mg
Vitamins
Folates
75
mcg
Niacin
1.101
mg
Pyridoxine
0.08
mg
Riboflavin
0.135
mg
Thiamin
0.065
mg
Vitamin A
6
mg
Vitamin C
2.6
mg
Electrolytes
Sodium
6
mg
Potassium
723
mg
Minerals
Calcium
65
mg
Copper
0.266
mg
Iron
8.17
mg
Magnesium
60
mg
Manganese
5.244
mg
Selenium
0.7
mcg
Zinc
2.23
mg
Best Ever Fresh Lemongrass Recipes
Classic Grilled Lemongrass Chicken Recipe with Ginger Rice
Ingredients
For the lemongrass chicken
1/2 teaspoon kosher salt
1 tablespoon vegetable oil
2 tablespoons minced shallot
2 tablespoons tamari or soy sauce
1 1/2 tablespoons granulated sugar
1 1/2 tablespoons Asian fish sauce
2 lemongrass stalks peeled and minced
1 1/2 pounds (750 g) skinless, boneless chicken thighs
1/2 teaspoon Asian chilli sauce (such as sambal oelek or Sriracha)
For the ginger rice
1/8 teaspoon kosher salt
2 teaspoons tamari or soy sauce
1 1/2 tablespoons fresh ginger, minced
2 tablespoons chopped scallions, for garnish
1 cup uncooked jasmine or brown basmati rice
Method

Mix the shallot, sugar, fish sauce, lemongrass, 2 tablespoons of tamari, the oil, the chilli sauce and salt together in a medium-size bowl. Add the chicken pieces to the bowl and stir to coat well. Set the chicken mixture aside to marinate while you are preparing the rice.
Bring 1 1/2 cups water to the boil in a small saucepan. Add the ginger, salt and rice and return to a boil while stirring. Then, lower the heat to low. Cover the pan and cook gently with minimum heat until tender (about 15-30 minutes). Then, turn off the heat and set the saucepan aside for 5-10 minutes. Next, using a fork, fluff the rice in the pan, and then stir though the tamari.
Then, pre-heat your flame or char grill or BBQ, using a high setting. Take the chicken pieces from the marinade, drain and place on the grill rack. Close the cover, and cook until the chicken pieces are springy to the touch, and cooked in the center. Check with an internal meat temperature to ensure the internal temperature are at least 165 degrees F (74 degrees C), about 4 to 7 minutes per side. To serve add servings of the ginger rice to four warmed plates. Place grilled chicken pieces on top. Sprinkle with scallions, fresh herbs, red chilli slices, and serve immediately.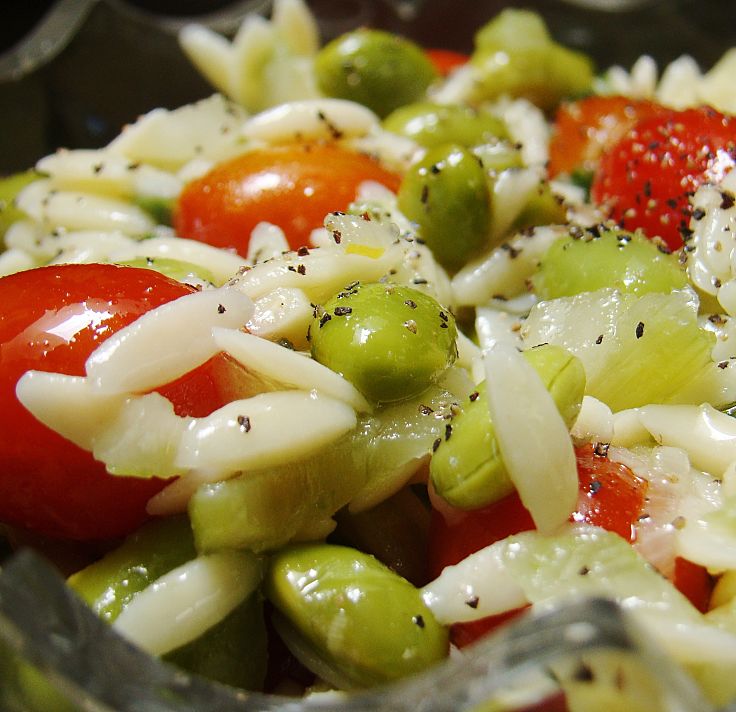 Classic Thai Tom Yum Soup Recipe
Ingredients
1/2 teaspoon sugar
3 tablespoons fish sauce
1/2 cup of cherry tomatoes
1 stalk lemongrass (minced)
3 to 4 cloves garlic (minced)
1/2 can coconut milk (good-quality)
12 medium raw shrimp (shells removed)
1 cup fresh shiitake mushrooms (sliced)
4 to 6 cups chicken stock (good-tasting)
1/3 cup fresh coriander (roughly chopped)
1 tablespoon lime juice (freshly squeezed)
3 makrut lime leaves or 1 teaspoon grated lime zest
1 to 2 cups broccoli florets (or other greens of your choice)
1 to 2 red chiles (finely sliced, or substitute 1/2 to 3/4 teaspoon dried crushed chilli)
Method
Place stock into a deep cooking pot or Dutch oven and bring to a boil. Add the lemongrass and boil for 1-2 minutes. Add the lemongrass tops for extra flavor (optional). Add garlic, chilli, mushrooms and lime leaves. Reduce heat to moderate and simmer for 1-3 minutes. Add the broccoli, shrimp and cherry tomatoes. Simmer for 3-5 minutes, or until shrimp are pink and just cooked. Then, reduce heat to moderate-low and pour in the coconut milk, lime juice and fish sauce. Stir to combine well and gently simmer until hot. Remove any large pieces of lemongrass stalk and tops. Taste the soup and add extra salt, chilli and fish sauce if required. If the soup is too sour for your preference, add 1/2 teaspoon sugar. If the soup too spicy for you add more coconut milk. Serve in bowls with sprinkles of fresh coriander and other fresh herbs.
Pork and Lemongrass Stir-Fry with Noodles
Ingredients
1/4 cup soy sauce
1 pound (500 g) ground pork
2 tablespoons vegetable oil
2 teaspoon granulated sugar
3 large cloves garlic, minced
6 oz (170 g) vermicelli rice noodles
1 cup unsalted good quality chicken stock
3 tablespoons coarsely chopped fresh mint
2 tablespoons finely chopped Fresno chilli
3 tablespoons grated or minced fresh ginger
1 tablespoon fresh lime juice; more to taste
3 tablespoons coarsely chopped fresh cilantro
3 tablespoons minced lemongrass (from about 3 stalks)
5 oz (140 g) baby kale, tough stems removed (about 5 cups)
Method
Add the lemongrass, ginger, chile, soy sauce, garlic and lime juice to a small bowl and mix well. In a separate medium-size bowl, mix the pork with about half of the lemongrass mixture. Set aside to marinade for about 10 minutes.
Cook the noodles following the directions on the package, until just tender. Drain, pat dry with paper towels. Then, transfer to a large bowl, mix 1 tablespoon of the oil through the mixture. Add 1 tablespoon of oil to a large heavy skillet, Dutch oven or wok, and heat over high heat. When very hot add the remaining lemongrass mixture to the pan and cook briefly, while stirring, until fragrant, (about 30-45 seconds). Then, add the pork and stir-fry. Break up any small clumps of minced pork. Stir-fry until cooked through and starting to brown in places (about 5-7 minutes). Add the sugar and pour in the chicken stock. Then, add the kale, and stir until the kale wilts (about 1-2 minutes). To serve add some noodles to the bowls, add a serving of the pork mixture and top with a sprinkling of herbs.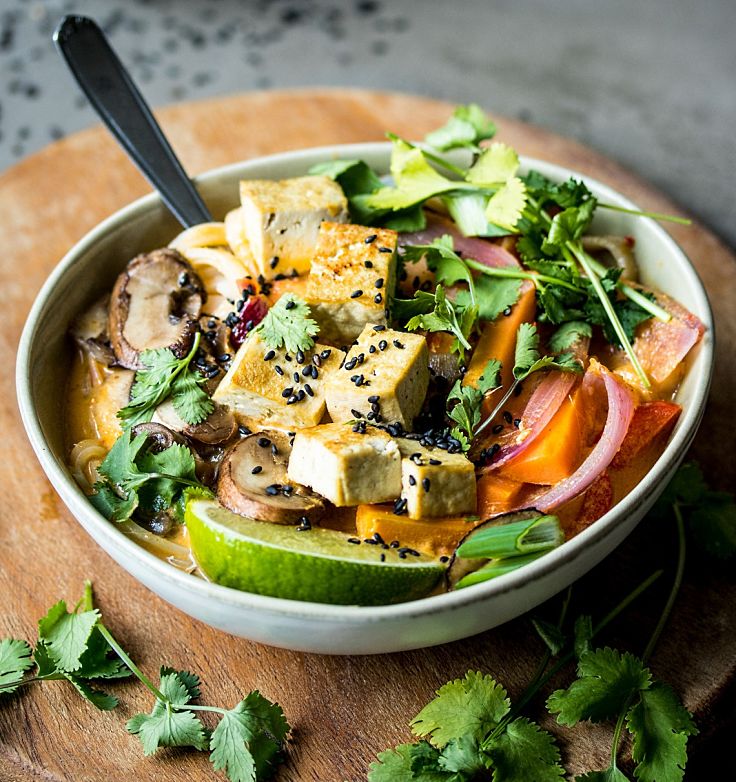 Related Articles