Nutrition Health Benefits and Drawbacks for Cashew Nuts
Cashews are medium-size kidney-shaped seeds (nuts) produced by the tropical cashew tree, endemic to Brazil. Cashews are now grown commercially in a huge array of warm climate countries across the world. Although commonly referred to as a tree nut, cashews like many so called nuts, are really seeds. They're rich in nutrients and antioxidants, but there are several drawbacks you should be aware of.
Like many nuts, toasted or salted cashews can contain high levels of salt and fats and are calorie dense. So, portion size and serving size limits are important.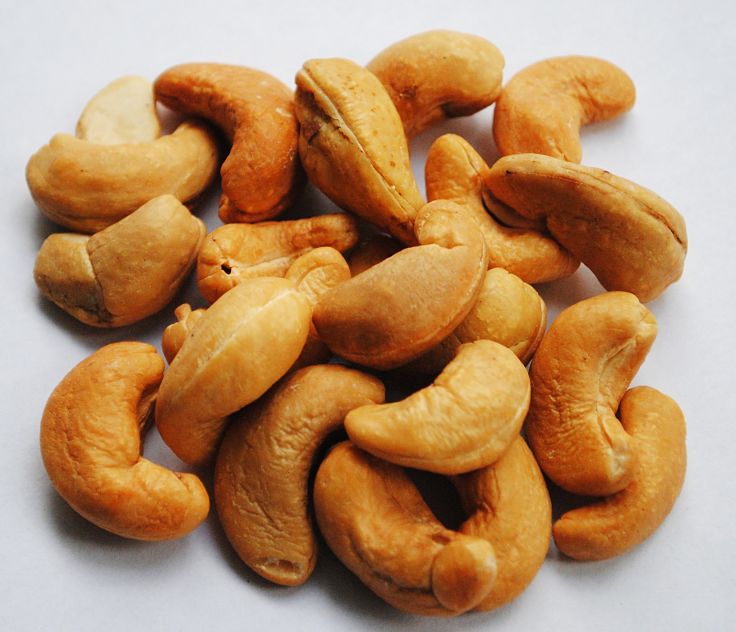 Health Drawbacks for Cashews
Some other drawbacks you should be aware of are:
Cashews contain phytates which can slow the absorption the minerals and vitamins they contain. Soaking your raw cashews overnight before using them to dishes helps reduce their phytate content and improves their digestibility.
Raw cashews with shells can contain a chemical called urushiol, which is toxic. This poisonous compound can seep into the cashew nuts as well. Roasting and carefully separating the shells from raw cashews, destroys the urushiol. So choose roasted cashews in preference to raw cashews, becuase they are safer to eat.
Cashews are classified as tree nuts in terms of allergy risks. People allergic to tree nuts, such as almonds, pistachios, walnuts, Brazil nuts, pecans or hazelnuts, may have a higher risk of also being allergic to cashews.
Cashews also have a fairly high oxalate content. Eating foods with high levels of oxalates may contribute to the development of kidney stones. Eating more than an ounce a day of cashews may risky for some people. However, as shown below oxalates also occur in other nuts, green vegetables and fruit. There are higher levels of oxalates in almonds and soy nuts than cashews.
Nuts and Vegetables with High Oxalate (mg per 100 g serving)
Nuts
Almonds, roasted 469
Soy nuts (1 oz) 392
Cashews, roasted 262
Hazelnuts, raw 222
Pine nuts, raw 198
Peanuts, raw 142
Pine nuts, roasted 140
Walnuts, raw 74
Pecans, raw 64
Macadamia nuts, raw 42
Pistachio nuts, roasted 40
Vegetables
Amaranth leaves, raw 1,090
Beet leaves, raw 610
Chives, raw 1,480
Parsley, raw 1,700
Purslane, raw 1,310
Spinach, raw 970
Rhubarb, raw 800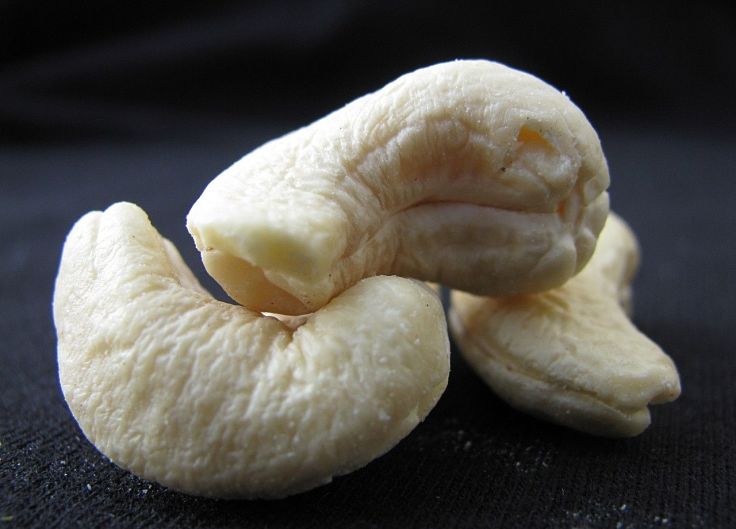 Despite the minor drawbacks, cashews like most nuts, are generally a good choice for improving and sustaining your overall health. They offer benefits such as improved blood sugar control, weight control, and a healthier heart.
Eating rinsed and cooked cashews is preferred.
Cashews are Rich in Nutrients
One ounce (30 grams; about 15 cashews) of raw and unsalted cashews provides you with the following nutrients:
Item
Amount
Unit
Energy
762
(kJ)
Protein
5.1
(g)
Total fat
14.7
(g)
Saturated fat
2.5
(g)
Monounsaturated fat
9.3
(g)
Polyunsaturated fat
2.3
(g)
Omega 3
21
ALA
Carbohydrate
6.9
(g)
Sugars
1.7
(g)
Dietary Fiver
1.8
(g)
Minerals
Calcium
10.2
(mg)
Copper
0.6
(mg)
Iron
1.5
(mg)
Magnesium
75
(mg)
Manganese
0.42
(mg)
Potassium
165
(mg)
Selenium
9.9
(mcg)
Sodium
3.3
(mg)
Zinc
1.7
(mg)
Vitamins
Thiamin
0.2
(mg)
Riboflavin
0.1
(mg)
Niacin
2.2
(mg
Folate DFE
7.5
(ug)
Vitamin B6
0.12
(mg)
Vitamin E
0.21
(mg)
Other
Arginine
0.6
(g)
Sterols
45.3
(mg)
Polyphenols
81
mg)
Cashews are a rich source of plant oils and fat, but most of it is unsaturated fat, the healthy type. Cashews are low in sugar and have fewer calories than most nuts. They are also a source of fiber and protein. They also contain higher amounts of minerals such as copper, magnesium, and manganese, and also antioxidants such as polyphenols and carotenoids, which are rare in other tree nuts.
Comparison of Nutrients in Cashew Nuts Compared with Other Nuts (100g; raw)
| | | | | | | | | | | | |
| --- | --- | --- | --- | --- | --- | --- | --- | --- | --- | --- | --- |
| Food | | Cashews | Macadamia | Peanuts | Walnuts | Brazil Nuts | Almonds | Hazelnuts | Pistachio | Pecans | Chestnuts |
| Weight (1 oz) | (g) | 28 | 28 | 28 | 28 | 28 | 28 | 28 | 28 | 28 | 28 |
| Calories | kcal | 157 | 204 | 161 | 186 | 184 | 164 | 178 | 162 | 202 | 56 |
| Fats (total) | (g) | 12.5 | 21.6 | 14 | 18.5 | 19 | 14.2 | 17.3 | 13 | 21.1 | 0.4 |
| Monounsaturated Fats | (mg) | 6758 | 16834 | 6937 | 2537 | ~ | 8960 | 12965 | 6968 | 12484 | 122 |
| Polyunsaturated Fats | (mg) | 2228 | 425 | 4418 | 13397 | ~ | 3501 | 2249 | 3790 | 5842 | 140 |
| Omega 3s | (mg) | 18 | 56 | 1 | 2579 | ~ | 1 | 25 | 60 | 282 | 15 |
| Omega 6s | (mg) | 2210 | 370 | 4418 | 10818 | ~ | 3501 | 2225 | 3727 | 5560 | 125 |
| Saturated Fats | (g) | 2.2 | 3.4 | 1.8 | 1.7 | 4 | 1.1 | 1.3 | 1.6 | 1.8 | 0.1 |
| Protein | (g) | 5.2 | 2.2 | 7.3 | 4.3 | 4 | 6 | 4.2 | 6 | 2.7 | 0.5 |
| Carbohydrate | (g) | 8.6 | 3.8 | 4.6 | 3.9 | 3 | 6.1 | 4.7 | 8 | 3.8 | 12.5 |
| Sugars | (g) | 1.7 | 1.2 | 1.3 | 0.7 | 1 | 1.2 | 1.2 | 2.2 | 1.2 | 3 |
| Fiber | (g) | 0.9 | 2.3 | 2.4 | 1.9 | 2 | 3.6 | 2.8 | 2.9 | 2.7 | 1.4 |
| Minerals | | | | | | | | | | | |
| Calcium | (mg) | 10.5 | 19.9 | 26.1 | 27.8 | 40 | 76.4 | 32.4 | 30.4 | 20.4 | 5.4 |
| Iron, Fe | (mg) | 1.9 | 0.8 | 1.3 | 0.8 | 0.7 | 1.1 | 1.3 | 1.1 | 0.8 | 0.3 |
| Potassium, K | (mg) | 187.4 | 103.1 | 200.2 | 125.2 | ~ | 208.2 | 193.1 | 286 | 120.4 | 137.5 |
| Magnesium | (mg) | 82.9 | 33.5 | 47.7 | 44.9 | ~ | 76.7 | 46.3 | 31 | 37.5 | 8.5 |
| Phosphorus, P | (mg) | 168.4 | 56.2 | 106.8 | 98.3 | ~ | 136.6 | 82.4 | 133.2 | 83.2 | 10.8 |
| Sodium | (mg) | 3.4 | 1.1 | 5.1 | 0.6 | 1.1 | 0.3 | 0 | 1.7 | 0.3 | 0.6 |
| Zinc, Zn | (mg) | 1.6 | 0.4 | 0.9 | 0.9 | ~ | 0.9 | 0.7 | 0.7 | 1.4 | 0.1 |
| Copper, Cu | (mg) | 0.6 | 0.2 | 0.3 | 0.5 | ~ | 0.3 | 0.5 | 0.4 | 0.3 | 0.1 |
| Manganese | (mg) | 0.5 | 0.9 | 0.5 | 1 | ~ | 0.6 | 1.8 | 0.4 | 1.1 | 0.1 |
| Selenium, Se | (μg) | 5.7 | 3.3 | 2 | 1.4 | ~ | 1.2 | 0.7 | 2.8 | 1.1 | ~ |
| Fluoride, F | (μg) | | | | | | | | | | |
| Vitamins | | | | | | | | | | | |
| Vitamin, A | RAE (μg) | 0 | 0 | 0 | 0.3 | ~ | 0 | 0.3 | 3.7 | 2 | 0.3 |
| Vitamin, C | (mg) | 0.1 | 0.2 | 0 | 0.4 | 0 | 0 | 1.8 | 0.9 | 0.2 | 11.4 |
| Thiamin, (B1) | (mg) | 0.1 | 0.2 | 0.2 | 0.1 | ~ | 0.1 | 0.2 | 0.2 | 0.1 | 0 |
| Riboflavin, (B2) | (mg) | 0 | 0 | 0 | 0 | ~ | 0.3 | 0 | 0.1 | 0 | 0 |
| Niacin, (B3) | (mg) | 0.3 | 0.6 | 3.4 | 0.3 | ~ | 1 | 0.5 | 0.4 | 0.3 | 0.3 |
| Vitamin, B5 | (PA) (mg) | 0.2 | 0.2 | 0.5 | 0.2 | ~ | 0.1 | 0.3 | 0.1 | 0.2 | 0.1 |
| Vitamin, B6 | (mg) | 0.1 | 0.1 | 0.1 | 0.2 | ~ | 0 | 0.2 | 0.3 | 0.1 | 0.1 |
| Folate, (B9) | (μg) | 7.1 | 2.8 | 68.2 | 27.8 | ~ | 12.5 | 32.1 | 14.5 | 4.5 | 16.5 |
| Choline, (mg) | | ~ | 12.7 | 14.9 | 11.1 | ~ | 14.8 | 13 | 20.3 | ~ | ~ |
| Carotene,, beta (μg) | (μg) | 0 | 0 | 0 | 3.4 | ~ | 0.3 | 3.1 | 45.2 | 23.9 | ~ |
| Vitamin, A IU | | 0 | 0 | 0 | 5.7 | 0 | 0.6 | 5.7 | 75.5 | 39.8 | 7.4 |
| Vitamin, K | (μg) | 9.7 | 0 | 0 | 0.8 | ~ | 0 | 4 | 3.7 | ~ | ~ |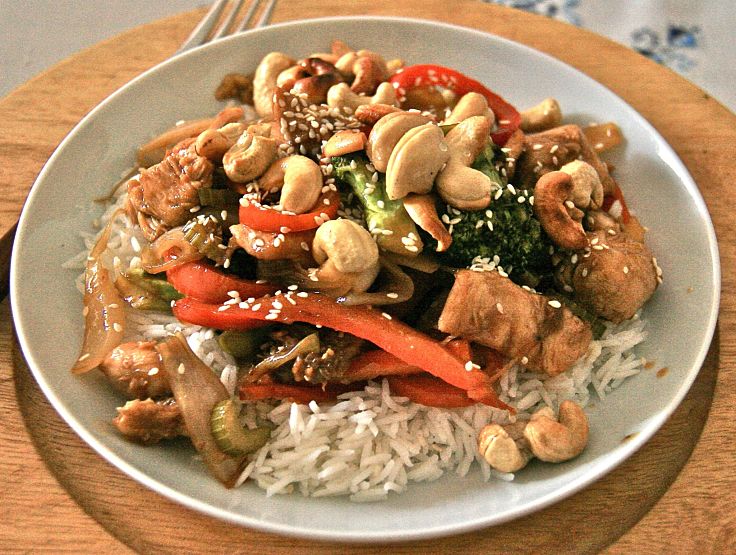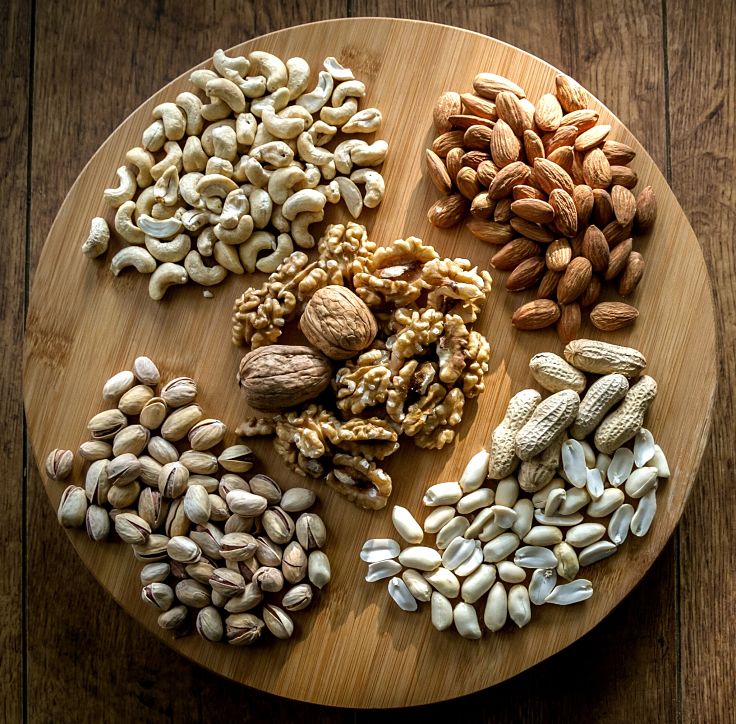 Related Articles