Health Benefits Macadamia Nuts, Nutrition Compared with Other Nuts
Despite macadamia nuts being the signature crop of Hawaii, they did not originate there. Macadamia nuts are endemic to in Australia, which still produces more than 30% of the global crop. Oher countries that now crop macadamia include: South Africa, Brazil, Costa Rica, Kenya, Columbia and Guatemala. Zimbabwe, and Malawi and in parts of South and Central America. It takes about 5-7 years before the trees begin producing nuts. Full production takes about 12-15 years. Macadamia nuts are not actually a true nut, but are a seed. The shiny round 25-mm (1-inch) creamy white seed is enclosed in a thick, extremely hard, leathery husk that must be cracked to get the nut inside.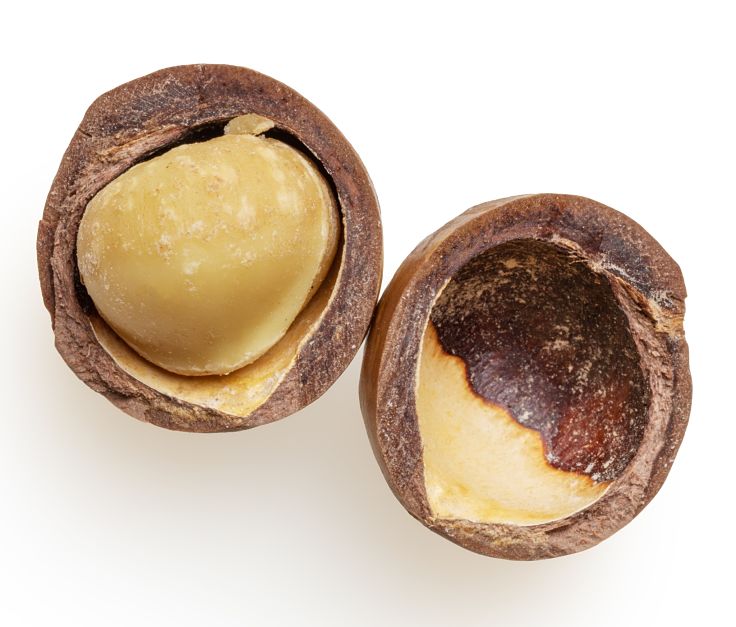 Macadamia Nutrition Summary - See Table Below
Macadamia nuts are naturally low in sugar and carbohydrates. They are also a good source of dietary fiber, protein, minerals and antioxidants. Raw macadamia nuts contain 14% carbohydrates, 76% fat, 8% protein and 1% water. A 100 gram serving of raw macadamia nuts provides 740 kilocalories, and they are a rich source of numerous essential nutrients. While low in sugars and carbohydrates, macadamias are relatively high in total fat compared with other common nuts, and relatively low in protein. While the fat content is relatively high most of the fat is monounsaturated fats (59% of total content). They are also a uniquely rich source of omega-7 palmitoleic acid (about 17% of total fat).
One ounce (about 10 to 12 pieces) of macadamia nuts contains:
Calories: 204
Protein: 2.24 grams
Fat: 21.5 grams
Carbohydrates: 3.9 grams
Fiber: 2.44 grams
Sodium: 1.42 milligrams
Sugar: 1.3 grams
Cholesterol: Zero
Compared with other nuts, Macadamia nuts an excellent source of:
Low Calories
Protein
Monounsaturated fat
Vitamin E
Manganese
Thiamin
Copper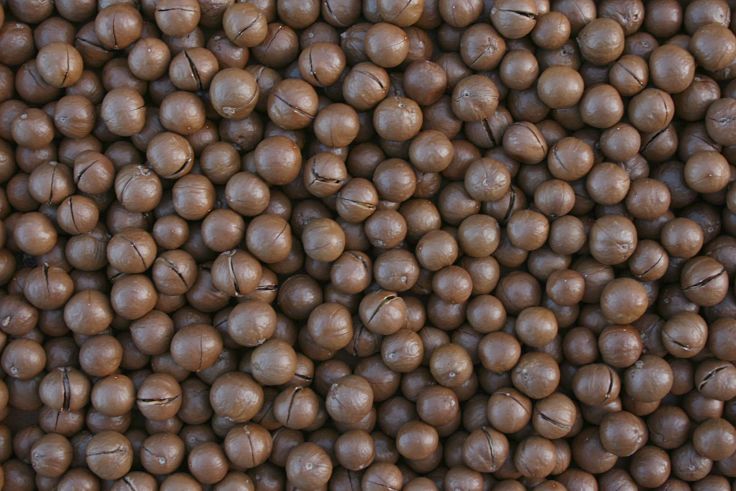 Nutritional Facts for Macadamia Nuts (28 g (1 oz) serving)
Macadamia nuts are calorie-rich nuts that are high in healthy fats, vitamins, and minerals.
One ounce (28 grams) contains:
Calories: 204
Fat: 23 grams
Protein: 2 grams
Carbs: 4 grams
Sugar: 1 gram
Fiber: 3 grams
Manganese: 58% of the Daily Value (DV)
Thiamine: 22% of the DV
Copper: 11% of the DV
Magnesium: 9% of the DV
Iron: 6% of the DV
Vitamin B6: 5% of the DV
Macadamia nuts are low in carbs and sugar and have a moderate fiber content.
Macadamia nuts are also rich in monounsaturated fats.
Macadamia are completely cholesterol free.
High Fat Levels
Macadamia nuts have relatively high fat levels and this has led to a bad reputation. Macadamias also have the highest percentages of calories from fat of all other nuts. Comparing the fat content per ounce in a variety of nuts shows that they have the highest level. However, they are similar to pecans and walnuts.
Macadamia nuts – 21 grams
Pecans – 19 grams
Walnuts – 18 grams
Almonds – 15 grams
Peanuts – 14 grams
However, the good news is that about 80% percent of the fat is monounsaturated (heart-healthy fat that is healthy compared with other fats). Monounsaturated fat is known to helps reduce cholesterol and to lessen the risk of heart disease and stroke.Macadamia nuts have no cholesterol and so provide a double benefit.
Comparison of Nutrients in Macadamia Nuts Compared with Other Nuts (100g; raw)
| | | | | | | | | | | | |
| --- | --- | --- | --- | --- | --- | --- | --- | --- | --- | --- | --- |
| Food | | Macadamia | Peanuts | Walnuts | Brazil Nuts | Almonds | Cashews | Hazelnuts | Pistachio | Pecans | Chestnuts |
| Weight (1 oz) | (g) | 28 | 28 | 28 | 28 | 28 | 28 | 28 | 28 | 28 | 28 |
| Calories | kcal | 204 | 161 | 186 | 184 | 164 | 157 | 178 | 162 | 202 | 56 |
| Fats (total) | (g) | 21.6 | 14 | 18.5 | 19 | 14.2 | 12.5 | 17.3 | 13 | 21.1 | 0.4 |
| Monounsaturated Fats | (mg) | 16834 | 6937 | 2537 | ~ | 8960 | 6758 | 12965 | 6968 | 12484 | 122 |
| Polyunsaturated Fats | (mg) | 425 | 4418 | 13397 | ~ | 3501 | 2228 | 2249 | 3790 | 5842 | 140 |
| Omega 3s | (mg) | 56 | 1 | 2579 | ~ | 1 | 18 | 25 | 60 | 282 | 15 |
| Omega 6s | (mg) | 370 | 4418 | 10818 | ~ | 3501 | 2210 | 2225 | 3727 | 5560 | 125 |
| Saturated Fats | (g) | 3.4 | 1.8 | 1.7 | 4 | 1.1 | 2.2 | 1.3 | 1.6 | 1.8 | 0.1 |
| Protein | (g) | 2.2 | 7.3 | 4.3 | 4 | 6 | 5.2 | 4.2 | 6 | 2.7 | 0.5 |
| Carbohydrate | (g) | 3.8 | 4.6 | 3.9 | 3 | 6.1 | 8.6 | 4.7 | 8 | 3.8 | 12.5 |
| Sugars | (g) | 1.2 | 1.3 | 0.7 | 1 | 1.2 | 1.7 | 1.2 | 2.2 | 1.2 | 3 |
| Fiber | (g) | 2.3 | 2.4 | 1.9 | 2 | 3.6 | 0.9 | 2.8 | 2.9 | 2.7 | 1.4 |
| Minerals | | | | | | | | | | | |
| Calcium | (mg) | 19.9 | 26.1 | 27.8 | 40 | 76.4 | 10.5 | 32.4 | 30.4 | 20.4 | 5.4 |
| Iron, Fe | (mg) | 0.8 | 1.3 | 0.8 | 0.7 | 1.1 | 1.9 | 1.3 | 1.1 | 0.8 | 0.3 |
| Potassium, K | (mg) | 103.1 | 200.2 | 125.2 | ~ | 208.2 | 187.4 | 193.1 | 286 | 120.4 | 137.5 |
| Magnesium | (mg) | 33.5 | 47.7 | 44.9 | ~ | 76.7 | 82.9 | 46.3 | 31 | 37.5 | 8.5 |
| Phosphorus, P | (mg) | 56.2 | 106.8 | 98.3 | ~ | 136.6 | 168.4 | 82.4 | 133.2 | 83.2 | 10.8 |
| Sodium | (mg) | 1.1 | 5.1 | 0.6 | 1.1 | 0.3 | 3.4 | 0 | 1.7 | 0.3 | 0.6 |
| Zinc, Zn | (mg) | 0.4 | 0.9 | 0.9 | ~ | 0.9 | 1.6 | 0.7 | 0.7 | 1.4 | 0.1 |
| Copper, Cu | (mg) | 0.2 | 0.3 | 0.5 | ~ | 0.3 | 0.6 | 0.5 | 0.4 | 0.3 | 0.1 |
| Manganese | (mg) | 0.9 | 0.5 | 1 | ~ | 0.6 | 0.5 | 1.8 | 0.4 | 1.1 | 0.1 |
| Selenium, Se | (μg) | 3.3 | 2 | 1.4 | ~ | 1.2 | 5.7 | 0.7 | 2.8 | 1.1 | ~ |
| Fluoride, F | (μg) | | | | | | | | | | |
| Vitamins | | | | | | | | | | | |
| Vitamin, A | RAE (μg) | 0 | 0 | 0.3 | ~ | 0 | 0 | 0.3 | 3.7 | 2 | 0.3 |
| Vitamin, C | (mg) | 0.2 | 0 | 0.4 | 0 | 0 | 0.1 | 1.8 | 0.9 | 0.2 | 11.4 |
| Thiamin, (B1) | (mg) | 0.2 | 0.2 | 0.1 | ~ | 0.1 | 0.1 | 0.2 | 0.2 | 0.1 | 0 |
| Riboflavin, (B2) | (mg) | 0 | 0 | 0 | ~ | 0.3 | 0 | 0 | 0.1 | 0 | 0 |
| Niacin, (B3) | (mg) | 0.6 | 3.4 | 0.3 | ~ | 1 | 0.3 | 0.5 | 0.4 | 0.3 | 0.3 |
| Vitamin, B5 | (PA) (mg) | 0.2 | 0.5 | 0.2 | ~ | 0.1 | 0.2 | 0.3 | 0.1 | 0.2 | 0.1 |
| Vitamin, B6 | (mg) | 0.1 | 0.1 | 0.2 | ~ | 0 | 0.1 | 0.2 | 0.3 | 0.1 | 0.1 |
| Folate, (B9) | (μg) | 2.8 | 68.2 | 27.8 | ~ | 12.5 | 7.1 | 32.1 | 14.5 | 4.5 | 16.5 |
| Choline, (mg) | | 12.7 | 14.9 | 11.1 | ~ | 14.8 | ~ | 13 | 20.3 | ~ | ~ |
| Carotene,, beta (μg) | (μg) | 0 | 0 | 3.4 | ~ | 0.3 | 0 | 3.1 | 45.2 | 23.9 | ~ |
| Vitamin, A IU | | 0 | 0 | 5.7 | 0 | 0.6 | 0 | 5.7 | 75.5 | 39.8 | 7.4 |
| Vitamin, K | (μg) | 0 | 0 | 0.8 | ~ | 0 | 9.7 | 4 | 3.7 | ~ | ~ |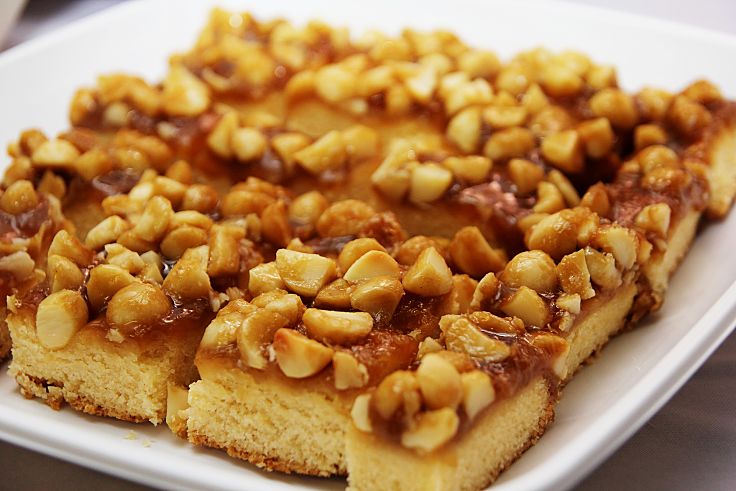 Related Articles